As Director of Distraction at Creative Click Media, I spend a lot of time at the office listening to my daddy and my work friends, and something I learned a lot about is customer service.
Customer service is when employees do everything they can to make customers happy.  If I went out for ice cream and dropped my cone and the nice worker gave me a new one, that's good customer service.  But if they didn't care and made my daddy buy me a new one, that's bad customer service.  I don't think my daddy would take me back to that ice cream place anymore.
Do you wanna know who has really good customer service?  LEGO!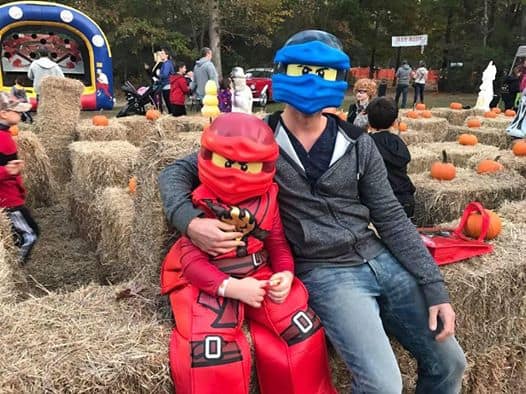 LEGOs are probably my most favorite toy.  They're super fun and I have probably a hundred million of them because I love them that much!  The kind I collect most is the Minifigures…but there's a problem.  My daddy let me buy like 40 or 50 of them but I still haven't found the Ice Queen or the Boxer anywhere!  I got pretty sad about it, so my daddy said I should write a letter to the people at LEGO and ask them for advice:
---

---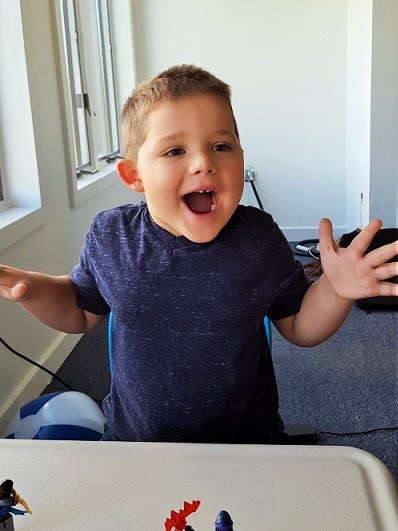 Guess what?  Not even a whole day later they wrote back!  Here's what Gregory from LEGO emailed back to me:
---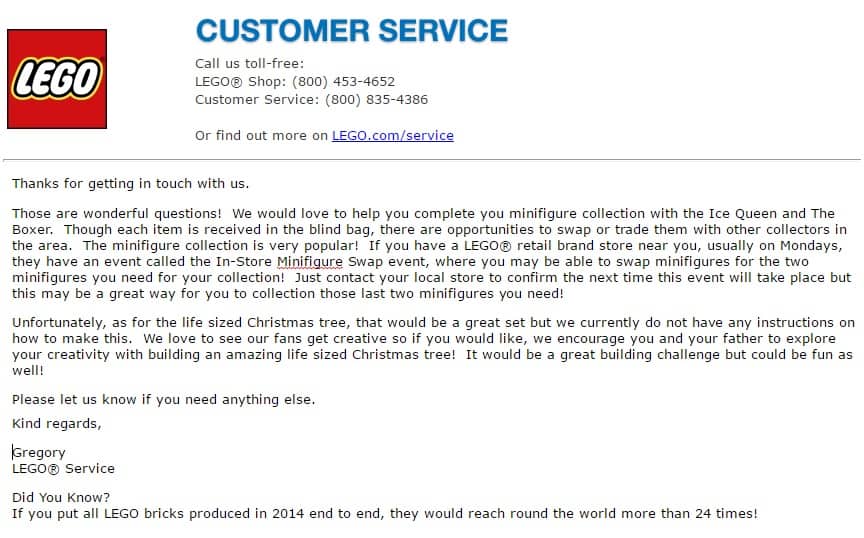 ---
That's super cool, right? AND it was really good customer service!
Gregory answered super fast.  My daddy helped me send my email on Wednesday and we got an email back on Thursday morning!  Gregory also sounded really nice in his email.  He used a lot of exclamations (!) and he sounded really happy and excited to answer me!  He helped me too, and even though he couldn't give me the last two Minifigures he told me about the Minifigure swap.  AND he thought a LEGO Christmas tree sounded like a good idea!
That was a super awesome email and it made me like LEGOs even more!  If more companies want to have good customer service, they should do what Gregory from LEGO did.  They should be fast answering emails, they should be nice and sound happy, and they should try to help out as much as they can.  Even 5-year-olds know what good customer service is, so if a company has good customer service now their fans will still like them even when they're grown up (like 9 years old or even 50 years old).