You did it! You've grown your business from its conception. After plenty of sweat, tears, and toil, you now have a company that is ready to produce profit, awareness, and conversions. 
Part of this plan is applying a Facebook business strategy. In the current internet environment, Facebook is a powerful tool that can effectively reap you new and repeat customers. Under the proper conditions, that is.
In order to develop a marketable business, your Facebook strategy needs to be optimized. This means that it has everything it needs to grow, which we have outlined in the following five facets:
A Carefully Composed Profile
A Healthy Customer Climate
Nourishing Content
Room to Grow
As long as your Facebook marketing strategy includes all five of these parts, you will be able to optimize your Facebook business strategy and ultimately yield you and your small business long-term success.
Carefully Composed Profile
Before we get into all that growth we want, it's important to lay a sturdy foundation. If you crave a serious Facebook business strategy, you need a carefully composed profile.
The Proof is in the Profile
All customers need to do is search for a business on Facebook to discover if they are working with a modern, tech-savvy company. Everyone and everything is on Facebook now; esteemed organizations, countless celebrities, and even some influencing pets. The fact of the matter is, if you aren't on Facebook and keeping it up to date, you're missing out on potential customers and business, period. 
First and foremost, make sure you have created a "page," not a personal account. This will allow you to utilize business-only features and for users to "like" your business and share your content. So if you haven't already, set up your account. We'll be waiting.
. . . 
All set? Perfect! The next step is to make sure you leave no space blank. Complete every section of your profile, starting with the "about" section. Select your name (your business, duh) and upload an appealing profile picture (think logo, storefront, etc.). Make sure your picture is hi-resolution and evokes the proper "feel" of your business.
Now you'll want to add correct information including your business hours, location, so on and so forth. Notice the emphasis on "correct." We're sure you've been there too: looking up a company on Facebook, reading that they are open on Mondays, then calling only to hear the sad refrain of an answering service, noting that they are closed on Mondays . . . 
This inconsistent info is sloppy, plain and simple. It is definitely not a good look for a company trying to venture into the modern age of social media and Facebook business strategy. Do yourself a favor and make sure that every piece of information you put on your profile is up to date and accurate. This includes links to your website and other social media platforms. We promise you'll thank us later. 
Ad Superstar
If you're just getting started with your Facebook business strategy, we totally understand if you don't want to dish out advertising dollars just yet. However, we would be remiss to exclude it from our list. Having a Facebook Ad campaign set up will definitely help your business grow. It isn't necessary at all; however, it will surely help to get a healthy stream of business fast. 
The folks at Facebook break it down into 4 steps. Let's run through them for your understanding pleasure:
Objective
Choose the right end goal for your Facebook marketing campaign. Are you looking for brand awareness? Conversions? Downloads? Figuring this out is your first step.
Audience
Select the group of people you want to reach. How old are they? What are they interested in? Where do they live? Use this demographic information to set your sights on the proper people.
Location
This isn't the location of your customers, but the location of your ad. You need to decide if you want your ad to run on Facebook itself, Messenger, Audience Network, or all three.
Budget
Create a budget based on how much money you're comfortable spending during each day and the lifetime of your ad. This can get confusing, we know just who you can call for help.
So after figuring everything out, you can measure and manage your ad using their Ads Manager. You'll be able to see which ads are working, which aren't, and make tweaks and adjustments as necessary for the future. Sounds pretty manageable right?
Just don't forget that this isn't necessary and comes at a price. You can also boost specific Facebook posts in an effort to garner more eyes. However, boosts too can add up. 
For this reason, we are going to share with you some organic (and free!) ways to develop your Facebook business strategy. So now that you have your profile carefully composed, it's time to make sure the customer climate is just right.
Healthy Customer Climate
With a murky list of followers and negative to no engagement, your Facebook business strategy will not be able to effectively grow. You need to maintain the proper conditions in order to sustain significant growth and a sturdy base of engaged customers.
Positivity, Please
When creating content, sharing posts, and messaging customers on Facebook, cut and dry isn't enough. You definitely don't want to have a dull profile with even bleaker communication. We'll delve deeper into content later, but for now let's focus on your customers, the people who are scrolling through your Facebook feed right now. There are 3 things you must do . . . 
Talk to Them
First, you need to talk to them! If you want to be seen as a personable organization run by actual warm-blooded human beings, reach out to them. If a customer comments on one of your posts, comment back! Not only that, but you should react to their posts as well.
Gone are the days of leaving a "like" and moving on. Now you need to react to comments and posts with a "love," "wow," or "haha." There are also "angry" and "sad" reactions you can use if the situation calls for it but as a business owner, stick with the positive ones like "care."
Customers covet care. They want to be cared for by the businesses they patronize. What better way to show customers you care than spending time in your busy day to interact with them?
The more you talk to customers, the more they are going to want to talk to you (and share your content and buy your products and use your services and so on and so forth). Make sure your Facebook business strategy includes regularly combing through your profile to reply to customers' comments, shares, and messages.
Make Them Stars
Then you need to make them stars! Now take all those engaged customers and feature them on your profile! One of the most effective and mutually beneficial ways to do this is to post testimonials.
If a customer loves your products or services so much that they write a stellar review for you, then you've got a keeper (and a testimonial opportunity). Post the customer's review on your Facebook page, and if you're friends with them, tag them in the post! Impressed? Just wait.
This post has achieved 3 major tasks:
It shows your customer that you appreciate their kind words and business.

It provides social proof of your business' worth to your followers.

If the customer is tagged, it puts your business in front of potential new leads.
In other words, "Janet" writes an awesome review. You post her review as part of your Facebook business strategy and thank her for being so sweet. Then, "Jack," who follows your page and has been deliberating whether or not he should use your services, sees Janet's review and decides to do business. Meanwhile, "Chrissy," Janet's friend, sees that she was tagged in your post, and visits your website for more info.
Does that make sense? Do you have a nostalgic TV ditty stuck in your head?
The moral of the story is that by making your customers stars, you're allowing other customers to build trust in your brand. Additionally, the more positive reviews you obtain (and are posted), the more conversions you're likely to make. So start chatting up your audience, post their reviews, and . . . 
Tell Them Stories
Finally, you need to tell them stories! Not just any stories – we're talking about Facebook stories. This feature allows you to share content (photos, videos – anything) that disappear after 24 hours.
In other words, they are just like Instagram stories but for your Facebook business strategy. They appear at the top of your customers' newsfeeds just like their Insta cousin.
This is the important part: they appear at the top of customers' newsfeeds.
More people are likely to notice a business' stories rather than its posts. With that in mind, use this free feature to advertise your new posts, content – everything. You can even interact with your customers again through the "poll feature" as seen below.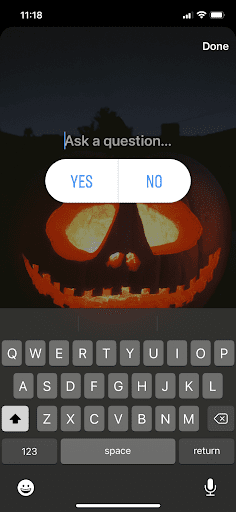 Other, less interactive, features include:
Gallery –

for sharing those on fleek photos and videos

Boomerang –

for animating a bunch of photos like a gif, mate

Text –

for announcements where only words are necessary

Layout –

for creating collages to showcase multiple photos

Superzoom –

for zooming in super fashion
On top of these formats, you can use stickers to cover up enough of your images to entice users to check out your posts or animated effects to really catch their attention. As you can see in the screenshot below, relevant stickers are available for you to use. Just click one and stick it over whichever image you're using for your story.
The most important part of creating effective stories as part of your Facebook business strategy is adding links and buttons! Friendly Facebook gives businesses a selection of CTAs (call-to-actions) to choose from. Whether you're encouraging your customers to "learn more, "call now," or "see offer," creating Facebook stories allows you to interact with your audience while creating an actionable, limited-time piece of content. Super neat stuff.
Group Garden 
Remember how we started this blog with a plant metaphor? Let's continue that by creating a garden of Facebook groups.
Facebook groups are sub-communities that are centered around certain interests or topics. They are dedicated spaces to network, share, and engage with other like-minded individuals and organizations. With that in mind, you can either create a group or join a few. We suggest you do both as part of your Facebook business strategy!
Grow Your Own Group
If you've checked out our marketing guide all about Facebook's cousin, you should know that customers crave a sense of community. Who wants to feel like they are alone in the world right? 
Whatever niche market your products serve, create a Facebook group for it.
Let's say you sell a slew of specialty juices using fall fruits like persimmons, cranberries, and of course, apples. Sure, you can post content on your profile trying to reach those fall fruit fans; however, wouldn't it be more effective to gather all of them in one place?
To drive attention to your products from qualified leads, create a Facebook group called "Fall Fruit Fans Unite" or something not nearly as lame. Start sharing your group posts on your main profile and eventually, Autumn apple admirers and beet buffs will find your group and start following it. By posting consistent and relevant content, you will be creating a tight-knit community that trusts in your brand. You'll be able to use this group as an additional funnel to pour your content and scoop up potential customers. 
P.S. You can create multiple groups depending on the different niche markets you operate in!
Join a Group 
Or you could join a few Facebook groups! Piggybacking off our last example, let's say there are already established groups in your niche such as "Fall Juice Roost" or "Cider Station." 
By joining those groups (if they're private, you need to be accepted), you will be able to get your content in front of a hearty group of qualified leads. Multiply the number of groups you're in while posting consistently in all of them then watch the leads (and juice) come pouring in.  
You will become an authority in your space while building a loyal following at the same time. Users will look to your business for consistent content, superb service, and any related products that they need. Above all, joining a vibrant community of groups as part of your Facebook business strategy will allow you to develop brand equity and drive conversions.
Social Media Synergy
Now that your Facebook page has a healthy customer climate, it's time to sustain your social media platform with some synergy. Instagram, Linkedin, Twitter – you name it. You need to create a consistent brand (which means staying super organized.)
Developing a Brand Voice
Yes, you need to start developing an enveloping brand voice (and yes, that's hard to say). With your business on a multitude of social media platforms, it is crucial to keep a consistent voice throughout.
In other words, you don't want to be super hip and fun on your Instagram but boring and antiquated on your Facebook. This confuses users and loses their sought-after attention. 
You don't want to confuse and lose customers, do you?
Prevent that from happening by simply using the same voice across all of your platforms. This, of course, is easier said than done, especially when multiple employees are posting on your social media at different times. To correct this issue, we recommend building some buyer personas.
Identifying who your customers are and how to talk to them will do wonders for your Facebook business strategy and other marketing efforts moving forward. Buyer personas allow you and your team to stay on the same page when it comes to who you're marketing to. 
No matter if customers scroll through your Facebook, Instagram, Linkedin, or Twitter profile, they will be met with the same voice, and as we are about to find out, connected content.
Connecting Content Calendar
In order to maintain a successful Facebook business strategy, you need consistent content. We aren't saying post once a month, we are saying post (almost!) every day. If you want to grab prospects' attention, you need to stuff their faces with meaningful content. This goes for all of your social media profiles.
First, you need to create a content calendar. Start asking yourself some questions: 
What do you want to post? What products and services are you trying to sell? Is there an event coming up? Are you offering a discount? What's a popular topic in your niche?
Do you know who else may be asking these questions? Your customers.
Figure out what you want to say and map it out on a calendar. For example, let's say you run a cleaning business. You may want to stick to the following schedule:
Monday

– Post a picture of a "before photo" of a dirty space. Urge users to check back on Wednesday for the "after photo."  Add CTA and link to a recent blog.

Wednesday

– Post the "after photo" of the cleaned space. Provide a caption that tells users to contact your business if they want a space

that

clean. Add CTA and link.

Friday

– Post a client testimonial. Thank and tag the client for their review and add a link to your "reviews" page.
See what we mean? You are posting at least 3 days a week with content that is coordinated to entice users to convert. However, this is just the tip of the iceberg!
As part of your Facebook business strategy, develop some synergy with your other social media profiles. 
Just in case you were wondering, synergy is the "interaction of agents to produce a combined effect greater than the sum of their separate effects." In other words, your Facebook business strategy will effectively work in tandem with the rest of your marketing efforts to score more conversions and generate more revenue than individually possible.
So, while you post on Facebook on Monday, Wednesday, and Friday, you can post on Instagram on Tuesdays and Thursdays. You can even play off your Facebook posts to score more eyes from your Facebook profile to your Insta (and vice versa). "We posted the cleanest kitchen on Facebook yesterday, check out the cleanest crawl space here." 
If you want to really push a product and service or get the word out about an offer and event, you can even post the same content on all of your social media profiles. However, be sure to at least spice up the copy for each; you don't want to bore your customers with copy and pasted content (more on this coming up next).
Now that you have a content calendar created and a consistent brand voice, isn't synergy just splendid?
Nourishing Content
So you've got your healthy customer climate and plenty of social media synergy; now you need to make sure that you have nourishing content. In other words, there needs to be intent behind your content so that it is relevant to your customers and rich with links and interactivity.
Keep Your Intentions Clear
Like we said before, it's important that you consistently post content according to your content calendar. However, you can't just post anything just for the sake of posting it.
This is a big no-no.
You're investing a lot of time (and sometimes money) into your Facebook business strategy, don't you want to maximize your return on investment? With that said, you need to post with a clear intention.
Each post needs a purpose. If you're running a dog-walking business, you may feel like posting an adorable puppy pic on your Facebook profile, just because. Sure, the puppy may very well be the cutest puppy on the internet, but what is that going to do for your business?
Can't think of an answer? We didn't think so. Instead, follow three major steps when posting content to your Facebook profile: 
What are you trying to accomplish with your post? Whether it's to promote your latest product, spread the word about your awesome reviews, or score some more leads, have a definitive goal in mind before clicking "post." Let's explore an example.
Let's say you're trying to increase the number of holiday orders for your teddy bear company. You may want to post a festive picture of your new line of bears with large text over it that reads "Last Call for Christmas Deliveries." To gain more leads, you show off your product and give them a reason to take action. What's included with that CTA you ask? A link, of course!
Step two of creating an effective post as part of your Facebook business strategy is to add a link. Regardless of your post's purpose, you want to include a link to more of your content. Never leave users starving for more content!
Continuing the example, it's time to add a link to your post. Think back to your goal: 
What do you want to achieve with your post? Oh yeah . . . Increase holiday orders.
So add a relevant link. Linking to your most recent blog about "the history of teddy bears" or a client's testimonial lauding your prices won't do much to accomplish that goal. Instead, add a link to your storefront or even your most popular product.
Linking to one of these locations will make it easier for your customer to take action: search for the product they want or order your featured product.
But before you finally click "post," you need to make sure your post is not only reaching your audience on a social level, but on a mental and emotional level too.
You won't be able to sell a product or service without empathizing with your customers. Each customer has their own goals and pain points, right?
As efficient and effective marketers, we need to do much more than share numbers, prices, and deadlines; we need to share feelings.
Back to our example, customers aren't looking to just buy a stuffed teddy bear at a reasonable price. They are trying to buy an experience. Perhaps they are buying their newborn a teddy bear for their first Christmas. Your product becomes something more profound than a stuffed fabric omnivore, it becomes a child's best friend – a keepsake they may hold on to forever or even give to their child in the future.
See what we mean? You need to market that feeling and connect with your customer. 
Review your post accordingly so that you're actually relating to your leads instead of delivering overtly promotional messaging. Maybe your caption can be "Don't miss your chance for a priceless Christmas memory" or "Your baby's best friend is waiting, don't wait too long to order!" 
These kinds of cathartic captions will communicate to customers that you understand the "why" behind their purchase, enticing them to do business with your "human," empathetic organization.
Keep Your Posts Interesting
Now that your posts have a purpose, keep them interesting! The same old image and caption combo isn't going to cut it every single time. Thankfully, Facebook gives you options!
Try shaking things up with a video post. If there's a story you're trying to tell about your business or one of your products/services, use live or longer videos to easily share it with your followers. The video you post will show up on their news feeds and start playing automatically. For this reason, make sure the first image, word, or sound of your video has what it takes to effectively grab customers' attention. You don't want to bore them right out of the gate.
In case you didn't know, video is quite the growing marketing medium. Even Facebook's algorithm prioritizes videos with high completion rates in your users' news feeds. You definitely don't want your Facebook business strategy to fall behind as your competitors utilize video in their marketing efforts and you don't. Stay ahead of the curve and give your users what they want.
Facebook also allows you to post polls which can be great for inciting engagement. Ask your followers a meaningful question and we're sure they will take to your profile to answer it. Let's use the same example from the previous section. 
If you were to post a poll for your teddy bear company, you may want to ask something like:
When did you receive your first teddy bear?
For My Birthday

For Christmas

For a Different Holiday

Just Because
In asking this question, you are allowing others to share their stories and reminisce about their experiences. You are starting a conversation with your customers rather than just regurgitating a sales pitch. Remember what we said about making a connection with your customers? Polls are an effective way to do that as part of your Facebook business strategy.
Additionally, you can ask open-ended questions such as "What did you name your first Teddy Bear?" This will allow for lots of conversations in the comments.
Above all, the content you promote and post on Facebook needs to be nourishing for your followers. Give them something to think, laugh, or talk about. Interesting content with a purpose will effectively score you leads and customers. Don't just take our word for it, give it a try yourselves!
Room to Grow
As long as you continue to carefully compose your profile, maintain a healthy customer climate, achieve social media synergy, and provide nourishing content, your Facebook business strategy will be optimized for long-term success.
However, you need to make sure your marketing efforts have room to grow – and if you continue to expand your Facebook and social media presence and grow (and grow and grow and grow), your business strategy may grow far beyond your expectations and control . . . 
But before you start worrying about whether you have to move backward with your marketing efforts, rest assured that you won't have to. Creative Click Media is here to tend to your overgrowing marketing needs. 
Are You Ready to Optimize Your Facebook Business Strategy?
Our professional social media specialists can help you manage and maintain a successful marketing strategy. We will ensure that your needs and budget are met, all opportunities are outlined, and that your business has a clear path to long-term success. Whether you need help getting started or maintaining your profile, Creative Click Media is ready to get our hands dirty so you don't have to. 
So while we are working tirelessly to optimize your Facebook business strategy for growth, let your hair down, relax, and taste the sweet fruits of social media success.