As a contractor, your job doesn't end at the construction site. You also need to construct a compelling marketing website to attract new business and keep up with competitors, which is no small task. Even the simplest flaws in your website can disrupt a customer's experience and direct that customer elsewhere for contractor services. To generate more leads and stay competitive, certain features are essential for a successful contractor marketing website.  
Responsive Design
A website that is built with responsive design is one that changes the way it's displayed depending on the user and the device they are on. Today, a majority of search queries are conducted on a mobile-device. Because of this, making sure your website displays well on devices of all sizes is crucial. According to DoubleClick by Google, 53% of mobile site visits are abandoned if pages take longer than 3 seconds to load. Sites that are desktop only will not only take longer than 3 seconds to load, but they will not display correctly either. Adding responsive design to your site will ensure all the content and most important information on your site displays perfectly on all devices.
Chatbot
/Live Chat Feature
Chatbots are computer programs for your website that mimic real life conversations. They begin with an automated prompt like, "How can I assist you today?" and encourage users to engage with a representative as they would in-person. After an online user engages with the chatbot, the conversation is transferred to an actual representative from your company who will then handle the inquiry. Our Chatbot features a friendly photo of one of our team members with the prompt, "Hi! How can I help?" The message appears in the corner of the homepage, allowing the user to either engage, or minimize the box.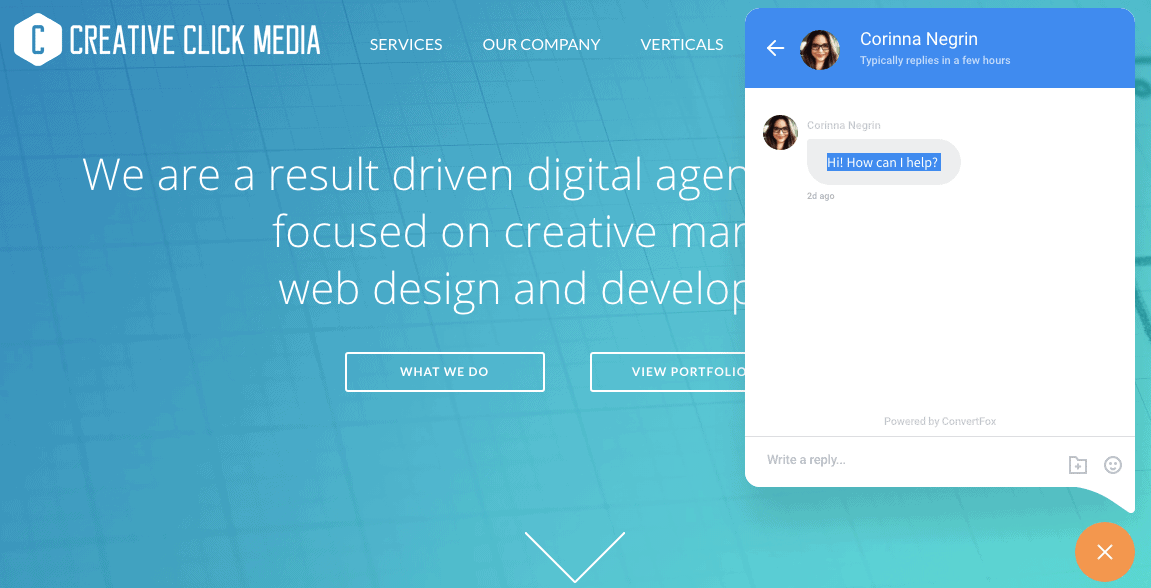 92% of consumers say they are satisfied after using a business's live chat feature online – and rightly so, since chatbots combine the benefit of in-person customer service with the convenience of the virtual store. Chatbots benefit the business as well as the customer. They also gather feedback and information from users you can incorporate into website improvements and customized chatbot messages to increase engagement.
'Click to Call
'
Button
A 'click to call' button shifts users from webpage to phone seamlessly. This function allows a mobile user to contact a company representative directly without having to exit your contractor marketing website and manually dial the phone number. The 'click to call' button simplifies communication and improves the website's overall user experience (UX). A study from Google found that 70% of tested mobile users engaged with the 'click to call' feature on websites. So 'click to call' can increase your rate of inbound calls. In shifting your potential customer from webpage to phone, you now have the opportunity to actively pitch and clinch that sale. Notice how the 'click to call' feature on our mobile site catches the eye and sits adjacent to a chat icon? The design and positioning of the button encourages the customer to click and call.
Improved Information Architecture  
Information architecture is the strategic arrangement of content on your website. If a library didn't alphabetize its books, how would visitors find what they were looking for? Your website works the same way. Visitors struggling to find your prices, your company history, or your photo gallery will likely exit your website to find another contractor with a more user-friendly site. Keep the following in mind as you perfect your website's information architecture:
Install searching systems that allow users to search for data easily withi

n your website.

Choose an

organizational scheme

for your content that best suits your audience and services.

Smooth out the path users take through your website by implementing

navigation system

tools such as: toolbars, menus, links, tabs, etc.

Use trigger words for headers to simplify and split up large amounts of content. For example: 'about' for company history and staff; 'contact' for email address, phone number, address. Our design team uses comprehensive headers like the ones below to organize digital content and make company details readily navigable.   
SEO – Search Engine Optimization
Say you're looking to order pizza for one of your job sites. You type 'pizza near me' into Google and a list of options appears. They all look the same to you, so you opt for the first pizzeria in your search results. Customers searching for contractor services will use a similar path of reasoning. They'll perform a quick Google search like, 'contractor LBI' or 'jersey shore contractor' and one of the businesses to appear on the first page will be the lucky winner.
Since 75% of users do not scroll past the first page of their search results, you'll want to implement a focused Search Engine Optimization (SEO) campaign to improve your website's search engine ranking so that you appear on that first page. Start your contractor marketing campaign on the local level and research competitors that are out-performing your website. Perform keyword research related to the services you offer and the location you operate in. Once you've identified a list of keywords for your local SEO campaign, incorporate them into page headings and existing content. Verify your business on a platform like Google My Business and encourage your customers to leave reviews. The more reviews you receive, the better your ranking in local search engines.
CRO – Conversion Rate Optimization
Conversion rate optimization is a systematic process designed to lead users towards taking a desired action on your website in order to cultivate new business. To increase your conversion rate, focus on your content, website aesthetic and audience. Your content should be easy to read and the language you use should flow and illustrate your work. Your website aesthetic should be clean and engaging. As a contractor, your virtual presence should reflect the strengths of your physical work. Lastly, tailor your contractor marketing website to match your audience. Don't worry so much about drawing every demographic to your site. You wouldn't focus on converting a teenager into a customer, would you? Think about your target customer and design your website with that audience in mind.  
Optimizing Your Contractor Marketing Website
Ready to implement some changes into your contractor marketing website? Our team at Creative Click Media is experienced in building websites that engage and attract potential customers. Together, we can develop a cost-effective plan to improve your contractor marketing website. Contact us today and get a head start on a successful season.