81% of small businesses rely on email marketing as one of their primary communication channels – is yours one of them?
Email marketing is one of the easiest and most effective ways to stay in touch with existing customers and connect with new ones. This is especially true for ecommerce businesses, who generate nearly 20% of all transactions through email marketing.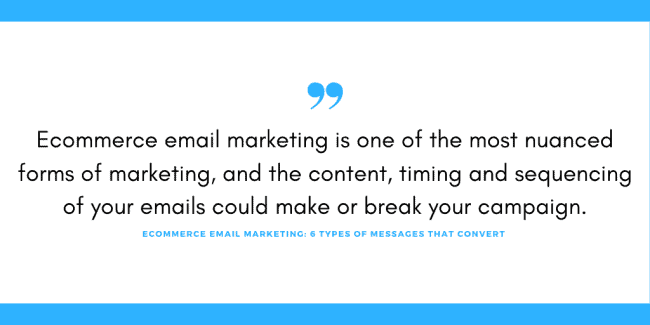 Ecommerce email marketing is one of the most nuanced forms of marketing, and the content, timing and sequencing of your emails could make or break your campaign. That being said, there are several types of ecommerce marketing emails with proven success rates when used effectively. Here are a few examples to get you started:
The Welcome Email
Signing up for a business' email list is a big deal for many consumers – it means they're engaged with your brand, interested in your products and motivated to potentially make a purchase in the near future. With this in mind, it's pivotal that the first impression you give off in your welcome email is a good one.
Your welcome email should utilize a tone and language that showcases your brand personality while also clearly conveying your appreciation. This could be in the form of a warm message welcoming them to your company community, or you could take it a step further by offering a discount code for their first purchase. No matter the approach you take, make sure your welcome email is one that leaves your subscriber eager for your business to pop into their inbox again soon.
What They Did Right: Handmade bath and body brand Lush ticks off several boxes with their welcome email. They make the most important part of a welcome email – the welcome – the focal point, while encouraging their new subscribers to click through to their website to learn more about their brand. What really sets Lush's welcome email apart from others we've seen is the inclusion of suggested products. Providing links and photos of tried-and-true fan favorites instills a sense of confidence in their subscribers who might not know where to begin when placing their first order.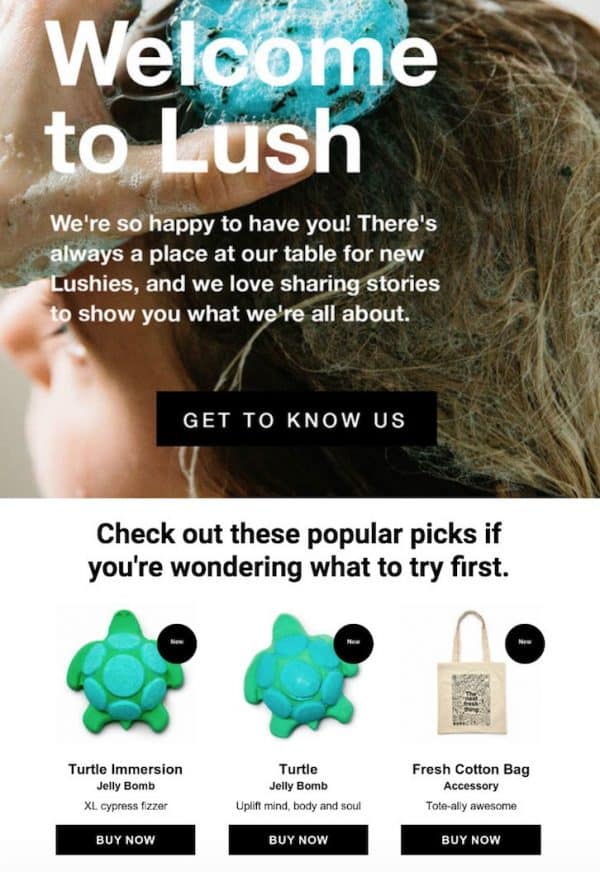 [source]
The Curated Email
When the online shopping urge hits, sometimes all your customers need is a nudge towards what they should be buying. That's where curated emails come into play. A curated email is a type of ecommerce email marketing in which a company highlights themed collections of products – such as "Back to School Ready" in mid-summer and "Wishlist Must Haves" around the holidays.
A curated email enables your subscribers to see how your product would be beneficial to their lives without having to seek it out themselves. You could also curate your emails based on each individual's browsing habits, such as including products that are frequently purchased with something they've ordered previously. This helps to reengage your customers while also potentially sending them back into the sales funnel.
What They Did Right: Bed Bath & Beyond perfectly captured the needs of their customer base during the COVID-19 pandemic with this curated email. With so many consumers unable to visit their local coffee shop for their daily caffeine fix, Bed Bath & Beyond made it easy for their subscribers to build their own at-home cafe by linking to a variety of products on their website within this theme. This enables their customers to visualize exactly how Bed Bath & Beyond's products would improve their lives, and encourages them to make it a one-stop shop rather than shopping around.
The Discount Email
When a potential customer opts in to receive ecommerce emails, this is probably the kind of email they are hoping to receive. The objective of a discount email is self-explanatory: entice your subscribers to shop on your website by offering a reduced price for their purchase.
Discount emails often speak to two kinds of subscribers: new customers who have been waiting for a promotion before trying their first product from your company, and repeat customers who hold off until there is a promotion before making a large purchase. Experiment with a variety of different discounts to see which resonate best with your subscriber base. Some ideas to try might include:
Dollar off discounts

Percentage off discounts

Buy one, get one discounts

Flash sales (12 hours or less)

Subscriber exclusive coupon codes
What They Did Right: Sporting gear and apparel brand Tailgate's tiered discount email provides their subscribers with multiple opportunities to save big at a variety of price points. The addition of the "Free shipping on orders over $50" offer adds another layer to this sale, because shoppers would need to spend at least $75 pre-discount to qualify. This encourages shoppers to make larger purchases, while also giving them the gratification of knowing they were able to qualify for two promotional opportunities on a single order.
The Abandoned Cart Email
Discount emails and abandoned cart emails go hand in hand. A coupon might get subscribers onto your website to fill up their carts, but that doesn't always mean it'll end in a sale. That's where abandoned cart emails come into play.
Abandoned cart emails serve as a gentle push to remind customers to finish out their incomplete transaction. The most successful abandoned cart emails are those that are sent as part of a well-timed sequence – ideally 1 hour, 1 day and 3 days after your customer last engaged with their unfinished purchase. Approximately 50% of those who open an abandoned cart email end up placing an order, so make sure your subject line is eye-catching enough to grab their attention!
What They Did Right: Subscription box company Birchbox elevated their abandoned cart email by creating a new opportunity to close a sale. Their email begins by including photos and links to their user's previous shopping cart, but they set themselves apart by including a similar product that the customer may not have seen the last time they were shopping. This allows Birchbox to generate new interest in their products by getting previous shoppers back on their website, even if they had already decided against the product they were shopping for to begin with.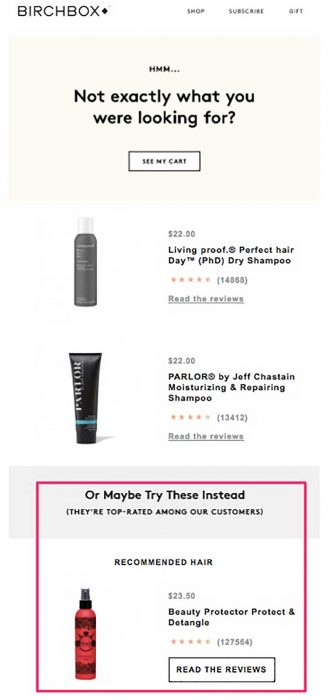 [source]
The Reengagement Email
Converting subscribers into customers is one victory, but retaining them as customers is the other half of the battle. Just about every consumer is guilty of staying subscribed to emails from brands they are no longer interested in. As a business owner, however, the last thing you want is for that to be your brand. That's why it is crucial to utilize ecommerce email marketing to reengage past customers and convert them back into current customers.
A reengagement email can take several forms, depending on your overall goal. If you're looking to increase your sales, consider sending your unengaged subscribers a coupon code to reintroduce them to newer products they may have missed. If you simply want to gauge their interest or clear out your subscriber list, you can send a type of reengagement email known as a reactivation email. This prompts recipients to click on a button that reactivates their subscription to your email list, which enables you to determine which of your inactive subscribers are still interested in making a purchase in the future.
What They Did Right: Homemade online marketplace Etsy is proving that sometimes simplicity is key when it comes to reengaging previous customers. Their reengagement email gets right down to business by catching their reader's eye with a bold headline, then closes the deal by offering 30% off their next purchase. With an ever-changing rotation of handcrafted goods arriving daily, it's no surprise that this no-frills offer is incredibly effective at turning old customers into current customers again.
The Thank You Email
Two little words that make a huge impact: Thank you! Your customers would expect to hear "thank you" after shopping at a brick-and-mortar store, so it makes sense to show your customers that same gratitude when shopping on your online store as well.
Make it a point to say thank you to your customers as often as you can, whether it be after they subscribe to your emails, after they make a purchase, after they've been a subscriber for a certain amount of time, and so on. You may even want to consider combining your thank you email with a sales email by creating a customer appreciation day promotional offer. Customers love to feel valued by the businesses they engage with, and making it a point to say thank you takes very little effort while yielding a great deal of reward.
What They Did Right: Online boutique Lulu's has perfected their post-sale thank you email by opening the door for another future purchase. Saying thank you via email tells Lulu's shoppers that their business is appreciated, but the addition of the 20% off promotional offer lets them know their future business will be appreciated, as well. This offer can serve as an especially powerful tool to incentivize customers to make another – potentially larger – purchase the next time they are shopping online.
Ecommerce Email Marketing Done Right
Now that we've covered what makes an ecommerce email marketing campaign successful, it might be time to revisit your company's own current email strategy to see where there's room for improvement. Does your current email marketing strategy follow this same flow? Are there elements to your email marketing campaign that are missing?
It's worth it to not only reassess your email sequencing, but also the tone, timing and text within your campaigns. It's great to have examples to serve as inspiration, but it's even more important to make sure that your emails reflect the goals, mission and personality behind your brand. If you're not sure where to begin, it might be worth it to reach out to an experienced digital marketing agency like ours with the know-how needed to help you create a customized ecommerce email marketing campaign that makes sense for your company and your customers.