What are Google Local Services Ads?
An addition to Google's advertising platform focused on local business, Local Services Ads help connect businesses with customers searching for the services they offer. 
As opposed to standard Google Ads, which operate on a pay per click basis, Google Local Services Ads operate on a pay-per-lead model. This means that instead of paying for clicks from people who may ultimately decide they are not interested in an advertiser's services, an advertiser only pays for qualified leads.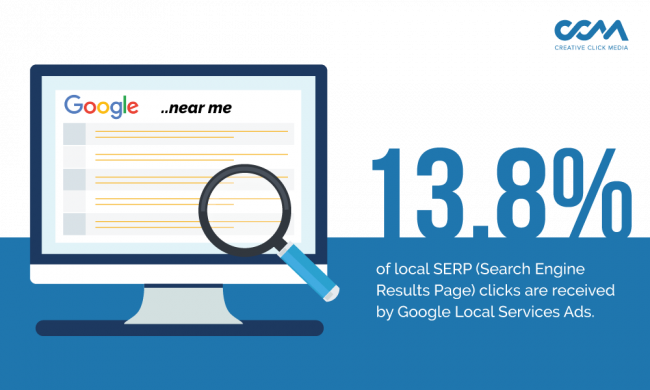 Google Local Services Ads get 13.8% of local SERP clicks, as they appear at the top of a search engine results page (SERP), above both traditional Google Ads and organic results. These ads have a bigger reach than traditional text ads, appear across all devices – mobile, tablet, and desktop – and will even show up in response to voice search queries.
How Local Services Ads work
On Google, Local Services Ads are triggered based on a searcher's location as well as a query suggesting they are looking for a specific local business. 
As stated by Google, ranking factors for Local Services Ads include:
Ads budget

Google My Business reviews & overall rating

Searcher proximity to the business running ads

Responsiveness of the business running ads

Business hours
For example, someone searching "plumber ocean county nj" would yield the following results: 

The above photo depicts three Local Services Ads for plumbers within Ocean County, NJ. Each ad includes the service area, hours, star rating based on Google reviews, and the Google Guarantee checkmark. 
As it's difficult to persuade a potential customer to convert using traditional text ads, Local Services Ads are designed to give searchers everything they need to know about a business before making a decision. As such, Local Services Ads tend to have higher conversion rates with a lower associated cost compared to traditional search ads. 
After searching for a local service, potential customers can click on the local services ads shown at the top of the page. Clicking the ad will prompt consumers to either call or send a direct message to the business of choice, making it easy to contact local businesses for service. 
Like traditional Google Ads, having multiple complaints or policy violations can lead to an advertiser being suspended from the platform as a whole.
Paying for Local Services Ads
As Local Services Ads operate on a pay per lead basis, advertisers only have to pay when they receive a qualified request for service. 
In the case of Google Local Services Ads, a qualified lead is a phone call that lasts at least 2 minutes, a valid text message or email, or a voicemail from a potential customer. Google does its best to filter out leads they don't consider to be qualified. 
The advertising platform also allows advertisers to dispute charges if an invalid lead slips through the cracks. Disputes can be made in the case of the following situations:
A potential customer calls about a service that the business does not perform

A potential customer resides outside a business' service area

Wrong numbers

Calls from automated recordings

Clear solicitation

No contact information left to reach a potential customer
Much like average Cost per Click in traditional Google Ads, the average Cost per Lead for Local Services Ads varies from industry to industry. Typically, the average cost per lead ranges from $10-$30 but have reached over $200 for more competitive industries, such as law.
To ease any apprehension business owners have about running Local Services Ads, Google Google has created a tool to estimate the average Cost per Lead based on an advertiser's location, industry, and how many new leads a business wants per month. 
Benefits of Local Services Ads
As connecting users to what they need most is Google's ultimate goal, Local Services Ads provides many benefits for small businesses looking to generate qualified leads and boost revenue. These benefits include but are not limited to:
Advertisers' only pay for results (qualified leads)

Opportunity to earn positive feedback online with Local Services Reviews

Increased reach compared to standard search ads

Google Guaranteed badge to instill confidence in potential customers 

Weekly budgets to control advertising costs

Cheaper advertising costs (compared to Google Ads or other PPC platforms)
Given all the advantages of Local Services Ads, they have the potential to be incredibly beneficial to small businesses. This is especially true because these ads are pay per lead, meaning they minimize the financial risk involved with traditional PPC campaigns while maximizing an advertiser's budget. 
Local Service Ad Industries
Upon the 2019 launch, few industries were allowed to run ads through the Local Services Ads platform. However, since then, Google has slowly been adding to this list. As of now, the following types of businesses can run ads on the platform: 
Appliance repair

Carpentry

Carpet cleaning

Countertop services

Electrical

Fencing

Financial planning

Flooring

Foundations

Garage door

House cleaning

HVAC

Junk removal

Landscaping

Law

Lawn care

Locksmith

Moving

Pest control

Plumbing

Real estate

Roofing

Siding

Tax services

Tree services

Water damage services

Window cleaning

Window services
Google Guaranteed
From a quick glance, it's easy to see the green check mark displayed on  Local Services Ads. This badge essentially means that Google, as a company, guarantees the services performed by approved businesses will be completed to a customer's satisfaction.
Google Guaranteed is a necessary part of Local Services Ads campaigns because it assures customers that they are covered by Google if the service they receive is not up to par. This guarantee essentially means that, if a customer is unsatisfied with the work a company provided, Google may – at its own discretion – reimburse them up to the amount paid for the initial service, subject to a lifetime limit ($2,000).
As a result, being Google Guaranteed instills confidence in customers on behalf of the businesses who have earned the badge. As a result, these businesses may find more people willing to choose their companies over that of a potential competitor. 
Before one can get a Local Services ads campaign launched, however, an advertiser will need to complete the following actions or provide the following items in order to verify their business and receive the Google Guaranteed checkmark:
An advertiser must have a valid business license as well as insurance and be able to provide proof

The business owner and, in some cases, employees must pass a free, Google sponsored background check

Advertiser's must inform the background check company of any legal issues or new employees brought on while running ads
Google Screened
The Google Guaranteed badge is not to be confused with the Google Screened badge. While both badges are similar, they serve different purposes. 
Google Screened businesses differ from Google Guaranteed businesses because they have gone through and been approved by the screening process. However, Google Screened businesses are not backed by Google. This means that if a customer is unsatisfied with a service provided by a Google Screened business, they do not have the chance to be reimbursed by Google for any costs incurred.
This is typical for businesses in industries such as law, where the overall outcome can be unpredictable regardless of the quality of service provided.
Local Services Ads with Creative Click Media
PPC is a tried and true marketing tactic that works for many entities, including those selling products online. However, PPC can be difficult for small businesses due to budget constraints. Traditional PPC is often a gamble at the start, one never knows how long it might take to see a return on investment. For service-based local businesses, Local Services Ads solves these problems. 
Gone are the days of paying for clicks in hopes someone will convert, as these ads are designed specifically with small business owners in mind. The pay-per-lead model minimizes the financial risk involved with traditional PPC campaigns while maximizing an advertiser's budget. 
Though Local Services Ads may be more successful for eligible businesses than traditional PPC campaigns, set up and management can be time-consuming for an already overworked business owner. If this sounds like you, contact Creative Click Media for a quote. Creative Click Media is a full-service digital marketing agency that specializes in SEO, web design, and PPC advertising across platforms, including Google Local Services Ads. We have successfully managed dozens of successful campaigns for small businesses and helped them increase lead generation and achieve their marketing goals through Google Local Services Ads.