The Importance of a Google Maps API Key
In June 2016, Google changed the way it would allow website owners to add Google Maps to their website. For new users, it became a requirement to first obtain a Google Maps API Key before before adding a map to their site. Existing users were able to avoid any additional action as the Google Maps on their websites were not affected.
However, on July 16th of this year, these existing users may have noticed the map on their websites were no longer working (as seen in the image below). This is because now all users, new and existing are required to obtain an API key and have a credit card attached to their account in order to use the Google Map feature on their website. The billing threshold for a standard API is 25,000 daily views on your map, meaning you will only be charged if you exceed that daily limit. Small business owners typically won't have to worry about exceeding that limit as that is a huge amount of traffic.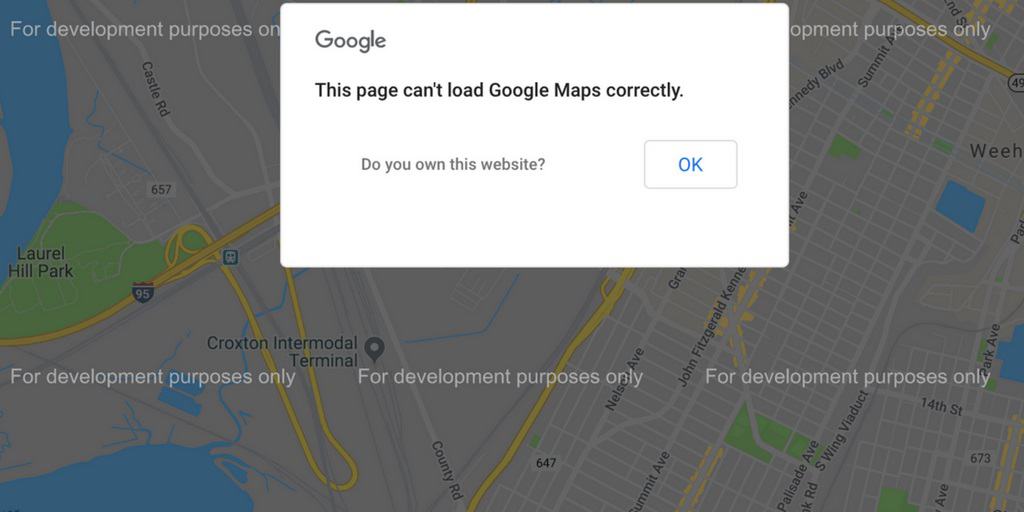 Integrating Google Maps on your website can be extremely beneficial for your business from an SEO standpoint. It satisfies Google by adding valuable and visual content to your website, improving the number of interactions visitors have when navigating your site. If you just have your business address listed on your contact page without a map, many potential customers won't be able to determine exactly where you're located based off the street name, possibly causing them to leave your site and try a different company. However when you use a Google Map, website visitors can see exactly where you're located in reference to nearby landmarks and can instantly get driving directions to your business. Failing to implement Google Maps on your website could be the difference between landing a new customer and pushing them to a competitor.
How to Get Your Google Maps API Key
So, if you don't have a Google Map on your website already or if you have yet to adjust to these new requirements, you should obtain your Google Maps API key today, set up your billing information, and implement it as soon as possible. You can sign up for the API and attach your credit card using these instructions. For small businesses that do not get or want foot traffic, your other option is to redesign your contact page and omit the Google Map. No matter what you decide to do, Creative Click Media can help you every step of the way. We have a variety of website maintenance packages that give you priority support services from our team. If you need help making changes to your website, contact us today!