Google My Business is a free tool used by businesses and organizations to regulate their digital presence across the entire Google platform. This technology allows your brand to verify and edit your business information such as location, contact information, and hours of operation. Other elements like photos and customer reviews can be included in your listing as well. This tool helps your customers find you, and develop an accurate understanding of who you are.
In our digitally savvy society, 85% of consumers search for businesses online. Optimizing your Google My Business listing is vital for ranking higher on search results and reaching prospective customers. To improve your listing even further, Google My Business has implemented new features for 2020, and we're giving you the lowdown on how to use them to your brand's advantage.
Welcome Offers
Google My Business has added welcome offers to its arsenal. To stay updated on your offerings, customers can follow your business on Google Maps. Now you are able to reward your followers and generate more sales by providing welcome offers and discounts. Not only do your customers benefit from the discount, but you will develop an engaged following that is more likely to improve your bottom line.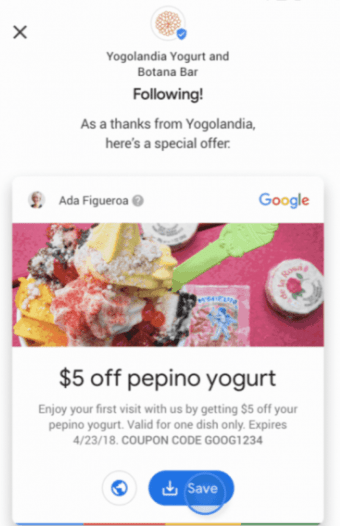 [source]
Request a Quote
Typically, potential customers and clients would need to find their way to your website's contact page or get in touch over the phone to request a quote for your services. With Google My Business' new request a quote feature, you can make that connection instantly. You can even jump in and immediately contact the customer using Google My Business' messaging service. 
To enable the messaging feature, go to Google My Business app, choose your listing, navigate to customers and turn on messages.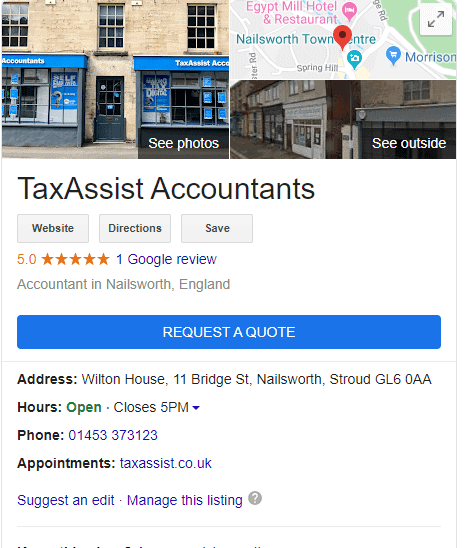 [source]
Q & A
Sometimes the only thing standing between your business and a new customer is the answer to a quick question. To close this gap, Google My Business added a questions and answers section to their platform. When someone asks a question, you can jump in with the Google Maps application and provide an answer that may encourage that user and others to become patrons of your business. Other users can upvote the query, allowing the most helpful comments to show up on top of the listing. The feature also cuts down on you or your employees having to answer the same questions over and over. There are even protections against illegitimate claims and questions. With a higher level of transparency and available information right on your listing, your business could flourish.
Book an Appointment
So much of digital marketing is based around getting users to your website's contact page in order to book an appointment. Thanks to Google My Business, this route is much shorter. A new feature allows you to bring users directly to a landing page for booking appointments straight from Google. By using automated booking systems on your landing page, you can save time that you would have spent answering phone calls and manually entering appointments.
Suggested Posts – Customer Testimonials
Yet another new feature introduced recently allows you to post automatically suggested reviews as customer testimonials. The platform now provides suggested posts that help you showcase positive reviews that customers leave. Google automatically suggests posts based on 4 or 5-star reviews that you can review/edit the post before publishing. 
Account Management 
In order to gain new customers, they must be able to find you. Today, the first place that consumers look for businesses is the internet. Google My Business provides you with a platform to create the online presence that your brand needs, and that consumers want. Keeping your Google My Business listing updated and cohesive with the tool's latest features goes hand in hand with your efforts of ranking on search results and achieving desired conversions. 
While Google has taken steps to simplify this platform, fully optimizing your listing is best accomplished by marketing professionals. Contact us today to get the most out of Google My Business.