Understanding exactly what your customers are searching for online is crucial for conducting the most beneficial keyword research. The more you dive into keyword research, the more you realize it is not as simple as determining which keywords produce the most volume. The intent behind what people are searching for has become one of the most important aspects of keyword research – it tells you what your customers want from you and how you should be trying to reach them.
Getting to Know Your Audience
You may think you know your audience pretty well, but do you really understand how they search for answers online? Getting to know your audience means learning which questions they are asking and how they describe the problems they are having. Your job is to focus on solving their problem, which is why it is so important that you understand your audience.
Using Other Keyword Tools
Keyword research tools are great, but sometimes you have to break away from the ones you normally use to find new, unique words or phrases. There are untraditional tools out there that can help you find more useful keywords relevant to your target audience.
Demographics Pro allows you to gain more detailed insight into social media audiences. You'll get a better sense of who is searching for you and what they're interested in. It is a great way to see the words your customers are actually using to search for you versus which words you think they are using.
Seed Keywords is a tool that allows you to create a search scenario. You can then send the scenario to your friends. The words your friends use to search are collected and sent back to you. This is great for when you have hit a mental roadblock and are having trouble coming up with fresh keywords.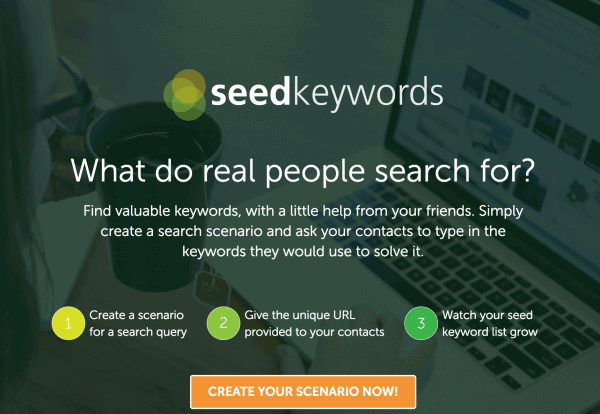 Social Searcher is a similar tool to Demographics Pro except it is free to use. You simply input your keywords, select a social media source, and choose the post type. Using this tool, you'll be able to see recent posts, users, and any related keywords or hashtags.
Analyze the Intent Behind Searches
Once you have a solid list of keywords, you'll want to see the types of content that appear when using those keywords. This will give you an idea of what Google and the person conducting the search believe the intent behind that search is. The two main categories of intent are "buy" and "know".
For example, if you were to conduct a search using the keyword, "digital marketing NJ", the results would show a list of digital marketing companies in New Jersey. This tells you that Google and searchers believe the intent behind this keyword is to buy digital marketing services. So, the page you are trying to optimize should be optimized for the "buy" intent.
Now if you were to use the keyword, "digital marketing", your results would be different: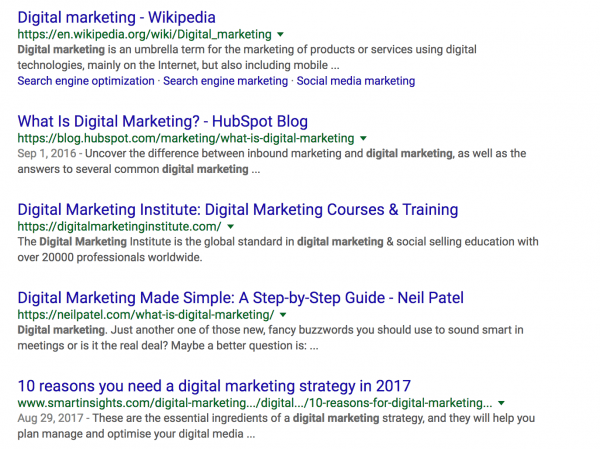 As you can see, a simple change in the keyword completely altered the intent. The results shown are providing information so, the page you use this keyword for should be optimized to satisfy the "know" intent.
There are many tools like SEMrush, for example, that can help you see which pages are ranking for certain keywords. All you have to do is filter through the pages to determine their intent.
Turning Keywords Into Questions
It is pretty common these days for people to ask a question when they search for something online, especially with the growth of voice search. This is why is so important that you don't forget about long-tail keywords. If you're having trouble coming up with questions to use as long-tail keywords, there is a great tool that you can use called Answer The Public.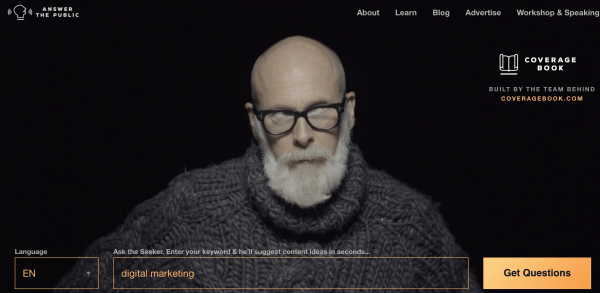 You simply enter in the keyword you are using and the wise man in glasses will create a large list of questions and phrases you can use as long-tail keywords. The results are shown with a great visual aid that splits the phrases and questions into specific categories:

Professional Keyword Research
Getting visitors to come to your website is not as simple as picking some keywords and throwing them on a page. There is a lot more that goes into it, as you have read from the strategies above. But more and more tools are coming out that can help you get the best out of every keyword that you use.
Creative Click Media is a digital marketing company that specializes in search engine optimization. We have the tools to know which keywords you should be ranking for and we use those tools to find the exact phrases that you need to rank for in order to grow your business. If you want to increase your online visibility, contact us today!