When most people think about search engine optimization (SEO), they think in terms of keywords.
Am I using keywords that my target audience searches for?
Are my keywords too broad or too niche?
Am I trying to rank for overly competitive keywords?
Don't get me wrong: keywords are a very important component of SEO, but they're not the only component. There is a multitude of other SEO ranking factors that come into play when determining your placement in a search query – here are 6 big ones to watch out for.
1) Metadata
In simpler terms, metadata is "data about data". Metadata is important because it lets readers and search engines know what a web page or piece of content is about.
There are three parts of your metadata: the description, the title, and the keywords. Let's take a look at the metadata that appears in a search result for our SEO services: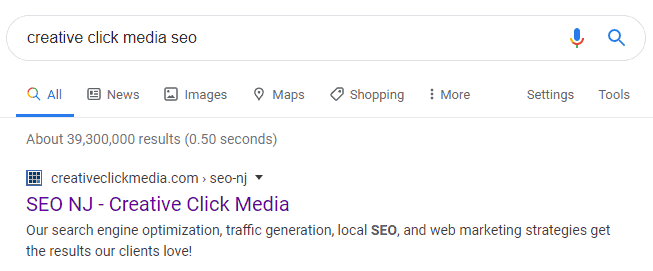 The meta title is 50 characters used to grab the reader's attention, whereas the meta description is 150 characters underneath that summarize the content on that particular page. Notice how the keywords are missing? That's because keywords are only visible to Google for ranking and indexing purposes. Ensure that all of your metadata is filled out completely and accurately, and you very well might receive an SEO boost.
2) Link Building
Link building consists of collecting backlinks to your website from trustworthy and authoritative sites. Having backlinks from other reputable sites serves dual benefits: you will generate new traffic from their audience base, and search engines will determine that your website must be trustworthy as well.
Additionally, it is important that your website also links to authoritative outside sources. The internet is all about building relationships, so be sure to help the people who help you. Link building can also work internally, whether that be by logically interlinking pages on your website that connect with one another or linking to other sites your business owns.
3) Social Media
Having a social media presence for your business is a marketing must-have, especially when you take SEO ranking factors into consideration. Though it may not seem like an obvious SEO strategy at first, creating a business profile on at least one of today's major social media platforms (Facebook, Instagram, LinkedIn) will actually improve your overall ranking. 
Your content's shareability factor on social media also plays a role in improving your SEO. When users share links to our website with their social networks, they're signaling to search engine algorithms that your content is both relevant and authoritative. The more your web content is shared, liked, commented on and clicked on, the more trusted your website becomes.
4) Website Performance
A website that is designed to perfection serves little to no purpose to users and search engines if it does not also perform to perfection. The way your website performs is a crucial SEO ranking factor that is often overlooked, but can make a huge difference when optimized properly.
The first step to optimizing your website performance is to identify elements that could be slowing your site down. Are you implementing website caching? Have you compressed large image files? Are you limiting the amount of JavaScript, CSS and redirects throughout your website? Take note of your website speed prior to making any changes using Google's PageSpeed Insights, and check again after optimizing to see if your performance has improved.
5) Content Marketing
Content marketing is the core of your company's entire marketing campaign, acting as the link between your SEO, emails, social media and so on. Quality content is what keeps readers coming back to your website, and quality content with a value proposition increases the chances of your page being shared on social media or another website.

Consumers aren't the only ones after new content – search engines love it, too. If you do not regularly update your website with new content, search engines will have nothing new to index when they crawl your site and your ranking will suffer. Consider starting a blog on your website if you haven't already, and post high-quality content every few weeks if not more frequently to start seeing a difference in your SEO.
6) URL Structure
What's in a URL? It's actually much more than meets the eye. URLs clue both readers and search engines in on what your page is about, so it's important that it makes sense if you want them to click through to your website.

Structure your URL to be as readable as possible, eliminating any filler words like "and" or "the" that add length but no substance. Random letters, numbers and symbols in a URL are also red flags to search engines. Of course – and perhaps more importantly – make sure the keyword you are trying to rank for is present in your URL.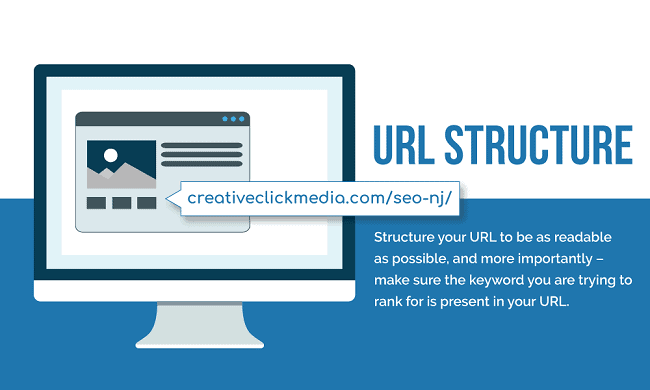 There is no easy way to go about maintaining your SEO, and it requires a great deal of hard work on your end to keep your website in good standing in Google's eyes. For this reason, it is important that you are able to put in the time and effort needed to keep up with all of your SEO ranking factors, not just keywords. If this seems like too big of a task with everything else on already on your plate, consider leaving your SEO efforts in the hands of an experienced digital marketing agency (like ours!) with the know-how needed to elevate your SEO strategy on all fronts.