Did you know the average social media post has a lifespan of just 3 hours? Compared to other marketing channels, social media provides your business with a very short window of time to make a lasting impact. This begs the question: In such a rapidly changing landscape, how can you make sure your content strategy is future-proof?
The truth is, there's no surefire way to guarantee your content will be relevant months or even weeks from now. However, by keeping an eye on the latest trends and understanding how they might impact your business, you can stay one step ahead of the competition. Here are our picks for the top 15 social media trends to watch out for as we head into 2023:
1) Short-Form Video
One of the biggest social media trends for 2023 should come as no surprise: short-form video is still the reigning king of video marketing. From TikTok to Instagram Reels and YouTube Shorts, short-form video is an increasingly effective way to engage with your audience. Not only are these videos incredibly shareable, but they're also highly impactful at generating brand recognition and driving conversions. In fact, short-form video content has an average ROI of 30% – more than any other social media strategy!
As we head into 2023, it's worth noting one major shift in short-form video trends: they're getting longer. Short-form video giant TikTok originally only allowed videos to be 15 seconds or less, which was then extended to 60 seconds, 3 minutes, and most recently, 10 minutes. The average short-form video in 2022 was 3 minutes and 23 seconds long, and we expect this trend to continue as social media users increasingly demand more engaging, informative content. This provides marketers with the opportunity to create more in-depth, longer-form (but still short!) videos that tell a more complete story than their seconds-long predecessors.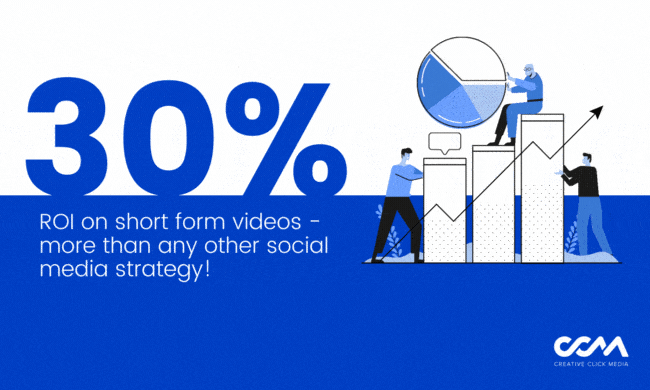 2) Paid Advertising
Have you noticed how much more difficult it has gotten to generate organic reach on social media? That's because paid advertising is becoming increasingly necessary in order to ensure your content is seen by your target audience. In 2022 alone, social media ad spend reached a massive $173 billion – and we can expect that number to increase in the coming year.
So what does this mean for social media marketers? First and foremost, it means that you need to have a solid paid advertising strategy in place. But it also means that you need to be creative with your social media ad spending in order to make the most of your budget. Luckily, there are a number of new and innovative paid advertising opportunities emerging, from Instagram's Story ads to Snapchat's AR filters. By staying on top of the latest social media trends and investing in paid advertising, you can ensure that your business remains visible – and successful – on social media. Speaking of AR…
3) Augmented Reality
Augmented reality (AR) isn't a new social media trend, but we should expect to see it used in new ways in 2023 as the technology continues to evolve. While AR has been used primarily for gaming and entertainment purposes in the past, we're now seeing it emerge as a powerful digital marketing tool. For example, L'Oreal's Makeup Genius app uses AR to let users virtually "try on" makeup products before they purchase them. Similarly, IKEA's Place app allows users to see how furniture would look in their homes before they buy it.
As AR technology becomes more sophisticated, we expect to see even more businesses using it to give their customers a truly immersive experience. From try-before-you-buy apps to AR filters and lenses, there are endless possibilities for how businesses can use AR to engage with their audiences. Not only is AR technology getting smarter – it's also becoming more accessible. With the release of Apple's ARKit and Google's ARCore, we expect that even more businesses will have access to this powerful technology in 2023.
4) Social Commerce
E-commerce has been on the rise for years, but social commerce – that is, buying and selling products directly on social media platforms – is a relatively new phenomenon. That being said, it's one that we expect to see explode in popularity in 2023. Why? Because social commerce is incredibly convenient for both social media users and sellers. Buyers can browse and purchase products without ever leaving their social media platform of choice, while sellers can reach a wider audience with very little effort.
Instagram has been at the forefront of social commerce, with a number of features that make it easy for users to buy and sell products. For example, users can now add product links to their Stories, making it easy for their followers to purchase the items they're featuring. Facebook, Snapchat, and Twitter have also jumped on the social commerce bandwagon, and we expect to see even more platforms get on board in 2023.
5) Ad Personalization
As social media ads become more commonplace, businesses are starting to realize that they need to personalize their ads in order to stand out from the competition. After all, users are bombarded with ads on a daily basis – and if your ad isn't relevant to them, they're likely to tune it out.
Ad personalization is nothing new, but we expect it to become even more important in 2023 as businesses strive to create truly targeted campaigns. Thanks to advancements in data and technology, businesses now have the ability to personalize their ads like never before. From targeting specific demographics to using user data to create personalized messages, there are a number of ways that businesses can make sure their ads are seen – and clicked on – by the audiences that are most likely to become customers.
6) Brand Accountability
As today's social media users become more and more aware of the impact their choices have on the world, we expect to see a rise in brand accountability. Put simply, users are no longer willing to support brands that don't align with their values. They want to know that their favorite brands are ethical and responsible, and they're not afraid to call them out when they're not. In some cases, this has even led to widespread boycotts of popular brands, which could be fatal for smaller businesses without the means to recover their losses over time.
This trend is only going to become more pronounced in 2023, as social media users become even more vocal about the causes they care about. We expect to see a continued focus on issues like sustainability, diversity, and social responsibility – and brands that don't address these issues will find themselves at a serious disadvantage. Make it a point to include social and environmental responsibility in your social media marketing strategy, and you'll be well-positioned to succeed in 2023.
7) Nano-Influencer Marketing
You've heard of influencers, but what about nano-influencers? Nano-influencers are social media users with a relatively smaller niche following under 10,000 followers. While they may not have the reach of a traditional influencer, they're often more engaged with their audience, and their endorsements carry more weight.
Nano-influencer marketing is a relatively new phenomenon, but it's one that we expect to see grow in popularity in 2023. Thanks to the rise of social media platforms like TikTok, it's easier than ever for nano-influencers to build an engaged following – and businesses are starting to take notice. If you're looking for a more cost-effective way to reach your target audience, consider partnering with nano-influencers in your industry.
8) Live Streaming
The pandemic has accelerated the growth of live streaming, and we expect this trend to continue in 2023. Thanks to platforms like YouTube, Facebook Live, and Instagram Live, anyone with a smartphone can broadcast their life to the world in real-time. And as streaming technology becomes more widespread, we expect to see even more people using live streaming to connect with customers, fans and followers.
While live streaming is often associated with gaming, it's also being used for a variety of other purposes – including business. From product launches to demonstrations and virtual networking, more and more businesses are using live streaming to reach their target audiences. Consider hosting your own live stream in 2023 for a unique opportunity to connect with your audience in a more personal and authentic way.
9) User Generated Content
User generated content (UGC) is any kind of content – including text, images, and videos – that's created by users, not businesses. UGC can be a powerful digital marketing tool, as it's seen as more trustworthy and authentic than traditional advertising. It also lends itself well to social media, where users are more likely to engage with content that feels personal and relevant in a sea of polished, professional ads.
Thanks to the rise of platforms like TikTok and Instagram, UGC is more popular than ever. A great way to utilize UGC in your own social media strategy is to encourage users to post about your brand, and then share their content on your own channels. You can also run UGC-based campaigns, like contests or challenges, to get users more engaged with your brand.
10) The Fall of Facebook
For the first time ever, Facebook is experiencing a decline. In 2022, Facebook reportedly experienced a loss of approximately 500,000 daily users in the US – a small percentage compared to their 2.92 million users, but a potential sign of what's to come for the company in the coming year. Much of this is due to increased scrutiny from regulators and advertisers, who are concerned about the platform's impact on user security. While Facebook is still the largest social media platform in the world, its user base is shrinking, and its relevance is waning as apps like TikTok continue to pick up steam.
So what does this mean for businesses? If you're relying heavily on Facebook to reach your target audience, it's time to expand your efforts. While Facebook will still be a relevant platform in 2023, it's no longer the be-all, end-all of social media – and businesses need to adapt accordingly. The best way to reach your target audience in 2023 is to diversify your social media strategy, and focus on platforms where your target audience is actually spending their time.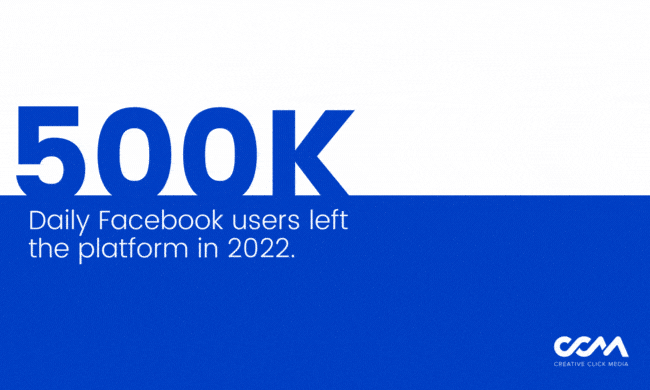 11) Virtual Reality
Not to be confused with augmented reality (AR), virtual reality (VR) is a computer-generated simulation of a three-dimensional environment that can be interacted with in a seemingly real or physical way. Think of it as a digital world that you can explore, complete with realistic images, sounds and even physical sensations. While VR has been around for years, it's only recently begun to gain traction in the business world.
There are a number of ways businesses can use VR, both internally and externally. For example, businesses can use VR for training employees or giving customers a virtual tour of their facilities. VR can also be used for marketing and advertising purposes, immersing potential customers in a product before they've even made a purchase. As VR technology continues to develop and become more accessible, we expect to see even more businesses using VR to engage with their audiences.
12) AI Image Generation
AI image generation is a type of artificial intelligence that's able to generate realistic images from textual descriptions. For example, let's say you needed an image of a blue dog in a car for a blog you were writing. It would be difficult to find that in a gallery of stock photos, and ever harder to photograph yourself. That's where AI image generation comes in: You simply provide a textual description of the image you need, and the AI generates it for you.
This technology is still in its early stages, but that provides the perfect opportunity for your business to get ahead of the curve. AI image generation can be used for a variety of purposes, from creating product images to developing marketing collateral. With AI image generation, the sky's the limit – so start thinking about how you can use this technology to create truly unique and one-of-a-kind imagery for your branding.
13) Social Listening
Social listening is the process of monitoring social media for mentions of your brand, competitor brands, or relevant keywords. It's a valuable way to stay on top of the latest conversations about your industry, and can give you insights into what people are saying about your brand – good or bad. This is important because it allows you to address any negative sentiment in a timely manner, and also gives you the opportunity to capitalize on any positive sentiment by amplifying it across your own channels.
If you're not already using social listening, now is the time to start. Social listening can be done manually, but there are tools available to automate the process for you. If you do choose to take the automation route, it's important to set up your parameters correctly so that you're only monitoring relevant conversations. Once you have social listening set up, make sure to dedicate time each week to reviewing the data and taking action based on what you find.
14) Data-Driven Marketing
Successful social media marketing is driven by two key components: data and insights. The more you know about your target audience, the better you can tailor your content and campaigns to meet their needs. That's why data-driven marketing is so important. By leveraging data, you can make informed decisions about your social media strategy that will help you reach your business goals.
There are a number of ways to collect data about your target audience. Social media platforms offer their own insights, and there are also third-party tools available. Once you have access to this data, it's important to take the time to analyze it and understand what it's telling you. Only then can you use it to make decisions about your social media strategy. If you're not already using data to drive your social media marketing, 2023 is the time to start.
15) Transparency
Transparency is a hot topic in social media, and for good reason. In an era of "fake news" and distrust of institutions, people are looking for brands they can trust – and that starts with transparency. When it comes to social media, being transparent means being open and honest about who you are, what you stand for, and what you're doing. It also means being open to feedback and engaging in two-way conversations with your audience.
If you're not sure where to start with transparency, a good place is your social media bio. Make sure it accurately reflects your brand and what you stand for. You can also be transparent in your posts by sharing behind-the-scenes content, being open about your missteps, and responding to negative comments in a constructive way. The more transparent you are on social media, the more likely you are to build trust with your audience – and that trust can eventually lead to conversions and sales.
Will Your Social Media Marketing Strategy be Trending in 2023?
As you can see, there are a number of social media trends that are poised to make a big impact in 2023. Feeling overwhelmed? Don't worry – you don't have to incorporate all 15 of these into your social media marketing strategy to have a successful 2023. The key is to identify which of these trends are most relevant to your business and then focus on building them into your social media channels. Not sure where to start? That's where we come in.
Creative Click Media's team of social media marketing mavens can help you create a customized strategy that will help your business generate user engagement, build your following and ultimately boost your bottom line. Your trending social media marketing strategy is only a click away – contact us to get started.
Looking for even more digital marketing trends for 2023? Check out our picks for the top SEO trends to keep an eye on in the new year!