The Oxford dictionary defines "success" as "the accomplishment of an aim or purpose". While this all-encompassing definition might summarize success in the general sense, it doesn't come close to covering the nuances that come with obtaining success as a woman in a male-dominated workforce.
The number of women-owned businesses in the United States has increased by 58% in the past decade. While this number is encouraging, the challenges women face in their efforts to shatter the metaphorical glass ceiling are still very real today. In 2018 alone, the number of women in Chief Executive roles at Fortune 500 companies decreased by 25% – a meager 24 from the already small pool of 32 women the year prior. With this in mind, the definition of success for women in business evolves from closing a profitable sale or receiving a promotion to simply being given the same opportunities to succeed as their male counterparts.
Whether starting a business from the ground up or joining a preexisting organization, the need for gender equality in leadership roles is still a prominent conversation across industries. In celebration of Women's History Month, we asked women entrepreneurs and professionals across the country to share their definition of success as a woman in business.
---
Danielle Bayard Jackson, Co-Founder of STRIDE Media Group
Being a successful woman in business means not subscribing to pre-determined expectations and instead, creating your own. When I was working for a national nonprofit, I was surrounded by male leadership and I was expected to dress, behave, and think in a particular way. I gave in because I wanted to keep my job and I believed that bending would show I was a cooperative employee. But I had so much untapped creativity, and it was more and more difficult to keep myself restrained.
I started my own public relations agency using all of the ideas I had to suppress in former jobs when I was told (by male bosses) what assignments I could and could not do. Now I create campaigns for clients of my choice, and the possibilities are endless. I dress, behave, and think freely, and although owning a business is stressful, I've never felt so liberated.
I am finding success in operating within expectations I've created for myself, and it feels good.
---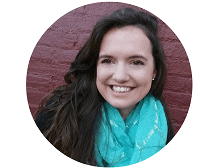 Being a successful woman in business means finding your own path. There's not usually a roadmap for women specifically to success in any kind of business, so you have to make your own. Learning your own way to do things that work for you and your life is important for anyone, but especially for women who bear a lot of the weight of the responsibilities of business as well as at home. Being successful means that my work is not only profitable but also helpful to other women. When one woman succeeds, it starts a ripple effect of other women who realize that they too can be successful.
---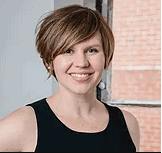 Jessica Prater, Chief Everything Officer of J. Prater Consulting
Being a successful woman in business means that you are actively using your strengths and skills to carve out a career path. You are unafraid to be yourself and to pursue the goals that you have identified. Being a successful woman in business also means you are unafraid to break norms and shift paradigms because business is often male-dominated. It ALSO means defining your ideal state and aligning your goals with it – whether it be to have a high-paced executive career or taking a few years off to mother your children. Understanding that there is no "ideal path" but rather the "ideal path for you" is the key to truly being successful. Supporting, advocating for and championing other women is crucial – community over competition is the ONLY way to creating a fully participative workforce for MEN AND WOMEN.
---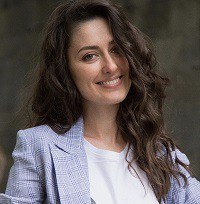 Melis Sawerschel, Founder and CEO of She Is Rebel
Being a successful woman in business means you get your power from within as a woman, not from what others think, approve or expect from you. I believe every single woman is powerful in different ways – be it a CEO, be it a freelancer. Claiming that power only comes from being themselves as a woman, not from being an imitation of a man to survive so-to-called men's world. But that doesn't mean you can't be a winning woman to change this stereotype. You should. Because you can only get more successful when you take advantage of your differences – rather than being afraid of them.
Being a winning woman in business is about knowing what you want and coming forward by relying on your own intelligence, boldness, and power. Because nothing can beat a person who relies on herself. That's why you should enjoy resistance, rejection, negotiation, persistence instead of seeking for likability in business. You should use feminine power as the pillar of who you are and never spare this to get what you want.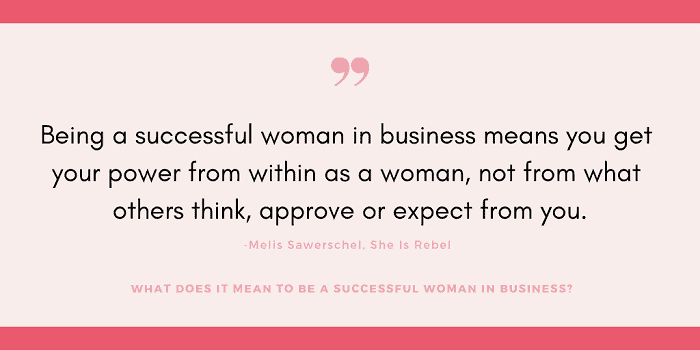 ---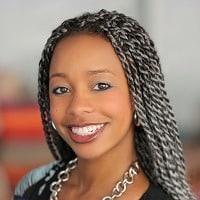 Erica Taylor Haskins, Founding Partner & Chief Marketing Officer of Tinsel Experiential Design
Being a successful woman in business means each day, putting on your cape (whether that's a powersuit, a leather jacket, or a lab coat) to command the attention and respect of any room. Any boardroom. Any conference call. It means attracting and celebrating abundance without guilt or fear. It means truly owning your talent, confidence, resilience, authority, and unwavering self-worth, then empowering other women in the room to celebrate their own potential, too.
---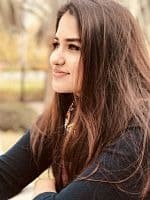 Nooria Khan, Content Marketing Executive at GigWorker
Being a successful woman in business means that you are able to decide your life's trajectory for yourself. No one really understands you better than you understand yourself. For me, A successful woman in business is able to make decisions for her life, her passions and do whatever SHE think is better for her. In life, take as many suggestions and opinions as you can, but at the end of the day listen to yourself and do what your heart says. Because at least we owe this ourselves, we deserve to be happy and satisfied from life. For me, a successful woman in business is the one who balances her work-life, carves her path with total confidence and passion. An empowered woman is the one who makes her life and life of people around her better in every way.
---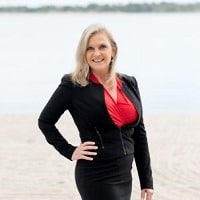 Being a successful woman in business means having the courage to own who you are, why you are doing what you do and how you can apply your vision to positively impact the world. A successful woman is confidently feminine and eager to learn and grow. She has achieved balance and perspective in all aspects of her life. She leads rather than chases. She explores rather than waiting for the path to be paved. Her success grows thanks to the challenges that she has faced —versus growing in spite of them.
I consider myself successful in business not only because of the results that I see (money, notoriety, etc.). I feel successful because I wake up each morning looking forward to what the day will bring. I love what I do and I'm doing what I love. I thrive even while running these businesses while acting as the primary 24/7 caregiver for my daughter.
Our businesses give us an opportunity to let our voices be heard — to leave a thumbprint on the world. A successful woman realizes that it's personal precisely because it's business.
---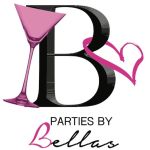 Being a successful woman in business means being able to leave your comfort zone. My favorite quote is "nothing great comes from comfort zones." In order to be successful whether you are a male or female, you have to take risks. You can not follow the crowd you need to stand out and take the path less traveled. Of course, there is the chance you will fail, but you can not be scared of that. Everyone wants to be an entrepreneur, but not everyone has the motivation or courage to do so. You also need to realize you are never done learning and you have to be open to be the student at times. There is always room to collaborate and grow with like minding positive people.
---
Tahnee Elliott, Founder & CEO of T.C. Elli's
Being a successful woman in business means being unafraid to lean into what sets us apart as women and claim those traits as strengths in the business world. Embrace your compassion, your strength, your cleverness, your femininity. What once was perceived as characteristics that 'aren't meant for business' can now be seen as incredible assets.
---
Being a successful woman in business means being proud and confident in my abilities, especially in the male-dominated tech industry. It also means supporting other female entrepreneurs. I go out of my way to seek out women vendors and work with my fellow women-owned businesses.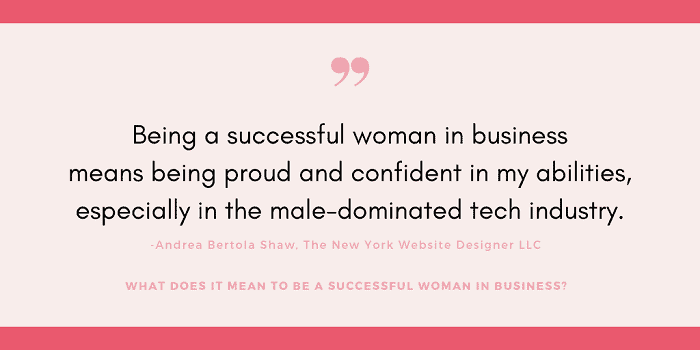 ---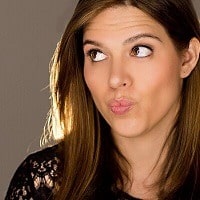 Being a successful woman in business means that you've learned how to ask for the things that you want. This may be more responsibility, a raise or a promotion. Being a successful woman in business means you have learned how to say yes to opportunities, even if you don't have everything you a position may require. It also means that you have learned to apologize less. Women who have made it have learned that they don't have to ask anyone's permission to make a big decision. They have learned to be fully confident in their decision making, and know they are capable of figuring it out regardless of what happens. Being successful also means understanding how to speak up in meetings and on calls without fear. Success breeds a true comfort level with your knowledge base and what you bring to the table. This realization is incredibly powerful, and it makes women virtually unstoppable.
---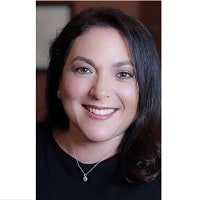 Being a successful woman in business means that you have the confidence to command and demand respect from your clients, peers and competitors. Being successful means making your opinion count, being that voice in the room that others listen to and may not agree with, but agree that it needs to be heard. Being successful is not just the revenue you take in or the clients you sign, but the revenue you refuse and the clients you reject (or fire) because you don't think that work experience would add to your business, your franchise or your life. I have learned in my 20 years of business – and 6 years owning my own firm – that there are tough decisions every day and if I don't stand up for myself and for what I believe in, nobody will do it for me. I have had mentors and "rabbis" in my career, but over time I have learned that my own voice is the most powerful one I will ever have and need to use it every single day. Being successful in business is when you sit across from a client who tells you, "I could not have done this without you."
---

Yaz Purnell, Freelance Writer & Founder of The Wallet Moth
Being a successful woman in business means not having to think about how well you're doing compared to your male or female counterparts : it means getting your head down, loving what you do, and rocking your business not because your a woman, but because you're a dedicated, motivated entrepreneur who works for want they want.
---
Elnura Ashimova, Co-Founder & CEO of Yoganect
Being a successful woman in business to me means being flexible and overcoming challenges. Sometimes the wrong choices bring us to the right places. In other words, sometimes in order to be more creative and productive, I have to stop being worried about being wrong.
Of course, the ultimate question is about balancing work/life as a woman. But to me, being productive means not being perfect and doing 100%. Rather, it means doing what is necessary. As a woman, I watch men who don't care about being perfect in the same way that many women often do. Adopting that 'necessary but not perfect' attitude helps me find more time for myself, my self-care and my fitness and yoga routine – which is crucial for my life.
---
Being a successful woman in business means unapologetically taking up space and fearlessly breaking social codes to pave the way for others. Being a successful QUEER woman in business means letting go of conditioning to bravely face and conquer whatever hand you are unfairly dealt. It means understanding your duty to empower, elevate and educate other women of all backgrounds who are yet to step into their power and rise up. It means working on yourself to be a leader whose presence demands respect and whose value is so evident as to not be contended – by anyone.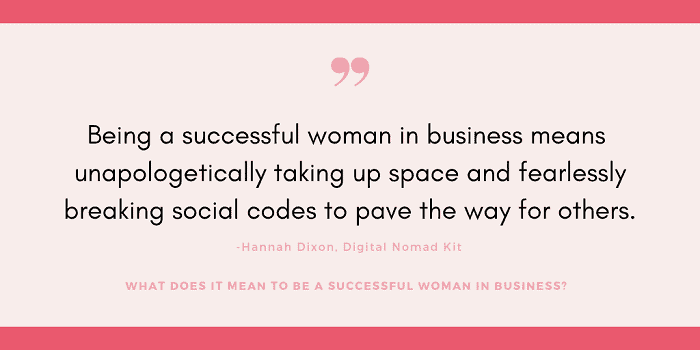 ---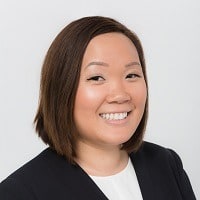 Sandy Yong, Author/Investor/Speaker at The Money Master
Being a successful woman in business means embracing your unique abilities and not letting fear hold you back from pursuing your dreams. If you have big goals, go after them and don't let negative people stop you from your true passion. Become a pioneer and pave your own path to inspire others to see that women can achieve anything they set their mind to. Raise the bar and show that you can be both – a wonderful mother and a career-driven businesswoman.
Boss women also know to invest in themselves and take care of themselves. They know when to give to others and when it is time to take care of their own body by eating healthy and exercising. Because in order to perform at your best in your professional and personal life, you need to ensure that you are taken care of and avoid burning out. They continue to educate themselves whether reading books, listening to podcasts or attend networking events.
Successful female entrepreneurs surround themselves with like-minded individuals and help lift each other up. It means becoming a leader and influencing others to make a positive impact within their community and even globally. As long as you stay true to your values and are authentic to who you are, then people will respect you. Use your voice and share your message to make a difference.
---
Adriana Monique Alvarez, CEO, Business Consultant, and Founder of Holy Business
Being a successful woman in business means I am willing to face my fears and confront my desire for comfort in order to embody my potential. I create wealth on my terms so I can walk my kids to school, enjoy breakfast with my husband and take an afternoon nap. It means I have choices and that I stand for the financial independence of women globally. It means I am waiting on no one to give me permission to claim my genius, my intelligence, and my power. I take responsibility for being a role model and mentor for those who come after me. It means connecting deeply with my work and remembering this is my divine calling. It means being self-expressed and regularly finding a way to break the rules and dissolve the stigmas around success and money. It means leading with love and compassion, always expecting the best from myself and others. I am my biggest cheerleader and supporter. I let everyone else of the hook for my success and own my capacity to create the life I desire. Being a successful business woman means I stand on the shoulders of those who came before me and rise to the occasion.
---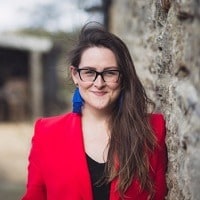 Fiona Minett, Founder of Boss Your PR
Being a successful woman in business means showing up each and every day, not because you feel that you have to prove your worth, but because you are driven to succeed. I think that being a successful woman in business also means being able to embrace those attributes that we bring to the table as women; compassion, empathy, understanding, the ability to listen and to nurture. In my mind, a successful woman in business is someone that nurtures other women to grow and develop in business. Someone that hasn't gotten where she is in spite of being a woman but because she's a woman and now wants to throw that ladder down for others.
There have historically been many barriers to women succeeding in the workplace and in business, we are on the back foot because of this and the societal norms and pressures that have been applied to the generations of women before us. However, the world is waking up to what women have to offer and being a successful woman in business means taking on this mantel and sharing as encouragement for others and using her position to be a role model for those looking to succeed.
---
Being a successful woman in business means being heard. Being willing to fail. Embracing what makes you different. Owning who you are. Delivering to the best of your ability without any apology. Respecting yourself and knowing others will follow. Challenging yourself, your colleagues, your partners and clients to perform and create to the highest level. Being a successful woman in business means being your authentic self and showing up, day after day, to get to work.
---
Adaleta Avdić, Content Creator on Social Media, Blogger, and Entrepreneur
Being a successful woman in business means not letting any societal norms get in the way of your success. There's no time to play the victim or complain about politics. You have to grind through the controversy, be a boss in the workspace and show those male-dominated departments they do not intimidate you in the slightest. Hard work always pays off, especially when you make your voice heard amongst your peers; male or female.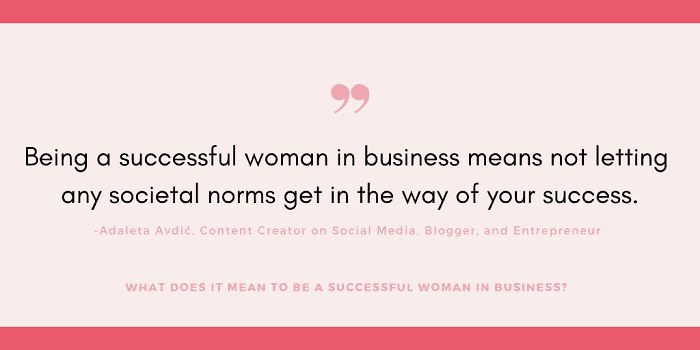 ---
Laura Frecon, Founder/CEO of Verte Luxe
Being a successful woman in business means being so passionate about your work that you wake up every day and can't wait to dive in to make your dream a reality. It is believing so much in what you are doing that you are proud to call yourself the boss. It is having values, hard work, ethics and transparency in everything you do for your business. It is staying a strong woman in the face of adversity and knowing in your heart that you have what it takes to succeed. Often in business, the power of being a woman is overlooked. You have to truly believe in yourself and trust that what you are doing is for a greater good. Being a successful woman in business is having a sense of professionalism and pride in everything you do.
---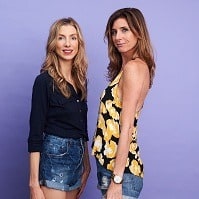 Erica Huss & Zoe Sakoutis, Co-Founders of BluePrint Cleanse & Co-Hosts of HTW With Zoe and Erica Podcast
Being a successful woman in business means we get to make choices about the next step on the career path, instead of feeling obligated to meet standards set by someone else. It means we get to encourage other women, who may feel that they have to play by an antiquated set of rules around balancing their personal lives with their career goals, to think beyond those rules and set new standards for themselves; so not only are we successful at what we do, but we can inspire others to pursue their own success. Win-Win.
---
Katrin Zimmermann, Managing Director, The Americas for TLGG Consulting
Being a successful woman in business means supporting and mentoring others.  Being the only woman in the room often means you have to fight harder to get the recognition you deserve or to make yourself heard in the first place. Unfortunately, we are often still fighting against each other, rather than for each other. This daily fight makes you forget that others around you are struggling just as much. And it's not just women- the current structures disadvantage immigrants, people of color and the LGBTQ+ community just as much. I firmly believe that once you get to where you want to be, there is nothing more important than paving the way for others. Change in organizations trickles down from the top, women in business can use their own experiences to promote empathy and understanding. Creating a diverse and inclusive work environment requires us to use our voices for the benefit of everybody.
---
Ruthie Bowles, US Army Vet, Owner & Senior Content Marketing Strategist at Defy The Status Quo
Being a successful woman in business means rising until your gender either no longer matters or is considered an asset. Usually, we have to work harder for the same level of recognition. We have to exceed everyone's expectations, because they normally expect us to fail or not last in the industry. We usually have to make a choice between being nice and having our assertiveness be mistaken for "bitchiness". It isn't fair, but we do it because we hope that future generations of young women won't have to.
---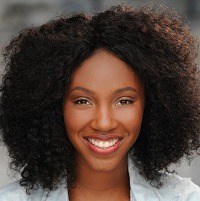 Chynna Morgan, Founder/CEO of GIF Out Loud
Being a successful woman in business means that I get the opportunity to open doors for other women by being an example. Showing women that they can kick down doors and do whatever they put their mind to. Showing them how important it is to have a positive attitude, to always believe in themselves and trust their instinct. As we know, being in tech, women are disproportionately underrepresented and it is such a male-dominated field that sometimes women feel like they do not belong. But, we as women, we have to understand how powerful we are in any industry, and that our presence is needed. We should always remember that we do belong and when we see doors closing, to keep being persistent and create and go through other doors. Being a successful woman in business means that you have the mindset that you can do whatever you put my mind to, whether your industry is male-dominated or not. Being a successful woman in business means, you believe in yourself, you understand your power, your passionate about what you do, you keep a positive attitude and you did not let any obstacle distract you from meeting your goal and succeeding.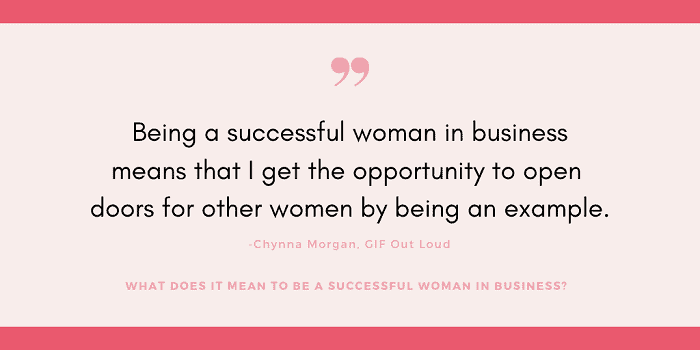 ---
As discouraging as statistics regarding gender equality in the workplace can be, these successful women are proving that the glass ceiling is fracturing more and more each day. Thank you to ALL of the women across the world working to inspire a new generation of future female leaders to redefine success in their careers.

Feeling inspired yourself? Check out last year's "What It Means to Be A Successful Woman in Business" roundup for even more woman-powered success stories!