The second wave of the Roaring Twenties is fast approaching, and our modern-day web design world might have more in common with this century-old era than one might think. Much like the culture of the 1920s, web design in 2020 is expected to put a staunch focus on bold expression, taking innovative risks and utilizing new forms of technological mediums. While we can't say definitively what 2020 has in store for web designers, we can make some educated predictions based on trends that are already gaining momentum across industries. We asked business owners, website designers and marketing experts to share their predictions for the top web design trends that will take the marketing world by storm in the coming year.
---
1) Personalization
All of the available data shows that personalization is going to play a significant role in web design next year. Consumers want experiences, product recommendations, and content that appeals to their interests. As we begin to gather data from consumers about how we can best serve them, we expect to fine-tune our on-site campaigns and web design for individual users.
– Frank Spear, Content Marketer at RafflePress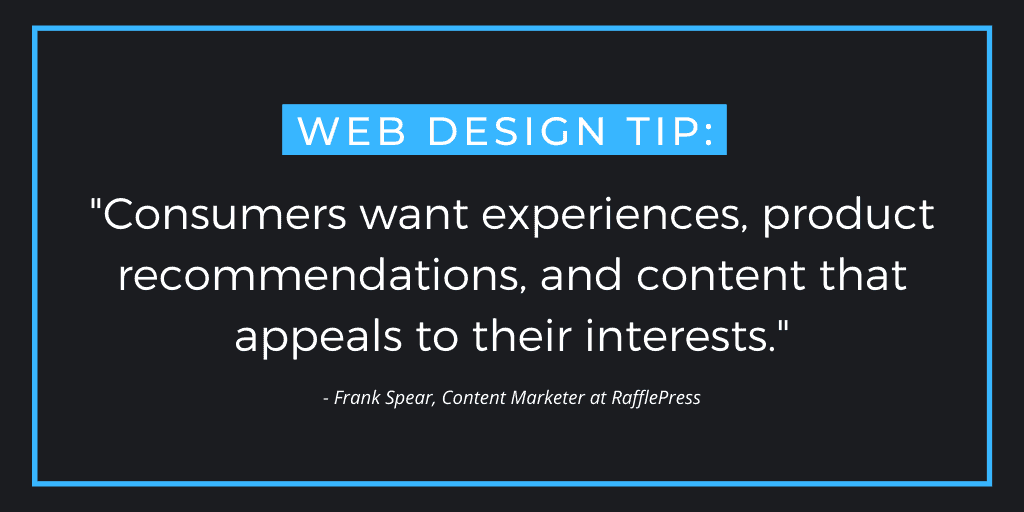 ---
2) Minimalism
I predict that the biggest web design trend in 2020 will be minimalism. Many websites have a lot going on at one time, and it can be quite overwhelming. In addition, it can slow down your browser. I'm forecasting that more websites will focus on minimalism by making their sites more clean and simple.
Websites that have white space that allow different elements to breathe are easier to navigate and present a better user experience. For example, luxury brands are well known for their use of white space. While minimalism is better suited for some brands over others, it's important to consider what your brand is and how you want to communicate it to others in order to determine how to best use this trend on your website.
–Lewis Goldstein, President of Blue Wind Marketing
---
3) Unique Color Stories
Colors including natural, lighter shades like biscay green and bluish violet will likely trend, serving as a pop of color to otherwise minimalist web designs. To accentuate these less saturated colors, more intense – yet natural – colors will trend, including bordeaux red and marine blue. These colors will come into play to highlight the overall minimalist trend that allows users to focus on the main purpose of the website rather than be distracted by an overwhelming design.
-Andrei Iancu, Senior UX and UI Designer at Dreamstime
---
4) Voice Technology
I believe the integration of voice technology that allows for search on a website through voice command will be the future of web design in 2020. Voice has become increasingly common in our everyday activities with the invention of Siri, Google Voice and Alexa. Voice-activated technology will also make it easier for website visitors with disabilities to engage with a brand.
-Aiden Angeli, Founder and Senior Marketing Consultant at Ripe Marketing
---
5) Dark Mode
Dark mode is an important trend for both UI and UX in web design. In terms of UX, dark mode in applications and websites is a great deal for night owls and people working during night shifts who do not require high brightness to see their screen. This trend has been actively implemented since the introduction of iOS version 13 and is going to settle and become ubiquitous.
-Sergey Valuy, Chief Technology Officer at Smartym PRO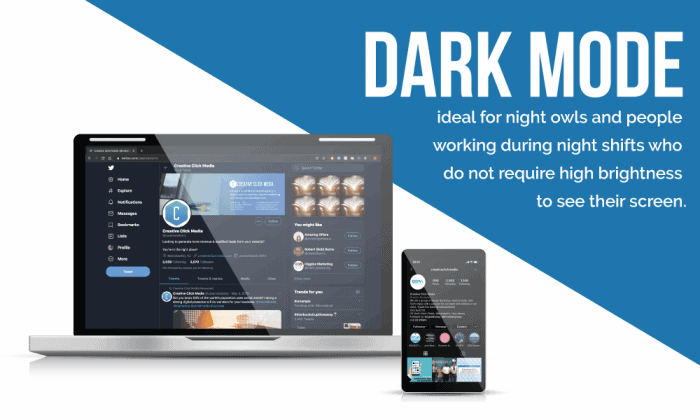 ---
6) Rich Content
As page builders become more advanced, they're capable of much more than they were two years ago. Tasks that once required a full-fledged web designer are now possible with minimal technical know-how. Everything from countdown timers to targeted intent-based content can be implemented with a click of a button. With this in mind, I can see many businesses embracing this to create rich, dynamic content on their website. Dull, flat websites will be replaced with engaging, eye-catching animations and replace the traditional website format. Elements like special limited time offers and countdown timers will become commonplace and consumers will be able to have a much deeper connection with the website.
-Mark Webster, Co-Founder of Authority Hacker
---
7) Accessible Design
In 2020 we are predicting that Web Accessibility is going to have a much heavier impact on web design considerations, with more complex and experimental designs falling out of favor as organizations ensure that their websites and apps are, first and foremost, accessible for all users, including those with disabilities or visual impairments.
The US Supreme Court this year ruled against Domino's in a case brought by a visually impaired man, who was unable to use their website or app to make orders as they weren't compatible with his screen reader. The Court ruled that ADA legislation included the company's website and app, and it was Domino's responsibility to ensure that they were accessible to those with disabilities.
Naturally, this ruling is going to have an impact on design, with more avante garde or unusual designs falling out of favor, as companies prioritize web accessibility standards over artfulness or innovation in design.
While this might result in fewer experimental websites pushing the boundaries of technology, it can only be a positive step to ensure there is inclusivity for all web users, and could lead to a new direction in design trends based on accessibility and usability.
-Sam Orchard, Creative Director at Edge of the Web
---
8) Motion Graphics
We are seeing more and more commonly the use of animation and motion graphics within web design, from sleek page transitions, custom cursors and simple micro-interactions right through to advanced interactive illustrations. While animation in websites is not a recent innovation, the last few years have seen improvements across different browsers and devices. A pivotal example of this is load speed, which previously curtailed the potential of motion graphics. This has given designers a greater capacity for innovation, implementing exciting designs that are sure to engage users. Designers have also gained a greater knowledge of SVG animations using HTML 5. Both of these factors have culminated in the growth of several trends, which we predict will surge in popularity over the next year.
-Alex Chenery-Howes, SEO Executive at Yellowball
---
9) 3D Animation
Websites are likely to start incorporating more 3D illustrations on their pages. With the ubiquity of flat design, designers have had to find innovative solutions to differentiate their brands. 3D animation allows for a more engaging experience, particularly when movement is paired with the user's actions.
-Juan Pablo Madrid, Design Director at Online Optimism
---
10) Mobile-First to Mobile-Only Design
In a mobile-first world, attention spans are shorter than ever. You have less time to grab your visitor's eye, so video will be used even more frequently with a "show don¹t tell" strategy for maximum impact. Rich content drives engagement, traction and growth. The world is moving to mobile-first or mobile-only with fewer people accessing the web on big screens, so business owners will need to tailor their site, message and content accordingly.
-Paige Arnof-Fenn, Founder & CEO of Mavens & Moguls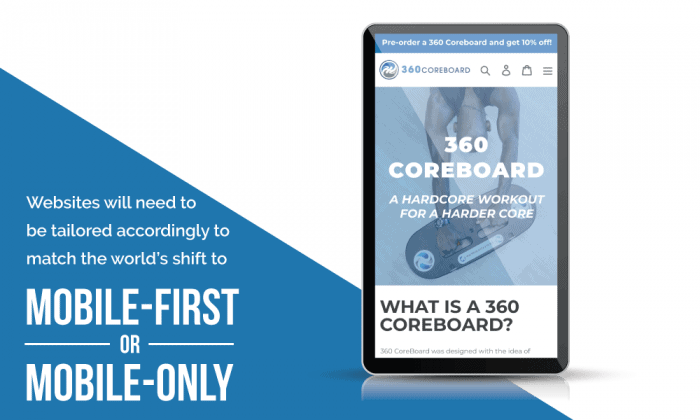 ---
Web Design Trends for 2020 & Beyond
Web design trends may come and go, but something that will never go out of style is the need for a beautiful, functional and informative website. Which trends do you predict will take the web design world by storm in 2020? Which trends from 2019 do you anticipate will taper off this coming year? Make your predictions in the comments!