Ready or not, it's already time to dive into web design trends for 2022!
The look and functionality of your website are often some of the first impressions a potential customer will form about your business. It only takes about 7 seconds to form a first impression, so it's critical that your website showcases your business in the best light possible as soon as a user lands on your page.
The beauty – and perhaps the difficulty – of web design trends is that they are always changing. What's hot today could very well be on its way out tomorrow, especially with each new change in technology and SEO best practices. For this reason, it's crucial that your business is on the pulse of the next big thing in web design even before it becomes the mainstream norm.
How do you accomplish this? You consult with the experts! We asked 25 business owners and digital marketing gurus to share the 12 web design trends they're keeping an eye on as we head into the new year.
---
Mobile First Design
Mobile-friendly websites have already been a priority for the past few years. Still, with more and more of the internet accessed through smartphones, the most mobile-friendly websites are most likely to perform the best. User experience is the most critical factor for this. One of the most popular ways of improving user experience is by considering how the user will view the website on their smartphone. Typically, users scroll through the website with their thumbs. As a result, designers are working to confirm that their content is accessible by thumb with room to spare so that users do not accidentally click the wrong link and become unhappy with the website and their experience using it.
-Joan Siopes, Digital Marketing Director at Herrman and Herrman PLLC
It's self-evident that mobile design is more critical than desktop design. Over 60% of Internet users access websites via mobile devices rather than a laptop or a desktop computer. The largest category is made up of mobile phone users. Without a doubt, thumb-friendly mobile design is now a necessity. Your website should be straightforward and simple to navigate with just the thumb. Here, simplicity is critical!
-Adam Fard, Founder & Head Of Design of Adam Fard' UX Agency
Let's face it. Most people, including you and me, do most of our browsing on our phones now. We check emails and update our social media platforms through apps. Our smartphones have become the first point of contact between companies and the consumer. Sure, we might still use our personal home computers or laptops, but those are usually kept for work or play.
For a lot of companies out there, they are going to have to approach their marketing in the coming year by prioritizing their mobile presence. This happens by either streamlining their mobile site or by creating a mobile app people can use. Especially with the incoming change to 5G, mobile browsing will soon be able to handle everything from work and gaming as well, which only furthers the development of mobile platforms.
-Carla Diaz, Co-Founder of Broadband Search
---
Voice Functionality
For the last two years, voice search has been on the rise. People are increasingly adopting voice assistants to conduct online searches rather than typing into Google or other search engines. As a result, the rise of voice-activated internet interfaces is a foregone conclusion. As a result, as a user, you should be able to communicate with the website and specify what you like to see. Indeed, this is the website of the future!
-Edward Mellett, Founder/Co-Founder of WikiJob.co.uk
Web design trends will focus on voice search engine optimization (SEO). Around the world, voice search is becoming more widespread. By 2022, there will be more than 135 million voice assistant users in the United States.
We expect to observe an increasing number of web designers prioritize voice search optimization as customers become more comfortable with Alexa, Siri, Cortana, Google, and other virtual assistants. Many businesses, for example, may incorporate long-tail keywords into their content that is based on how people speak rather than type (e.g., "Where is the nearest pizza restaurant?" vs. "pizza near me").
-Emma Williams, Chief Research Officer at HIGH5
---
Accessibility
Strong color contrasts and the use of alt tags for photos are two of the most essential aspects that make your website accessible to everyone. The words in an image's alternative content, often known as alt-text, will be displayed instead of or alongside a graphical depiction. This way, people who can't see your site can acquire more information from you about any page on your site – whether they're able-bodied users navigating with mouse clicks alone or people who can't view your site.
-Melissa Collins, Partnership Manager at Perfect Brew
It is the twenty-first year of the twenty-first century! As a modern society, it's only natural that we take diverse disabilities seriously and make it easy for impaired people to access information online. Future websites must prioritize accessibility and availability features, as well as a complete design that accommodates nearly everyone.
-Chris Taylor, Marketing Director at Profit Guru
---
Data Visualization
Visual content is preferred by a larger percentage of the human population over words and figures. And, while the majority of us care about statistical data, we frequently lack the ability to comprehend what it means when it is not visualized. While data is an excellent asset to display on your website in 2022, what will truly differentiate you is visualized data.
-Gerrid Smith, CMO of Joy Organics
---
3D Design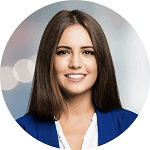 3D designs and a heavy dependence on multimedia features are likely to be a huge thing in 2022, and it's not just because people have fallen in love with media. The standard screen resolutions have undergone massive changes since the early 2010s. We even got past HD, which we all thought would be the final stage. As it stands, everyone is thinking about 4K or 8K where possible, and so should website designs.
There's a hunger to feed websites with more quality media, not just the occasional still images that have been a dominant part of web design for a while. As such, there's a likelihood that 2022 will bring a sharp focus on how websites can employ VR, 3D technology to complement the interactive features in website design.
-Alina Clark, Co-Founder & Marketing Director of CocoDoc
Web design trends have always been driven by new technology, and the current period is no exception. A web design trend that we at MindInventory are preparing for is 3D design and multimedia. As the standard in picture quality has shifted from HD to 4K, 6K, and even 8K, web designers are enthusiastically embracing 3D design and animation along with interactive features to make their websites more engaging and entertaining. Our web designers at MindInventory have already started working on 3D designs, large-scale video, and imagery.
-Mehul Rajput, CEO at MindInventory
---
Dark Mode
White backgrounds have been viewed as the standard for a webpage's design and readability. But there has been an increasingly popular trend where people are opting to Dark Mode, where they adjust the backdrop from luminous to dark. There have been studies that have shown that it is simpler to utilize a dark backdrop as it is easier on our eyes and the battery life of our mobile devices. Be on the lookout for this design trend as it can be a great opportunity to increase the prominence of a lot of different creative components and further improving the visual feel of your website design.
-Dan McCormick, Director of Partnerships and Senior Content Strategist at Perfect Brew
Mobile applications have been dominated by dark-themed UI, and websites will be the next. It has already started with big giants like Facebook, Apple, Youtube and so much more. And it'll just be a matter of time until everyone gets to jump into it. With it, a superb user experience will be catered to users visiting any website. It's not only safer for the eyes but will enhance visibility as well. With it, eye strains will be reduced. The less the eye strain, the fewer chances users to have headaches, therefore the better the experience. And the best part is, you'll not only get an optimized experience but an optimized battery time as well.
-Rengie Wisper, Outreach Consultant at Indoor Champ
We are planning to adopt a dark mode feature in web design in 2022, which is one of the web design trends we expect to see. Dark color schemes for websites are becoming more popular than ever before, with more designers than ever falling in love with them. Users tend to opt for the dark mode scheme on Facebook and Messenger, and even Google Chrome. An alternative to more typical color templates, a dark mode design might be a colorful and refreshing alternative. It can also help reduce eye strain for your users while also drawing attention to the content and graphics you want to draw attention to on the page.
-Teo Vanyo, CEO of Stealth Agents
---
Interactive Content
Consumers are becoming more aware of the possibility of customizing some aspects of an online store. In 2021, interactivity will do so with the help of artificial intelligence. Interactivity refers to personalizing the landing pages and user experience on a website. Interactivity, like chatbots, uses machine learning and neural networks to learn about your browsing patterns and activity while you're on the site. It then guesses what you might require from the internet and displays those items in a more prominent manner than those you don't. Because their actions are diverse, two visitors on the same site may view dramatically different material.
-Jennifer Carter, Crypto Analyst at Credit Donkey
One of the web design trends for 2022 is interactive content. With the arrival of 5G and the expansion of smart home devices, audiences are favoring sites that provide a more interactive experience than just showcasing their wares. They are looking for engagement with the brand, and rewarding those that are able to align with their values.
-Michelle Devani, Founder of lovedevani
---
Lightning Fast Load Times
The most important web design trend in our opinion is lightning-fast site speed. Although you could argue this has always been a trend, we feel that the demand for it now is bigger than ever. Especially as Google uses the mobile version of your website for indexing and ranking nowadays. Therefore, our team is looking at all possible ways we can gain a few milliseconds and improve core web vitals to give us the best chances at ranking well in 2022.
-James Koussertari, Head of Creative at Cariad Web Design
Our firm is preparing for an ultra-fast load-time in 2022. Websites with fast loading speeds are essential factors in user experience and search engine optimization in this day and age. They are a key priority for those seeking to rank high in search results and convert more visitors. Because they don't like to wait, users prefer websites that load quickly and take no more than two seconds to load after clicking a link by internet browsers. When a website takes more than three seconds to load, users will most likely abandon it, and it is unlikely that they will come back in the future.
-Isabella Gordan, Co-Founder / Editor of Sleepy's Express
From what we've been seeing, both users and Google want page speed. Not just because of the Core Web Vitals, but also because customers' impatience is increasing the bounce rate on a lot of web pages and domains.
Bounce rate is increasing a lot lately, partially because we want to offer high-quality pages with a lot of interaction on the homepage. Even though interaction is crucial, we must not forget that users want things fast. So I'd say page speed is extremely important, and will continue for 2022.
-Miguel González, Digital Marketing Executive at Dealers League
---
Virtual Reality (VR)
Web design is no longer an isolated discipline and technologies and trends related to web design affect many other markets. The debut of virtual reality (VR) hardware, with the Oculus Rift as its most visible product, foreshadows the opportunity for richer immersive content.
VR technology can be used in conjunction with augmented reality (AR) to develop interactive media such as games within a 3D space that we can enter and interact with through advanced headgear or glasses, bringing digital images into our physical environment.
This type of media is attractive because players will not need to explain complex instructions as they would do for any board game with lots of pieces and accompanying instructions manual; everything is built right into the experience itself.
-Farzad Rashidi, Co-Founder of Respona
---
Micro Animations
One of the most important web design trends taking place is micro animations, which make for some really interesting interfaces. E-commerce can use this to showcase their products from a 360-degree view, which is so important since customers are not able to see the product in person before they buy it. It's also a fun addition to websites, as it will make them more bold and dynamic. Information can also be presented better in animations. Overall, the user experience for websites may be more exciting in the future!
-Sam Shepler, CEO of TestimonialHero
If you have an eCommerce brand, one web design trend you should definitely capitalize on for 2022 is using micro-animations to showcase your products. Micro-animations give customers a look at how your products are in real life. For example, if you offer clothing or accessories, you can show your items on models with different skin tones as well as different ages and sizes. This kind of visualization helps customers envision what the product would look like on themselves and entice them to make a purchase.
-Benjamin Smith, Founder of Disco
---
Minimalism
Minimalistic design is a rising trend for web design as we move closer to 2022. When your website has a lot of decorations, multiple pop ups, unnecessary text, moving elements, etc. it can become overwhelming for customers to navigate. Your navigation options should be straightforward and easy to understand, while your overall design should focus on highlighting your products or services. Having a clean design for your website can make a huge difference in whether or not customers are confused and if they are able to purchase from you easily.
-Sara Shah, Co-Founder and Co-CEO of Journ
In 2022 and beyond, you'll probably witness a trend toward simplicity and minimalism when it comes to the visual component of site design. One expression of this trend will be the strategic use of white space (sometimes known as negative space).
Designers can keep their page layout basic, assist users to focus on crucial bits of information (or CTAs), and make their site more ideal for dynamic scrolling (which we'll explore later) by wisely using white space. White space, interestingly enough, doesn't have to be white — it may be any hue as long as it's empty, meaning it has no meaning in context.
-Richard Mews, CEO of Sell With Richard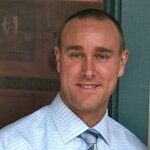 A minimalistic approach to web design has been on the rise for the last five years or so, and will likely continue to take precedence in 2022. Especially due to shortened attention spans, and digital globalization, the average consumer is seeking a simple, yet interactive, front page that gives them most of the information they are seeking. Additionally, web pages are growing to be more and more built around successful SEO–predominantly worked into the back end of the site.
-Jeff Meeks, VP of Sales and Marketing at EnergyFit
---
Earth Tones
While lockdown living limited our options, it also reacquainted many of us with nature. This newfound connection to our environment is also affecting contemporary web design. We're seeing designers use muted, tranquil, and earth tones for backdrop colors and graphics all across the web. Providing us with something relaxing to gaze at acknowledges how much time we spend staring at screens these days. Earth tones are a more modest style to design that is easier on the eyes and does not strain them excessively.
-Alan Harder, Mortgage Broker at AlanHarder.ca
---
Are You Ready for the Web Design Trends for 2022?
Trends may come and go, but the importance of a beautiful, functional website is forever. If reading through these responses left you feeling less-than-confident about the state of your current website, don't worry – you're in the right place!
Our team of design dynamos and digital marketing experts are constantly on the pulse of the latest web design trends for 2022 and beyond. We'll work with you to assess your current website in order to identify your pain points, unique needs, and opportunities to stand out against your competition. The perfect time to revamp your website design ahead of the new year is right now – contact us to get started.