It's a business owner's worst nightmare. You put in the work building a beautiful website, optimizing it for search engines, and making sure it had great content. You were ranking well and generating new traffic – and then suddenly, it all stopped. Your traffic is falling, and you don't know why. "Why is my web traffic dropping?" you ask yourself, bewildered and hoping that it's just a fluke that will sort itself out on its own.
The truth is, there could be any number of reasons why your website traffic drops – and rarely is it a fluke. In most cases, there is a specific reason why traffic has decreased, and fortunately, there are usually steps you can take to address the problem. Here are some of the most common reasons behind your website traffic dropping, and what you can do to get your organic traffic back on track.
1) You Missed a Google Update
It happens. With more than 500 Google updates each year, it's impossible to keep track of all of them – let alone make sure your website is optimized for each one. If you notice your website traffic drops sporadically every few months, the first thing you should do is check to see if there was a recent Google update. If there was, it's possible that your website no longer meets Google's standards, which can have a negative impact on your SEO and ultimately your traffic. 
Fortunately, you can usually address any issues by making changes to your website according to Google's latest guidelines. This will help to put you back in Google's good graces and improve your ranking, which will lead to more traffic.
2) You Received a Google Penalty
A Google penalty is more serious than simply not meeting the standards of a Google update. A penalty is issued when Google determines that your website has been engaging in black hat SEO practices, such as keyword stuffing, link buying or spamming. If you have received a Google penalty, there is a chance that your website will be removed from search results entirely. 
Needless to say, this is hugely detrimental to your search rankings and your organic search traffic. The good news is that you can usually recover from a penalty by taking the necessary steps to clean up your website and remove any offending content or links. Once you've done this, you can submit a reconsideration request to Google. If your changes meet their standards, your website will return to their search results and your traffic will begin to increase.
3) You've Lost Backlinks
Backlinks are links from other websites to your website, and they're an essential element in any SEO strategy. They act as sort of a vote of confidence, telling Google that your website is deemed relevant and trustworthy by other high-authority websites. Needless to say, losing these high-value backlinks can have a negative impact on your ranking and cause your traffic to drop. There are a number of reasons why you might lose backlinks, such as that website being taken down, the page URL changing, or they simply removed your link.
No matter the case, you need to take proactive steps to replace any lost backlinks. This may be as simple as reaching out to that business and asking they would be willing to link to your website again, or you may need to increase your outreach efforts to receive high-quality backlinks elsewhere. On that note…
4) You Have Low-Quality Backlinks
Not all backlinks are created equally. In fact, having low-quality backlinks – links from spammy or irrelevant websites – can actually hurt your website's ranking. Google has gotten better at weeding out these types of links from showing up in their search rankings, so if you have any on your website, it's best to remove them.
If you're not sure whether a backlink is high quality or not, there are tools available that can check the domain authority of a specific website. If the website linking to you has a low domain authority, it's likely not doing much for your SEO anyway and could actually be hurting your traffic.
5) Your Links are Broken
If you have any broken links on your website, it could be causing your website traffic to drop. Broken links can frustrate users and cause them to leave your site. They can also hurt your SEO, as Google penalizes websites with outdated links. Make sure you're regularly checking your website for any broken links and fixing them as soon as possible.
How do you find and fix these links, you ask? Thankfully, it's easier than you might think. The Behavior tab in Google Analytics will allow you to locate and remove or repair any 404 errors found on your website.
6) Your User Experience is Poor
Your website might be beautiful, but is it user-friendly? If not, that could be the reason behind your website traffic dropping. User experience (UX) is a huge factor in whether or not people will stay on your website and convert into customers or leads. A poor user experience can result from a number of factors, such as an overloaded home page, confusing navigation, unintuitive search functionality, or content that's difficult to read or digest.
If you want people to stick around on your website and keep coming back, you need to make sure you're providing them with a positive user experience. This means streamlining your design, making it easy for people to find what they're looking for, and creating content that is valuable and engaging.
7) You Aren't Generating Enough Content
One of the best ways to improve your SEO and drive organic traffic to your website is by creating new, high-quality content on a regular basis. This could be in the form of blog posts, infographics, images, videos, or even just helpful guides and resources.
The more content you create, the more opportunities you have to rank in Google's search results and drive users to your website. Not only that, but creating new content also helps to keep people coming back to your website. If you're not regularly generating new content, it's no wonder why your website traffic is dropping.
8) You're Not Promoting Your Content
Creating great content is only half the battle – you also need to make sure people are actually seeing it. This is why promotion is so important. You need to promote your content on social media, in email newsletters, and in other various forms of your digital marketing channel.
Make it easy to drive traffic to your website while promoting your content by including catchy hooks to grab your reader's attention and links with clear calls-to-action on each button. The more people you can get to see your content, the better chance you have of driving traffic back to your website.
9) You're Not Taking Advantage of Social Media
Did you know 58.4% of people globally use social media? That's more than half the world! Needless to say, social media is a powerful digital marketing tool that can help you drive organic traffic to your website. Social media is often considered an alternate search engine, with many consumers discovering brands there before Google.
If you're not taking advantage of social media, you're missing out on a lot of potential website visitors. Make sure you're regularly sharing your content across your social media platforms and engaging with your audience. The more active you are on social media, the more likely people are to see your content and visit your website.
10) You're Not Mobile-Friendly
In today's digital day and age, it's imperative that your website is mobile-friendly. With more and more people using their smartphones and tablets to search the web, it's important that your website can be easily viewed and navigated on any device.
Simply put, if your website isn't mobile-friendly, it's likely that you're losing out on a lot of traffic. Not to mention, Google is now penalizing websites that aren't mobile-friendly, so it's more important than ever to make sure your website is responsive across devices to prevent any detrimental traffic drops.
11) You Have a Problematic Page
A drop in website traffic might not be a website-wide issue. In fact, just one page could be the culprit. If you've noticed traffic drops on one specific page on your website, there could be an issue with that page that's causing people to leave. It could be something as simple as a broken link or an error in the code. It could be something more serious, like duplicate content or thin content.
If you suspect there might be a problem with a specific page on your website, take a look at your design and analytics and see if there's anything that could be causing people to leave. Once you've identified the issue, you can make the necessary changes to improve that page and help increase your website traffic.
12) You're Ignoring Other Search Engines
Google may be the titan of all search engines, but it isn't the only one. If you're only optimizing your website for Google, you're missing out on a lot of potential traffic from other search engines like Bing, Yahoo, DuckDuckGo and even Youtube.
Make sure you're conducting keyword research and keeping up with the best SEO practices for all of the major search engines so that you can maximize your website's visibility. If possible, you may even want to survey your current customers to see which search engines they use so you know where to focus your optimization efforts.
13) Your Paid Ads are Overwhelming
If you're running paid ads on Google or another search engine, it's possible that those ads are overshadowing your organic traffic. This can happen if your ad budget is too high or if your ads are simply more relevant to the user's query than your organic results.
If this is the case, you might need to adjust your ad budget or make some changes to your ad campaigns. The goal is to strike a balance between paid and organic traffic so that users see both when they search for something related to your business.
14) You Aren't Monitoring Your Google Analytics
If you're not monitoring your Google Analytics, you're missing out on a lot of valuable data. Google Analytics can tell you a lot about your website traffic, where it's coming from, and how people are interacting with your site. This information is essential in understanding any potential causes behind your website traffic dropping.
Make sure you're regularly checking your Google Analytics account so that you can stay on top of your website's traffic. Of course, simply setting up Google Analytics and keeping up with it are two different tasks. If you need help with the latter, you may want to work with a digital marketing agency that can handle the upkeep for you. Speaking of which…
15) You're Not Tracking Your Progress
If you're not tracking your website traffic and progress, how will you know if there's a problem? This is why it's so important to set up Google Analytics and other tracking tools so that you can see how people are finding and interacting with your website. Without this data, you won't be able to identify any issues or problems that might be causing your website traffic to drop.
Make it a point to check your analytics each month so that you can make the necessary changes and improvements to keep your website traffic strong. Without analyzing it regularly, drops in traffic can slip through the cracks and accumulate quickly.
16) You Aren't Optimizing for Local Search
If you're not optimizing for local search, you're missing out on a lot of potential website traffic. People use local search every day to find businesses in their area, so it's important to make sure your website is optimized for local SEO. This means including your location in your title tags, meta descriptions, and content.
You should also make sure your website is listed on high-traffic and high-authority directories like Google My Business and Yelp. For example, medical practitioners may want to ensure they are listed in a directory such as ZocDoc so potential patients nearby can find them and read reviews prior to making an appointment. By optimizing for local search, you can make it easier for people in your area to find your website and drive traffic back to your site.
17) Your Competitors are Doing it Better
It's not you – it's them. If your website traffic drops and you can't pinpoint a reason internally, it could be because your competitors are simply doing it better than you. They might have a better website, more relevant content, or a stronger SEO strategy. This could be a hard pill to swallow, but it's important to remember that there's always room for improvement.
Take a look at what your competitors are doing and see how you can improve your own website and digital marketing efforts. After all, one of the best ways to learn is by observing what others have done and finding a way to improve upon it.
18) You Haven't Updated Your SEO Strategy in a While
The world of SEO is constantly changing, and we mean constantly. What worked last year might not work this year, and what works today might not work tomorrow. This is why it's so important to stay up-to-date with the latest SEO trends and changes.
If you haven't updated your SEO strategy in a while, it could be one of the reasons why your website traffic drops. Make sure you're regularly auditing your website and making changes to your digital marketing strategy so that you can keep up with the ever-changing world of search engine optimization.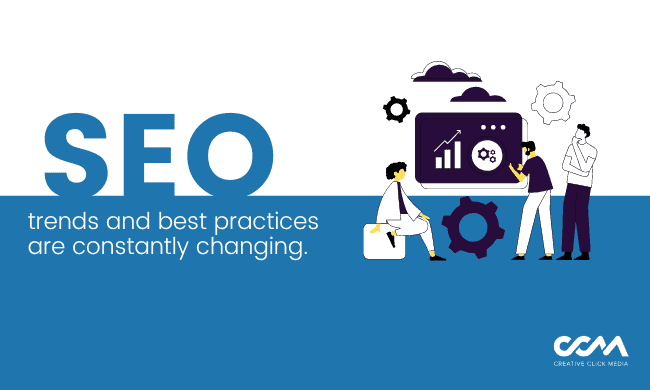 From Website Traffic Dropping to Website Traffic Soaring
As you can see, there are many possible causes behind your website traffic dropping. This might be a relief to you, as it means there are also many things you can do to fix the problem. However, this might also be overwhelming, as it's a lot of possible variables to have to rule out. Rather than watching your website traffic dropping and struggling to figure out why, consider working with a digital marketing agency that can monitor your analytics for you.
Creative Click Media's talented team of SEO experts can help you determine why your website traffic is dropping and put together a plan to get it back on track. We'll work with you to create content that's optimized for both search engines and users, so you can start driving that high-value organic web traffic back to your site. Your winning SEO strategy is only a click away – get in touch to get started.