Starting a new business is quite a commendable feat. How do you get the word out that you are open for business? Figuring out a marketing strategy that stays within budget is a common challenge for all startup businesses. However, with some business savvy and innovative thinking, a successful marketing strategy doesn't have to break the bank. This article will touch on four valuable ways that you can save money while you bring in customers, increase sales and boost your public image.
Increase Your Social Network Reach
Most social networks, like Facebook, Twitter, Instagram, and Pinterest, cost nothing to join and can save you hundreds of thousands of dollars in marketing spending. Social media platforms let you accomplish the following tasks for free:
Interact with your customers and respond right away to their questions and concerns.

Notify followers about new products, sales and company updates.

Enhance media exposure by supplying one-of-a-kind information or news about your company or product.

Contact brand influencers and other brands in your sector.
Minimize Your Office Footprint
The number of telecommuting professionals continues to rise, and companies are realizing the benefits of this arrangement. When you only need to have a few key staffers on location, you can lower your overhead. When you are hiring remote staff members, you'll spend less on computers, phones, utilities, and other basic needs that keep a workplace running.

Furthermore, for necessary meetings or conferences, virtual offices can help you can save time and expenses. If you need to host a meeting with clients or investors, most virtual offices have meeting rooms you can rent. Your employees not only benefit from working remotely, but you and your business also have a larger talent pool to choose from when you hire.
Reach Out to Influencers
In today's digital advertising arena, influencer marketing is taking center stage. An influencer can be anyone from a YouTuber to a Twitter user who has a large base of followers or subscribers. These individuals can endorse services and products to their faithful fans, which drives traffic and motivated potential customers to your website.

One way to get started is to provide a free product or trial subscription service to well-known personalities on Instagram, YouTube, Twitter, and other social media sites in exchange for their review. Research not only the influencers in your industry with the largest following, but also those with the best engagement rate to determine whose followers will have the greatest vested interest in what they have to say about your business.
Have Your Clients Advertise for You
Often, the most effective way to market your business is to have your clients do it for you. In fact, people are much more likely to check out your business if a friend recommends it to them.

If you're starting from scratch, ask your friends and colleagues to post about a purchase they made at your business. Another option is to set up a referral program that rewards customers if they sign other people up to receive notifications from your business.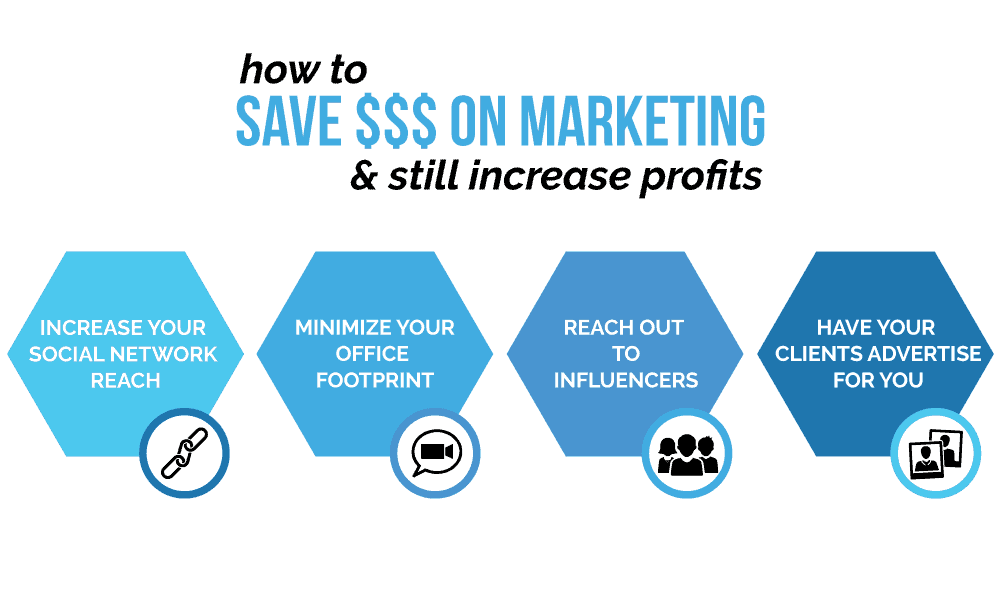 As a new business owner, you have an advantage with the many new avenues of marketing and advertising that owners in earlier decades did not have access to. Integrating these four tips into your marketing strategy will help your business save money, attract customers, and increase your bottom line over time.

Still not sure which money-saving option works best for your business? Chat with our team! We are a results-driven digital agency focused on creative marketing, web design and development for businesses with any budget. Look through our portfolio to see what we can do for you!