This guest post was contributed by Kayleigh Alexandra from MicroStartups.org:

You only have a few seconds to make a great first impression when someone visits your website. Modern-day consumers have come to expect all business websites should have a quick loading time, the ability to scroll, simple site navigation, scintillating copy, compelling imagery, great offers – the list goes on. Where do you start? Consider integrating these five non-negotiable features on your website, and you'll be well on your way to online success.
1) A Quick Loading Time 
This is website development 101. If your website doesn't load quickly, you'll lose visitors before they even get onto your site. Not convinced it's really that much of a dealbreaker? Check out these statistics on the importance of website loading time: 
3%

of your customers wait less than a second for your website to load.

Sites that take 10 seconds to load have a

37.5%

abandonment rate.

79%

of your customers won't visit your website again if it loads slowly.
There are many strategies you can use to speed up your website's loading time, such as: 
Minimize plugins.

Add browser caching

Compress your content.

Use minification for your CSS and JavaScript.

Select the right hosting for your website.
It's worth checking the speed of your website against that of your competitors'. If your website lags behind theirs, it's likely that your customers will bounce away from your site and head to your competition instead. As such, fast loading time isn't just a luxury — it's an absolute necessity.
2) Minimal Pop-Ups 
In the same vein as above, another factor that slows down your website is pop-ups. That's not the only reason to avoid overloading your website with pop-ups — they can also become annoying and give visitors to your website a poor user experience (UX). 
Think about it: how many websites have you visited and been hit with a pop-up just after it's loaded? I know I've experienced that many times, and I also know that I tend to revisit very few of these sites when these pop-ups interrupt my browsing experience.
That's not to say all pop-ups are terrible. If you use them as part of an interruption marketing strategy, they can be an effective tool. News sites frequently use pop-ups in this way as part of pre-roll ads. My advice? Use pop-ups sparingly and strategically if you want to make a good first impression.
3) An Offer They Can't Refuse
Reel visitors in on a first-time visit by making them an offer they can't refuse — give something away to get something back. In this case, offer your visitors a coupon or exclusive content in exchange for their email.
One of the benefits of getting website visitors to sign up for emails is you'll increase the chances of making them repeat customers, and increase the total lifetime value of that visit.
There are some great tools out there that can add offers to your website. OptinMonster, for example, lets you easily create pop-up coupons, and Hello Bar allows you to add exit intent marketing offers that appear to customers when they try to leave your site. Just bear in mind the earlier advice: overwhelm your visitors with too many pop-ups, and risk losing potential customers completely.
The important part of this strategy is that you give your visitors something for (almost) nothing and that you make the offer compelling. By making a good first impression with an offer and getting valuable consumer information out of it, you can then target your visitors at a later stage in the sales funnel and turn them into repeat customers
4) Proper Site Architecture for a Smooth Navigation
Like site speed, your consumers demand that your website meets their needs quickly. Your site architecture will determine how easy it is for your visitors to navigate your website. Navigation is one of the fundamentals of web design, and it's mandatory that you make it as easy as possible for your visitors to find exactly what they are looking for. Don't make your visitors work too hard to find the information they need — make their journey on your website as intuitive and automatic as possible.
There are some simple principles to good site architecture: 
Minimize the number of categories on your website.

Be consistent in your navigation and design.

Use unique URLs for each piece of content you publish.
Poor structure leads to poor SEO, so it's crucial that you get it right if you want your website to be found easily on search engines. Many content management systems offer automatic site structure optimization to account for this. WordPress is undeniably the most popular CMS around, and its out-of-the-box site structure is second-to-none. For example, WooCommerce stores have good site structure as standard, such as logical category hierarchy, standard character URLs, and so on. WooCommerce is certainly a strong option in this respect, but it's worth looking at alternatives too. 
Bottom line: do your research to find a solution that aligns with your personal needs. No matter the system you use, make sure your site structure is strong and logical from the very start. It's easier to get it right the first time than to go back and fix what's already been done.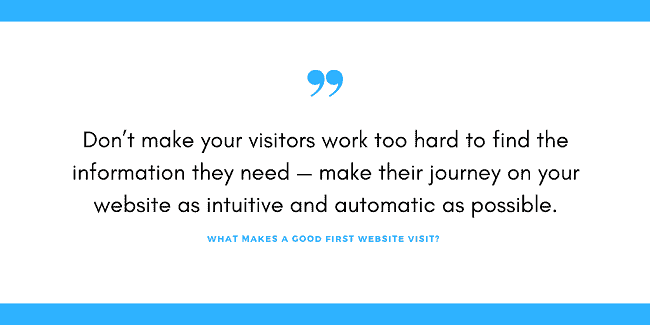 5) Give Your Visitors the Ability to Scroll Infinitely 
Infinite scroll is quickly becoming a staple of modern web design. The infinite scroll feature allows your content to load continuously as your visitors scroll down your pages, creating seamless vertical website navigation. It's a mainstay in social media feeds and it's becoming a feature your visitors expect to see on your website, as well.
If your website doesn't already have infinite scroll, adding it is a pain-free process. If your website is built on WordPress, install the Jetpack plugin and activate the infinite scroll module. If you created your website using a major closed-source CMS, you may already have infinite scroll available – check the FAQ of your provider to see if you do.
Letting your content flow isn't solely a way to make a good first website visit for your customers, it's also a way to keep them on your site. The longer you can keep them there, the more likely they are to make a purchase – or at least remember who you are when they are ready to buy.
Making a user's first website visit a good one is crucial to your long-term business success. If your website doesn't have these five non-negotiable features you risk losing visitors before you have a chance to turn them into customers.