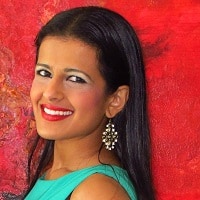 They say variety is the spice of life, and Meghana Moya knows better than anyone how to take that idea and turn it into a career.  Meghana is the CEO and co-founder of Spice Madam, a monthly subscription box acting as a "passport to culinary adventure" with carefully curated international spice samplings.  After immigrating from India to the United States for college, Meghana found that the best way to make connections was by sharing flavors and spices from home….and thus, Spice Madam was born.
In this edition of Creative Corner, Meghana fills us in on how Spice Madam got its start, the role of music inbox curation, and where in the world she is traveling next for more flavor inspiration.
How did Spice Madam come to be?
I am from India and grew up in the Middle East. Spices, cooking, and sharing food with others have been a part of my life since the beginning, and I have always had a passion for food and connecting people.
When I came to the US as an immigrant for college, it was both exciting and challenging to leave my parents and sisters and start a new life in a foreign country. Cooking food from my childhood for my college friends and professors was my way of sharing my heritage with them and introducing them to new flavors.
I enjoy creating new business ideas and came up with the idea for the Spice Madam business model after getting multiple requests from friends around the world to share my spices and recipes with them. My mom is a college professor, and that desire to help others learn has been passed on to me. This is part of the Spice Madam experience – learning about a different country every month and building a connection to others.
I shared my idea with my friend Kim one night over dinner and she was enthusiastic about the concept, so I brought her on as my business partner and we spent a year planning the business before launching in November 2014. Every month, our customers get a box from a different destination with spices, recipes, a themed music playlist, and fun facts about that country.
We have grown the business so much since our launch – we now ship all over the US and internationally. In fact, Spice Madam boxes were featured in British Vogue this past fall; which helped drive our UK presence!

What type of problem or gap in the industry are you hoping to fix with your business?
Two problems:
Exploring global cuisines is something people are interested in, but it can be difficult. This is because of lack of access to certain spices in desired quantities, lack of time for research and it can also be intimidating to dive into the cuisine of a completely different country.
People need more connection: We spend so much time in front of our devices and amass thousands of friends online, yet people are decreasing their face-to-face social connections. Research shows us that connection is needed for health and longevity; and that children do better at school when they have regular mealtimes with their families. Spice Madam's mission is to bring people together through food. We're connecting families, neighbors, and friends to each other and to other cultures around the world.
Which social media platform(s) have been the most beneficial in helping you find a subscriber base?
Instagram has been our greatest tool to reach new customers around the world. We love sharing videos of our cooking and travel adventures there!
Right now your monthly subscription boxes are curated by the Spice Madams — do you have any plans to open up a personalized box option?
We have partnered with chefs on special edition boxes and look forward to driving new collaborations in 2017 to reach our customers' growing demand.
How do you account for dietary concerns (gluten-free, vegan, etc) in your boxes?
Glad you asked! Every recipe comes with an indicator of the type of diet it accommodates. We include gluten-free and vegetarian substitutes on each recipe card so that customers can always adapt the box to their diet. Since spices themselves are plant-based and vegan, the box is adaptable to all kinds of culinary lifestyles.
Something especially unique about Spice Madam boxes is that they come paired with a music playlist! Are you a musician yourself?
Yes, I am indeed! I grew up playing classical piano since the age of six. Music, like food, is something that brings people together and unites them, regardless of their background, language, or history. The combination of music and food is what makes Spice Madam such a powerful tool for connection. Cook up one of the recipes, play the music as you dance in the kitchen, and pull up a seat for your friends, family, or neighbors as you all taste new flavors and learn something new about the world! There is so much love that goes into every box and we hope that every single customer can feel that love as they experience their box of adventure each month!
In your opinion, what is the most universally appealing spice?
One of the spices I use a lot that is universally appealing is turmeric because it is a powerful anti-oxidant and is good for your heart, skin, and brain. It's very easy to add a pinch of it into whatever you are cooking, or mix with honey and lemon juice for a soothing warm drink. Turmeric is used in many different cultures around the world, and because it is not a heat-inducing spice, it can be enjoyed by everyone!
If money wasn't an option and you could include plane tickets in Spice Madam boxes, where in the world would you fly your subscribers to and why?
I would give everyone a plane ticket to come to visit my family in Bahrain! My mom and dad love to host people, so everyone would be welcome to my mom's home-cooked meals and lots of hugs! We would enjoy the generous Middle Eastern culture of hospitality with some hot mint tea and honey-soaked baklava, followed by a hot-of-the-grill shwarma wrap and a trip to the local souq (open-air market). I miss my family a lot and wish I could take everyone to go visit them!
You're a world traveler yourself — which countries are next on your jet setting list?
We just got back from Hong Kong and it was a fabulous dive into the local culture! Next on my wishlist is Morocco – I'd love to spend time browsing the colorful spice markets and learning the local secrets to making the best Moroccan tagine!
What's coming up next for you?
2017 is a big year for Spice Madam! I look forward to driving our growth and continuing to make big impacts in communities around the world as we grow. For every box sold, we donate a percentage of the proceeds to a non-profit that benefits youth and education. My dream is for Spice Madam to make a continuing impact in the US and around the world, in the communities that grow and supply the spices. Thanks for the opportunity to share this journey with you! I'll end with two things. First, I would encourage other entrepreneurs reading this to look for ways they can make a positive impact in the world through their business. And secondly, a phrase we tell our customers: Stay Spicy!
To learn more about Meghana Moya and Spice Madam, please visit spicemadam.com.