Hungry for the latest Google algorithm update? They recently served up a new one, and there's a good chance you may have missed it in the hustle and bustle of the holiday season! In mid-December 2022, Google announced the latest iteration of their search quality rater guidelines: Google E-E-A-T. No, that isn't a typo: the industry-changing Google E-A-T acronym has expanded to include yet another very important E. What is "Double-E-A-T" and how might it impact your SEO strategy moving forward? Let's dig into the Google E-E-A-T update.
What is Google E-E-A-T?
If you've been around the search engine optimization (SEO) block, you're probably familiar with Google's original E-A-T acronym. It stands for Expertise, Authoritativeness, and Trustworthiness – three core principles that Google's algorithm considers when ranking a website in their search engine results pages.
With the recent E-E-A-T update, they've added an additional "E" to the mix: Experience. This puts additional weight onto the content creator to demonstrate a first-hand account of the subject matter they are writing about.
As delicious as this all sounds, it's important to understand exactly what Google is looking for in each component of their quality rater guidelines. To make it easier, here is a breakdown of the four pillars that make up Google's E-E-A-T update:
Experience
Google defines experience as "the extent to which the content creator has the necessary first-hand or life experience for the topic." For example, a client's Google review versus a review from someone who has never worked with that business.
Expertise
Google defines expertise as "the extent to which the content creator has the necessary knowledge or skill for the topic." For example, toothache management advice from a dentist versus an anecdotal suggestion from someone with no dental knowledge.
Authoritativeness
Google defines authoritativeness as "the extent to which the content creator or the website is known as a go-to source for the topic." For example, visiting the TSA's website for a list of items allowed in a carry-on bag versus an unverified social media post.
Trustworthiness
Google defines trustworthiness as "the extent to which the page is accurate, honest, safe, and reliable." For example, an e-commerce website with secure checkout versus one without.
While each pillar of E-E-A-T is an important ranking factor, Google makes it clear that trust is at the core of their quality rater guidelines: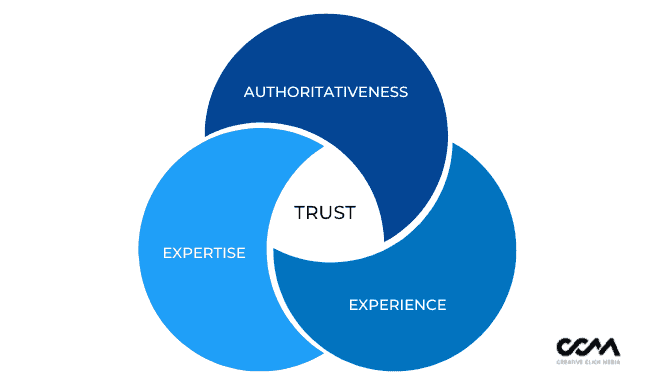 "Untrustworthy pages have low E-E-A-T no matter how Experienced, Expert, or Authoritative they may seem. For example, a financial scam is untrustworthy, even if the content creator is a highly experienced and expert scammer who is considered the go-to on running scams."
This leads to one big question: How can you convey your experience in a way that is deemed to be trustworthy?
How Does Google Evaluate Experience?
You're probably asking yourself "how could Google's quality rater guidelines possibly quantify my experience?" It's a fair question – after all, how can a machine measure something as complex as personal life experiences?
Fortunately, Google has provided some guidance on this by breaking down their measurement of experience into four levels:
Lowest Level:

Content created by someone with an extremely negative reputation, such as a spambot or a representative from a company outed for fraud.

Low Level:

Content created by someone without any firsthand experience, such as someone reviewing a product they have not received yet.

High Level:

Content created by someone with firsthand experience, such as a Los Angeles resident posting the city's must-see spots in a travel forum.

Very High Level:

Content created by someone with a great deal of firsthand experience, such as an interior decorator blogging about upcoming design trends.
As you might have noticed, there can be quite a bit of overlap between Google's measurement of experience and its other quality rater guidelines.  For example, expertise can also be measured by someone's firsthand experience, and their authority can be bolstered by their experience in the field. This is because these different areas come together to form a cohesive picture of trustworthiness when it comes to content evaluation. E-E-A-T cannot be satisfied if any one part is missing, so the overlap between these categories is to be expected and actually works in your favor.
What Does the E-E-A-T Update Mean for Your Digital Marketing Strategy?
It's clear that Google is prioritizing trustworthy content in its search results, which means as a business owner you'll need to make sure your content meets the standards of E-E-A-T's page quality rating. And with nearly 92% of the market share, it's clear that ranking well on Google is a must if you want your business to be found in 2023 and beyond. Here are a few tips for making sure your digital marketing strategy stands up to Google's quality rater guidelines:
Demonstrate Your Expertise
Google's E-E-A-T update wants to see expertise at the forefront of your website content, and the best way to demonstrate this is by sharing first-hand knowledge about a topic. This is a great opportunity to incorporate more thought leadership blogs, case studies and customer testimonials in your content marketing strategy.
Prioritize Trust
Content must be accurate and reliable in order to meet Google's standards. This means double-checking that your statistics are up to date, making sure outside sources are legitimate and ensuring all your website pages have secure checkout methods for any e-commerce transactions.
Let Your Authority Shine
Showcasing your business's authority is a great way to boost trustworthiness in the eyes of Google. This can be accomplished by highlighting awards, media exposure, notable customer success stories or any other accomplishments that demonstrate your authority in the field.
Optimize Your Existing Content
If you have content that doesn't quite meet E-E-A-T standards, there are still ways to ensure it remains visible in Google search results. Optimizing existing content with updated information and relevant keywords can help you maintain visibility and boost your search ranking without having to start from scratch.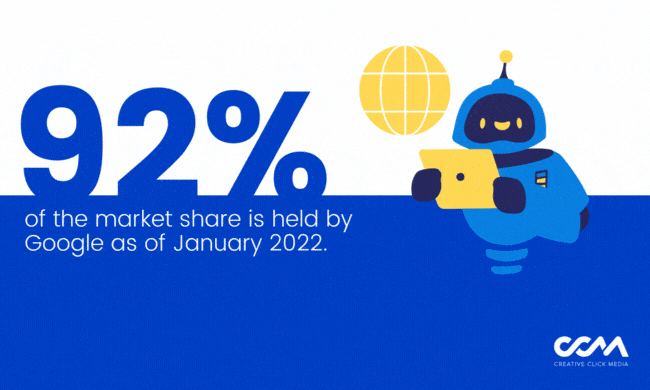 Optimizing for the Google E-E-A-T Update
Ultimately, implementing the principles of the E-E-A-T update into your digital marketing strategy is crucial for ensuring visibility in search engine results. By demonstrating expertise, prioritizing trust and authority, and optimizing your existing content you can make sure your website stands out among competitors and reaches more potential customers.
Of course, understanding E-E-A-T and implementing these principles into your content can be a daunting task. It's important to remember that you don't have to do it all on your own; enlisting the help of an experienced digital marketing agency is a great way to ensure your website meets Google's standards and gives you the best chance for success online.
That's where we come in.
Creative Click Media's team of digital marketing experts stays on top of the latest Google updates so you can focus on what you do best – running your business. Higher rankings, increased traffic and more conversions are only a click away – contact us to get started.