When is the last time you assessed the content on your website? No, not a quick skim of your latest blog posts – a really deep dive into all of your website's content. Chances are, you're probably overdue.
Content marketing can often get overlooked and undervalued when compared with more flashy strategies like social media campaigns and search engine optimization (SEO). The truth is, content marketing is still one of the most effective strategies for attracting new leads and establishing your business as an expert in your industry. It's what builds trust, establishes an emotional connection and ultimately drives conversions.
Fortunately, the start of a new year provides the perfect opportunity to refresh and update your content. As you plan your content marketing strategy for 2023, here are 15 trends to consider incorporating into your campaigns:
1) Mobile-First Optimization
Did you know 59% of all web traffic in 2022 came from a mobile device? With more and more consumers now using smartphones and tablets to access the internet, it is essential for businesses to create content that is optimized for mobile-first browsing.
You might be thinking to yourself: this sounds like a web design issue, what does this have to do with content marketing? The truth is, web design and content creation go hand in hand in your digital marketing efforts. Optimizing for mobile-first browsing will require changes to the structure of your content to ensure that it will work with your website's design on any size screen. For example, you will need to make sure your content is broken up into shorter, more digestible sections that can fit comfortably on a smaller display. The last thing you want to do is turn off your target audience because your blog page looks like an intimidating wall of text when viewed on a mobile device.
2) Long-Form Content
The screens we use to read website content may be getting smaller, but the content itself is only getting longer as we head into 2023. In fact, the average blog post is now 1,400 words long, up from just 600 words a few years ago. Long-form content is a great way to tackle complex topics and engage readers with rich, in-depth information. Because search engines like Google prioritize websites that contain engaging, substantial pieces of content on their topics, it's also hugely beneficial to your search engine optimization (SEO) efforts.
The key to making long-form content work for you is to focus on providing value. Think about what kind of information your readers are looking for and add that to your content. You also want to make sure that it's organized in an easy-to-follow way so that readers don't get lost or overwhelmed by the length of your post. Finally, make sure to include plenty of visuals, such as images and videos, to break up long blocks of text. Investing in longer pieces of content that include both keyword-rich phrases and engaging stories is the perfect way to boost your website's visibility on search engine result pages (SERPs) in 2023.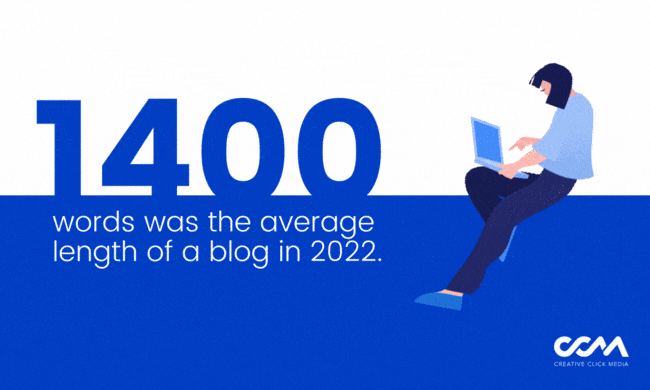 3) Writing for Voice Search
Hey Alexa, how does voice search impact my content marketing strategy? As voice-enabled virtual assistants continue to be popular, it's important to ensure that your content is optimized for voice search. People tend to ask questions in a more conversational tone when using voice search, so you'll want to use natural language keywords and phrases throughout your content.
Let's use a blog title, for example. Google's ultimate goal is to provide searchers with the most useful and relevant results. For this reason, a blog titled "What Are The Benefits of Content Marketing?" may perform better than "Content Marketing Benefits" on a mobile search query because it mimics the way someone might make that search using a virtual assistant. By writing for human conversation instead of just keywords, you'll increase the chances of your content being found in voice search results.
4) User-Generated Content
User-generated content (UGC) has been a content marketing trend for a few years now, and it's not going anywhere anytime soon. Leveraging content generated by your customers – such as reviews, photos, or videos – is an effective way to engage your audience and spread the word about your products or services.
What makes user-generated content so powerful is its authenticity. When potential customers see real people engaging with your brand, it adds a layer of trust that is often missing from traditional marketing strategies. Plus, you can use UGC to create content for your social media accounts or website without having to commit extra resources to create something new.
5) Guest Blogging
Similar to user-generated content, guest blogging is another effective way to reach a larger audience and build connections with influencers in your industry. Guest bloggers provide a fresh perspective and can provide insight into topics related to your brand that may be outside of your area of expertise. As an added bonus, they often have their own networks of followers who will be exposed to your brand through the post.
The best part about guest blogging? It's a win-win situation for both parties. The guest blogger gets to showcase their expertise and build their personal brand, while you get fresh content for your blog and access to the guest blogger's network. In addition to finding guest bloggers to create content for your website, look for opportunities to write a guest post on someone else's blog. This will help you develop your thought leadership and receive a backlink to your website, which is hugely beneficial to your SEO efforts.
6) Interactive Content
With so many brands competing for the same audience, it's important to stand out from the crowd. One of the best ways to do this is by creating interactive content. This type of content encourages the user to engage with your website, and can come in many forms: think polls, quizzes, calculators, or other interactive mini-games.
By creating interactive content, you can not only keep readers on your website longer and attract more leads, but also learn more about your audience. Through the data collected from these pieces of content, you'll gain valuable insights into customer preferences and interests that can guide future decision-making. Plus, interactive content is highly shareable, so you can increase your reach even further. 81% of people say interactive content is more effective at driving engagement than static content, so it's worthwhile to make this part of your 2023 content strategy must-haves.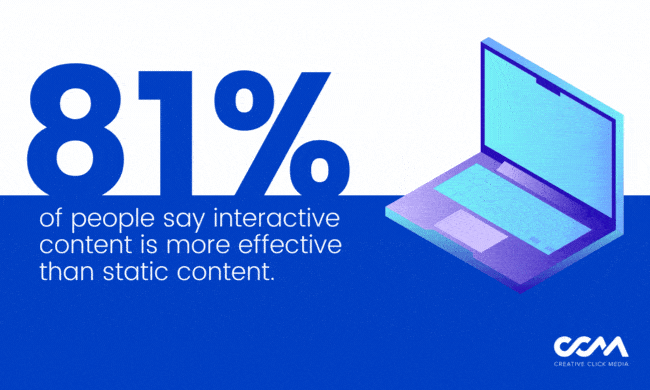 7) Cross-Platform Storytelling
Consistency is key when it comes to content marketing. That's why cross-platform storytelling will continue to be a popular trend for brands looking to increase their visibility and reach a larger audience in 2023. Cross-platform storytelling involves creating content that can be shared across different channels, such as repurposing quotes from a blog post into social media posts, or using infographics you created for Pinterest in a blog article.
This form of content marketing allows you to tell one cohesive story without having to reinvent the wheel for each platform. It also helps you maintain a consistent brand presence, as customers will recognize your messaging no matter what channel they're using. Plus, cross-platform storytelling is an efficient way to maximize your content creation efforts and get the biggest bang for your buck.
8) Updating Outdated Articles
The world of content marketing moves quickly, and yesterday's trends could be obsolete by tomorrow. With this in mind, it's important to keep your existing content up to date with the current industry standards. This means taking a look at old blog posts, webpages, and other pieces of content to ensure the information is still relevant and in line with the current trends.
Updating outdated articles is also a great way to boost your SEO ranking. Search engines like Google prioritize fresh content, so updating old articles can help you stay ahead of the competition in terms of search engine visibility. Plus, reworking an old piece of content can be much a quicker and easier way to refresh your content strategy than creating something new from scratch.
9) Strong Branding
Your brand should be the foundation of all your content marketing efforts, as it serves to communicate who you are, what you stand for, and what makes your brand unique. As such, having a strong branding strategy is essential in 2023. From a content marketing perspective, this means ensuring all your content is reflective of your brand's mission and values. It also means telling a consistent story across all platforms, from website copy to social media posts, emails, and videos.
By creating content that's true to your brand identity, you can increase recognition and build trust with your target audience. Plus, consistent branding can help you differentiate yourself from the competition and give you an edge in a crowded marketplace. Make sure to invest time into crafting a comprehensive branding strategy that feels true to your company's values and incorporate it into your 2023 content marketing efforts.
10) The User Journey
A strong content marketing strategy is about more than just telling your company's story, it's about understanding your target audience and creating content that resonates with them. To do this, you must think about the user journey and how people interact with your content. From the moment they encounter your website to when they become a customer, each step of the journey should be carefully thought out and measured in order to maximize your conversion effectiveness.
By considering the user journey, you can understand where customers drop off or get confused and adjust your content accordingly. You can also refine your content to target different stages of the journey, such as creating blog posts that provide more in-depth information for those who are further along in the sales funnel. By investing in understanding your customer's journey and creating tailored content that meets them where they are, you can increase conversions and ROI in the year ahead.
11) AI-Powered Content Creation
AI-powered content creation is already seeing a surge in popularity and looks to be one of the most important trends for 2023. From automated content generators to machine-learning algorithms that provide customized content recommendations, AI is making it easier than ever for marketers to create personalized and relevant content at scale.
Can we let you in on a secret? The whole paragraph above was written using AI technology! AI-powered content creation can help you save time and resources by automating some of the tedious tasks associated with content production, such as researching topics and formulating general ideas. AI cannot fully replace human writers, of course, but it can help to streamline the writing process and make content creation more efficient in 2023 and beyond.
12) Data-Driven Copywriting
In the era of big data, it's important for marketers to use analytics in order to understand what content resonates with their customers and how they can optimize their content marketing efforts. This is where data-driven copywriting comes in – it's a method of writing content that uses data to inform decisions and create more effective copy.
Data-driven copywriting is a powerful tool that allows you to tailor your content according to insights gathered from customer behavior. By analyzing large datasets and understanding how your customers interact with your content, you can tailor your writing to specific audiences, improve click-through rates, and increase conversions. A good place to start is by tracking user engagement metrics such as page views and click-through rates. By investing in data-driven copywriting and using analytics to inform your content strategy, you can make the most of your content marketing efforts in 2023.
13) Visual Storytelling
Compelling copy may be the meat and potatoes of your content marketing strategy, but visuals are the spice. In 2023, visual storytelling is an essential element of any successful content marketing campaign. Visuals have become increasingly important in today's digital landscape and can help you to engage your audience more effectively than with text alone.
If you aren't utilizing visuals in your content strategy already, you may be giving your competition a leg up. In fact, about 51% of digital marketers say they use visuals in their content 90-100% of the time! From videos and infographics to interactive experiences and virtual reality, the possibilities are endless when it comes to adding visual elements to your content. Visual storytelling also gives you an opportunity to showcase creativity and help convey complex topics in a way that is easier to understand. Investing time and effort into visual storytelling will go a long way in helping you build relationships with your customers and create content that stands out from the crowd in 2023.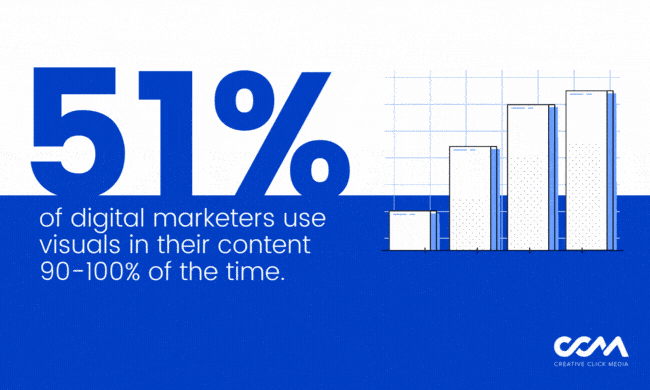 14) Gated Content
The idea of gated content may not be new, but it's a consistently popular tactic for driving leads and increasing conversions in 2023. Gated content is any type of content that requires a user to provide their contact information before they can access it. This could include ebooks, webinars, calculators or other valuable resources that are not freely available.
Gated content can be a great way to capture leads and build your mailing list while also providing your customers with useful information. Not only are you attracting new leads – you're attracting motivated leads who are willing to exchange their contact information for something they view as valuable. However, it's important to make sure the content you are offering is worth the exchange of personal information. Make sure the content is high-quality and offers real value that your customers can't get anywhere else. Gated content may take longer to create than other types of content, but the lead generation it provides will ultimately prove to be worth the effort.
15) Microcontent
The term "microcontent" refers to short-form content that can be quickly consumed. It's often associated with social media, due to the popularity of short-form platforms such as Twitter, Instagram, and TikTok. However, microcontent can also be used in other forms of content marketing for a variety of purposes.
Microcontent can help you break down complex topics into digestible pieces and make it easier for your readers to consume information quickly without being overwhelmed. A great example of this is using quotes and statistics to break up long-form copy, using visuals like diagrams and charts to illustrate complex topics, or creating social media posts with shareable facts and figures from longer articles. Utilizing microcontent in your 2023 marketing strategy will help to ensure that your content is engaging and easily digestible by a wide audience in the new year.
From Content Marketing Trends to Content Marketing Conversions
The strategies listed above are just a few of the ways you can utilize content to engage customers, generate leads, and improve conversions in 2023. As consumer behaviors continue to evolve with digital advancements, it's important to stay up-to-date with the latest content marketing trends so that you can make the most of your content marketing efforts in 2023.
We're here to keep up so you don't have to.
Creative Click Media's team of content marketing mavens consistently keeps on the pulse of the latest trends to ensure your content is always fresh, effective and up to date. More traffic, leads and brand recognition are only a click away – contact us to get started.
Looking for even more digital marketing trends for 2023? Check out our picks for the top web design trends, SEO trends and social media trends to keep an eye on in the new year!