Google My Business is a free tool used by businesses and organizations to regulate their digital presence across the entire Google platform. This technology allows your brand to verify and edit your business information such as location, contact information, and hours of operation. Other elements like photos and customer reviews can be included in your listing as well. This tool helps your customers find you, and develop an accurate understanding of who your company is.
In our digitally savvy society, 85% of consumers search for businesses online. Optimizing your Google My Business listing is vital for ranking higher on search results and reaching prospective customers. To improve your listing even further, Google My Business has implemented new features for 2017, and we're giving you the lowdown on how to use them to your brand's advantage.
Include a List of Services
3XSocial founder Don Crowther said it best. "People want to do business with you because you help them get what they want. They don't do business with you to help you get what you want." Regardless of which industry category your business falls under, potential customers want to know what you offer. A new feature of Google My Business allows you to include a list of services on your listing. Restaurants can display their menu, auto mechanics can specify their services, and retail stores can offer a glimpse into their inventory. Certain guidelines do need to be followed, like ensuring that your service list URL doesn't link back to an ordering service, but this aspect of Google My Business is a great way to inform customers of what exactly you'll be supplying them with.
Get an edge on your competition by giving potential customers the inside scoop on what your business offers before they ever even have to leave the house. 86% of people read online restaurant menus before eating out, and 72% of young consumers conduct online research before buying something in-store. By offering this kind of information on your Google My Business listing, you are more likely to turn potential customers into current customers.
"Photos" Section of Insights
The Insights aspect of Google My Business helps you understand who is interacting with your listing and how they found it. In a nutshell, Insights lets you know what is working, and what is not. Discover how many views, clicks, and new followers you've obtained, and make the necessary adjustments to your listing based on your success.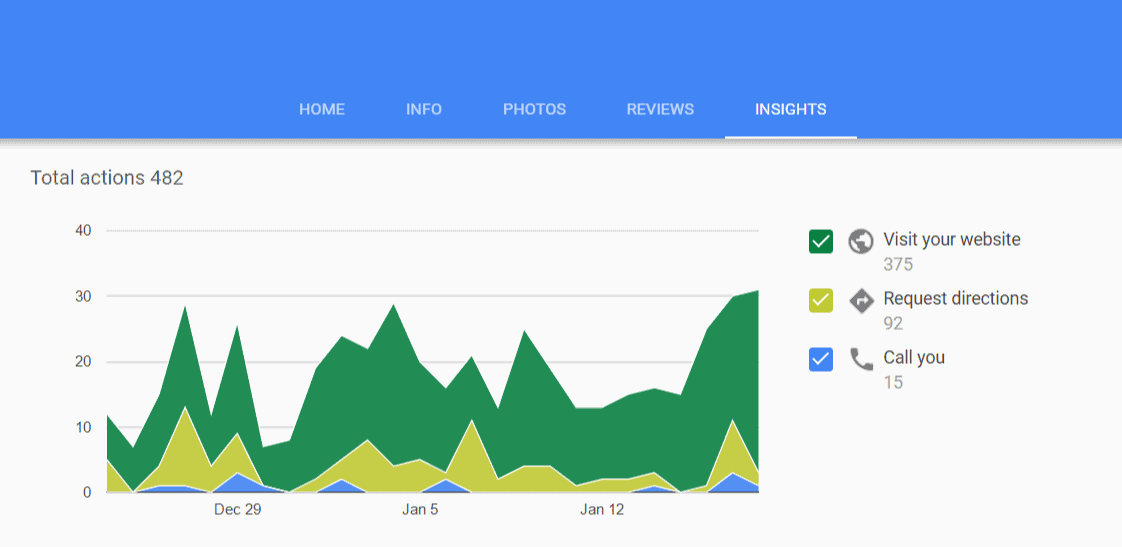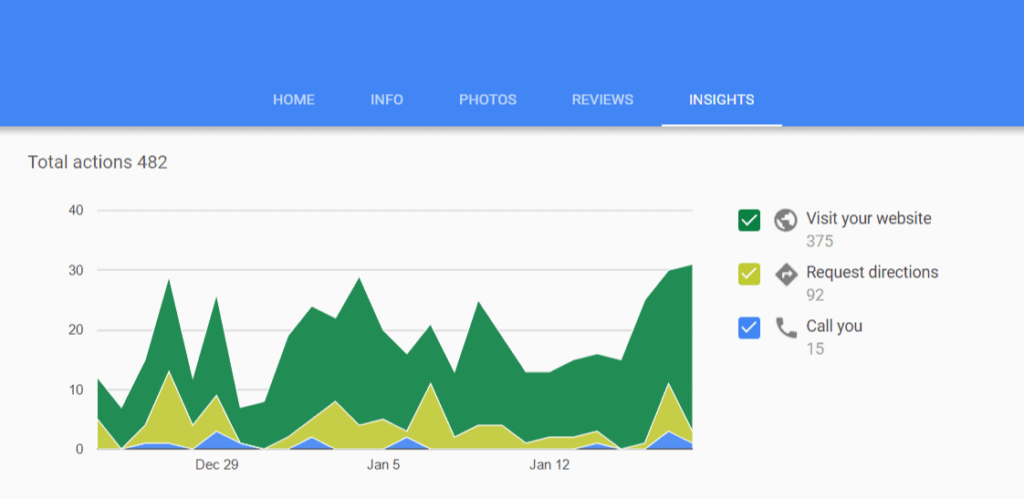 Part of what is new this year in Google My Business is a "Photos" section under Insights. It will compare the photos on your listing to the photos of similar businesses (aka, your competition). You'll see exactly how your photos stack up using a comparison line graph. The Photos section also generates a Photo Views graph to show the number of views each photo has received, and a Photo Quantity graph displaying the number of photos your business has uploaded. Including photos on your business listing results in 35% more clicks through to your company website.
The Photos section of Insights is a great tool to use to find out which photos on your listing are most effective. What types of photos are users interacting with? Which ones are converting users into customers, and ultimately generating sales? Use this information to your advantage to modify your listing accordingly.
Additional Attributes
Attributes are making their way to the Google My Business dashboard in 2017, and they're extremely consumer-oriented. For example, businesses can now add an online events calendar to their listings, as well as let users know if their location has WiFi. Google My Business has made it easier than ever to edit and update these attributes, by making it possible to do so simultaneously right from your dashboard. After you've finished the initial review of attributes, you'll have fewer to adjust each time you log in.
The opportunity to add additional information to your Google My Business listing is exceedingly valuable. Something as simple as informing potential customers of your company's WiFi capabilities can make them go from just considering visiting your business, to actually getting in the car and making it happen. Consumers today want to collect as much information as possible about different businesses before making their decision of which one to hire or shop.
Location Insights With API
Google My Business API creates applications that cooperate with the location information of your business. You can actually use this feature to automate different tasks, such as adding photos, subscribing to push notifications, and reading and responding to customer reviews. It enables you to manage your business location information across the entire Google platform, including Google Ads, Search, and Maps.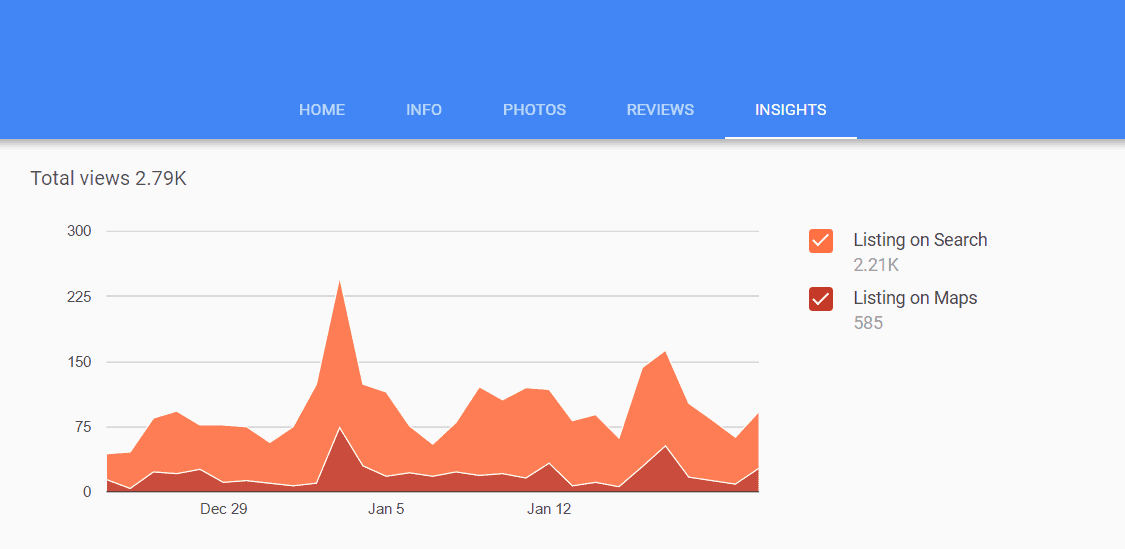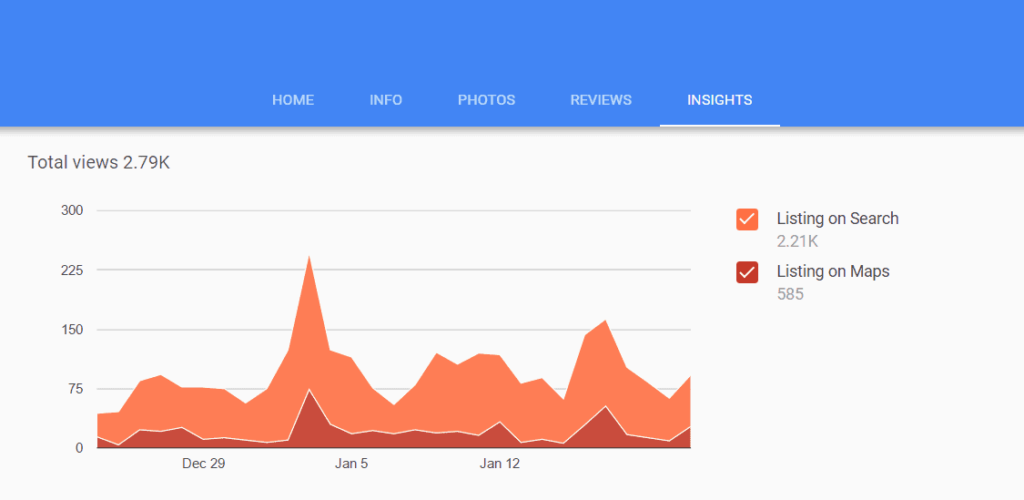 While this new feature of Google My Business is geared more toward large companies rather than small businesses, it is still a useful tool to learn how important updated location information is to reach potential customers. Performing tasks on an automatic basis can also be an exciting digital business goal to work toward.
Is Your Google My Business Listing Ready for 2017?
In order to obtain new customers, they must be able to find you. Today, the first place that consumers look for businesses is the internet. Google My Business provides you with a platform to create the online presence that your brand needs, and that consumers want. Keeping your Google My Business listing updated and cohesive with the tool's new features goes hand in hand with your efforts of ranking high on search results and achieving desired conversions.