Since Google launched Google My Business (GMB) back in 2014, it has become an important factor in putting your business in front of consumers who are looking for it. Yet, there are still many business owners who aren't utilizing it to its fullest potential. Google My Business optimization can allow you to highlight your business, educate consumers about the products or services you offer, and let them know exactly how to contact you. In addition to all the benefits this powerful platform can provide, it's free! If you haven't set up your Google My Business page yet or its been a while since you've updated it, here's what you need to know to make the most of your business listing.
What is Google My Business?
Google My Business is a free online dashboard that provides a comprehensive platform for promoting your business profile and website. It consolidates the way business owners and marketers manage their presence on Google into one convenient place. For those who have managed their business listing on Google before, a GMB business profile incorporates previous features known as Google Places for Business, Google Listings, and Google+ Business Pages. Creating your GMB business profile and properly optimizing it can provide your business with the opportunity to appear in a variety of different search results and boost your local SEO ranking. These include the knowledge panel, the local 3-pack, and Google Maps.  
When someone searches your specific business, the knowledge panel appears as a box in the upper right corner of the results page or at the top of the page on mobile devices. It contains vital business information including your address, phone number, website, hours of operation, and a link to get directions to your business. It will also display an image of your business and it's location on a map as well as any other industry-specific information. 
When someone conducts a localized "near me" search, the local 3-pack will appear with a map view above it. This contains three businesses with a menu option at the bottom to show more places. Much like page one of a Google search, many people don't look past the local 3-pack.
Last but not least, with proper Google My Business optimization, your business can also show up in a search on Google Maps. This is intended to help people looking for directions as well as discover businesses and their locations. When someone in your area is searching for the specific products or services you offer, your location will be identified on the map.  
Getting Started
For those setting up a GMB page for the first time, go to the Google My Business website to get signed up. Once there, you'll see a blue "Manage Now" button. Click on that and you will be asked to enter the name of your business. If you can't find your business, click on "Add Your Business to Google". Google My Business Help provides step by step instructions to assist you in claiming or creating your business profile. If you already have your business profile set up, you would simply sign in to your Google account to manage it. You'll want to optimize your profile to help increase the visibility of your business.
Google My Business Optimization
Once you've created your Google My Business account and claimed or created your business profile, it's time to make sure it is properly optimized. The more thorough you are when submitting your business information the better. 
Start with the basics. Fill out your business name, address, phone number, website, and hours of operation. These should be filled up immediately when setting up your business profile. If your profile is already created, make sure these are all up-to-date. When optimizing your contact information, it's important to be meticulous. 
Use the same business name on your profile that you use on your business signage. Adding a location or keyword to your business name can be viewed as spam by Google, resulting in your business being penalized. Your business name and address should match exactly on all other listings across the web. This includes the use of abbreviations. For example, if you've used "St." rather than spelling out "Street" it should appear that way in all listings. These types of inconsistencies negatively impact the credibility and ranking of your business with Google.
It is also important to make sure that your hours of operation are accurate. If they fluctuate with the season or are different on holidays, your profile should reflect this. Inaccuracies could cause customers to visit your business only to find it closed. This will not only result in customer frustration but could also lead to receiving a negative review.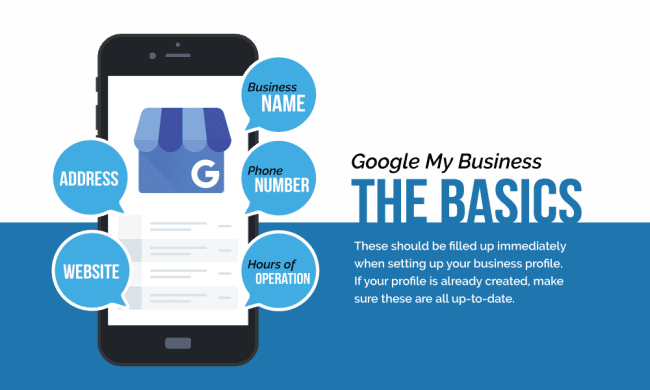 Create Your Business Description. Google will generate a brief description of your business which will appear just below your business name. To ensure consistency across the platform, you won't be able to edit it. Fortunately, Google is pretty good at creating these. You'll also have an opportunity to further enhance your business description in the "From the Business" section of your GMB account dashboard. This section typically appears below the section for reviews.
You can use up 750 characters in this section. For proper Google My Business optimization, you should use as many characters as possible without repeating any information that already exists on your business profile. The information about your business that you consider to be the most important should appear in the first 250 characters. This is the place to include keywords used to search for the products and services your business offers. You can create a unique business description or you may want to repurpose content from your about page. However, don't include any links or HTML.
Choose a business category. Your business category will appear in the top section of your business profile. Selecting an appropriate category for your profile is essential for Google My Business optimization. According to a GMB Insights study by Bright Local, the average business is found in 1,009 searches per month.  84% of business profile views are the result of discovery searches. This means a product or service was searched rather than searching a specific business by name.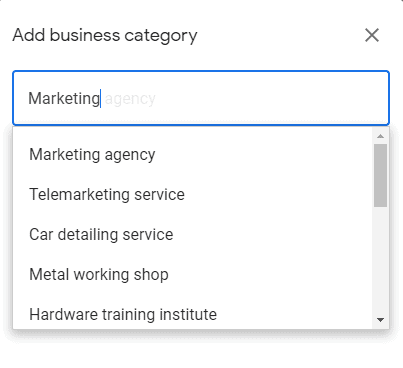 There are more than 3,000 categories. Take your time reviewing them and be specific when making your choice. If you own a hair salon, you wouldn't choose "salon" as your category because that would include other types of salons, like nail salons. Once you've clicked on the category that best describes your business, Google will provide you with category-specific features to help you create a more appealing and effective profile. 
Some businesses may fall into multiple categories. You can choose secondary categories, but be careful not to overdo it. Make sure all secondary categories specifically apply to your business or you could show up in searches for products or services your business doesn't  provide. Multiple categories or edits to your categories can result in a verification request from Google to ensure accuracy across their platform.
Select business-appropriate attributes. Once you've chosen your business category, it's time to take Google My Business optimization one step further. You can enhance your business profile by adding attributes to your category. These attributes are specific products or services your target audience is searching for. If you operate a hair salon and are an expert colorist, you would add hair coloring as one of your attributes. A restaurant might want to use attributes to let their customer know they need to make a reservation or that take out is available. Choosing the right attributes for your business can answer customers' questions before they ask them.
Add quality images. No matter how cliche it may sound, a picture is worth a thousand words. It will also attract more customers to your business. According to Google, customers are 42% more likely to request driving directions to a business if images are included in their business profile, and 35% more likely to click through to its website. You'll want to add a cover photo that best represents your business and you might also want to add an image of your logo.
These images will appear at the top of the knowledge panel. Unfortunately, many business owners think those are the only images they need to add. If you click on the cover photo, it will open a photo gallery of your business if you've added additional images. This is a great place to showcase not only your products and services but also your company culture. Include images of your team having some fun or taking part in activities to benefit non-profit organizations in your community. Add new photos periodically and you can also add videos. These images will provide potential clients with their first impression of your business. Ensure it's a good one by following Google's photo and video guidelines.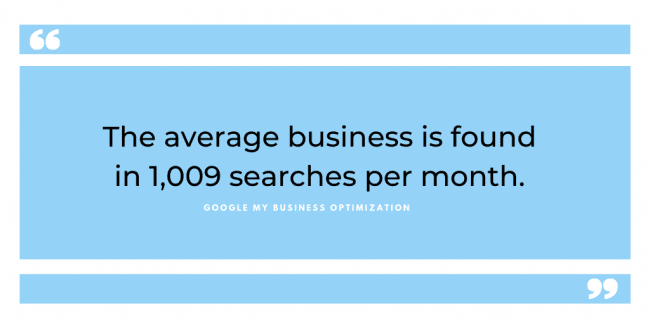 Ask for reviews.  Not only are reviews the top reason for a customer to choose to do business with a company but they can also impact your ranking with Google. Businesses with multiple reviews and have a high star rating have a much better chance of showing up in the local 3-pack. Asking for reviews is a simple yet extremely important part of Google My Business optimization. According to BrightLocal, 62% of customers will write a review if asked. However, many business owners still hesitate to ask for them. 
There are a few different ways to encourage customers to leave you a review. Asking loyal customers that you have established a strong relationship with is a great place to start. When customers compliment your products or services is the perfect opportunity to ask for a review. You can also ask in a post-purchase email or create a review page on your website. You can make it even more convenient by providing a review shortcut link. 
It is also a good practice to respond to reviews, both good and bad. A brief sincere thank you is sufficient for positive reviews. You should never ignore a bad review. Respond first by apologizing that the customer was unhappy with your products or services. Then ask that they contact you privately to see if you can rectify the issue and alleviate the dissatisfaction.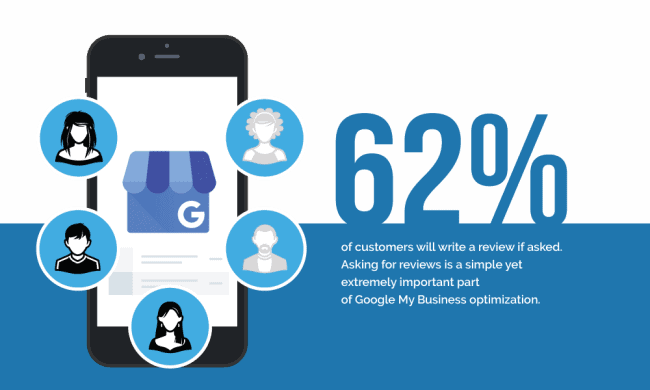 Create posts to add to your profile. Just like you could with the now-retired Google+ and other social media platforms, you can add posts to your business profile. You can use these posts to announce special events, discounts, new product or service offerings and more. Posts can be created in your Google My Business dashboard. Also, some social media management software like Content Studio will allow you to post to your business profile and all the other platforms you're active on in one place. 
These posts will appear toward the bottom of your profile in the Updates section. It is beneficial to post regularly and include CTA's in every post. They can increase the number of actions customers take from visiting your website to contacting or visiting your business. Creating GMB posts will also help boost your Google ranking. Customers can follow your business profile and receive notices and updates, keeping your business top of mind.
Answer questions. Google also offers a Question and Answer section in your business profile. This is a great opportunity to engage with your customers and answer questions about your business. It allows you to provide additional information about your business. Keep in mind, others in your audience can also answer questions. It's important to monitor the Q&A feature of your profile. You can set alerts to let you know when new questions or answers have been posted on your profile.
You can also add your most commonly asked questions and the correct answers. By doing this you're providing your audience with accurate information without them having to ask for it. This is in compliance with Google's terms and conditions and users are encouraged to do this. Including keywords in your questions and answers can also help improve your profile's ranking for those words. However, as with any content, avoid keyword stuffing.
Include products and services. You can further enhance your Google My Business optimization efforts by adding specific products and services to your profile. In addition to providing customers with more detailed information about what your business offers, doing this will increase your content. The more content in your profile, the better chance you have of increasing your ranking. Google may even link to your offerings from your category section.
Enable Messaging. With messaging, you can receive text messages from users viewing your profile. This will give you the opportunity to engage with them in real time, taking your customer service to the next level. It can be a great incentive for those users to convert and become customers. You can enable messaging by clicking on the messaging tab in your Google dashboard. Then install the app through Google Play or Apple App store.
Optimizing Your Google My Business Profile 
On its own, a basic Google My Business profile won't do much to increase your business. Proper Google My Business optimization, on the other hand, can provide some very important benefits for your local SEO and business growth. It can improve engagement, give your local ranking a boost and increase conversions.  If you're worried that you might not have the time or experience to make the most of your GMB profile, the team at Creative Click Media can handle it for you. Contact us to find out how we can optimize your Google My Business profile, increase your leads and improve your bottom line.