Search engine optimization (SEO) is essential to building your online presence. If you think a strong online presence isn't that important for a small business, it's time to wake up and smell the coffee. The number of consumers searching for goods or services online increases everyday. Those searches are often "near me" searches. Most people are looking for local businesses and never go past the first page of results.If your business isn't there, the majority of consumers won't find you. They will find your competitors and, more often than not, that's who will end up getting their business. So, how do you beat your competitors to page one? Local SEO for small business is the key to building a strong online presence, increasing your ranking, and having your business show up on the first page of a local search including the coveted local 3-pack map listings.   
What Is Local SEO?
The purpose of local SEO is to provide results based on the searcher's current location. It is a strategy custom-tailored for local businesses looking to increase their visibility in search engines, reach more customers, and generate more revenue. It can also help drive organic traffic to your website, store or office by optimizing your online presence to target your ideal customer. 
While all SEO is focused on search intent, local SEO is based on organic SEO with a concentrated emphasis on geographic location. Every aspect of local SEO is to ensure that businesses with brick and mortar locations appear higher in location based searches. This means when a user conducts a "near me" search for your specific type of business, you will have a prominent place in local results on Google, Bing and more,
What is Search Intent?
When a user conducts a search, intent refers to the reason the search is being performed. Google is pretty intuitive when it comes to identifying local intent. For example, if you were to search for "electricians near me", it would be understood that you are interested in doing business with local companies. While just searching 'electricians" might return some local results, it will also provide other information such as how to hire an electrician or how to become one. So, when developing a local SEO strategy, you want to focus on showing up in searches with local intent.
Key Components of Local SEO for Small Business
To get your business to rank locally, there are three factors you need to consider – proximity, prominence and relevance. These are the items Google and other search engines use to determine if your business should show up at the top of a local search.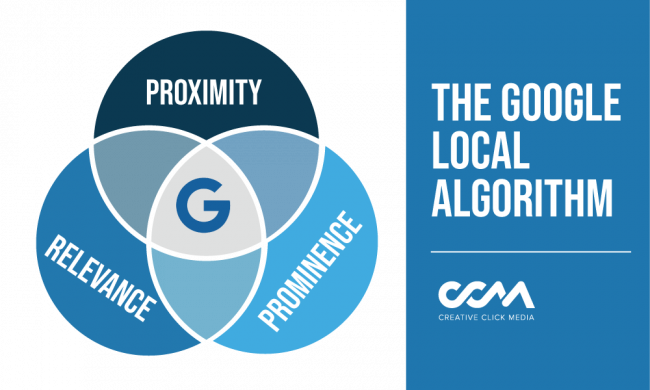 Proximity is all about location. Search engines use various methods to identify the location of a search. These are predominantly based on zip codes and geo-coordinates. Prominence is about how well-known your business is. Search engines consider backlinks, reviews and citations to determine this. Relevance involves which local companies best match the users search. To increase relevance, you need to optimize every aspect of your online presence for local SEO. Google also considers your ranking in regular search results, so boosting your overall SEO is important as well.
Who Needs Local SEO? 
While SEO is important in building the online presence of any business, local SEO is designed for businesses with a physical location or local service area. It focuses on making it easy for consumers in your local area to find your business before they find your competitors. Although you may be able to do business outside of your immediate geographic area, it is important that you first capture the lion's share of local business. The goal of local SEO for small business is to increase your visibility in local search results to make that happen.
Google and Local Search 
According to Statcounter, Google is the most commonly used search engine, with almost 92% of the search market share. Hubspot found that 46% of those searches have local intent. Bing comes in second with only 2.69% of the search market share. That's not to say that you should ignore other search engines when trying to boost your local SEO but because of its predominance, the following examples are based on Google local search. 
A local search begins with a specific keyword or phrase combined with "near me" or a specific geographic area such as the name of a city or county.  Let's say you need to have your carpets cleaned. A common inquiry would be "carpet cleaning near me" and it would generate results similar to the image below known as the "Google 3 pack". This features the top three local listings that match your search.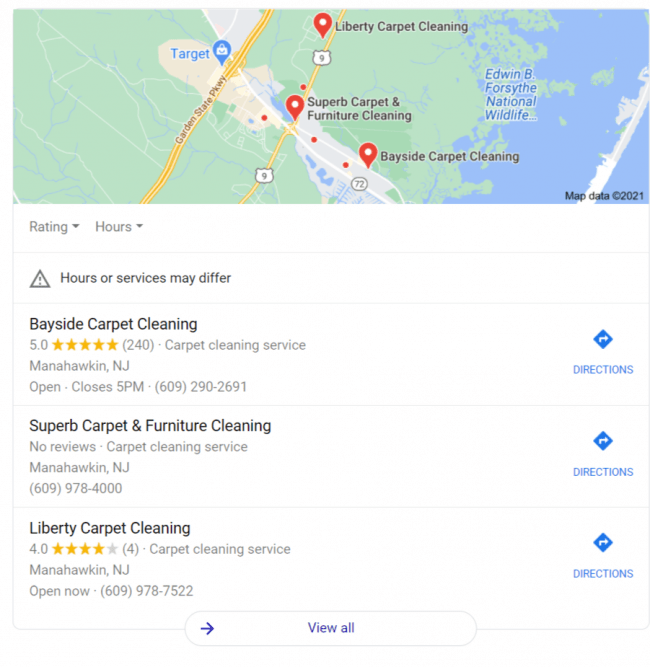 As you can see above, there is a "view all" button to click on to review more results. Much like page one of search results, many users never scroll past the 3 pack. Having your business featured there is the ultimate goal for local SEO. This 3 pack displays only organic results. Paid ad results will normally appear above the 3 pack and organic results will appear below it. Some 3 pack results may also show paid ad results as seen below, however, Google will only show an ad in the 3-pack if it is believed to be extremely relevant to the user's search. Otherwise, they may appear once the "view more' button is clicked. The first listing is clearly marked as an ad, letting the user know that result was paid for and not organic.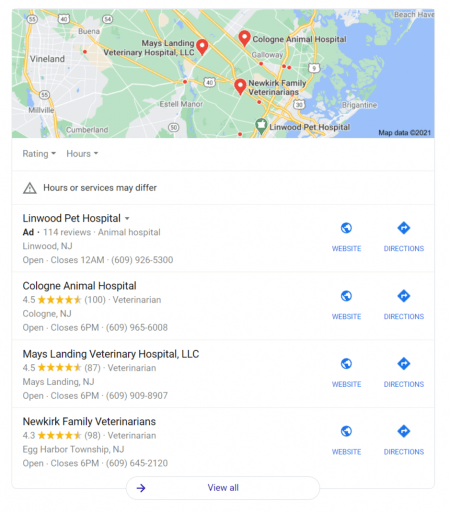 You can't optimize your website specifically to be featured in the 3 pack, as it changes depending upon the user's location when they conduct their search. Properly optimizing your local SEO efforts will give you a better chance at having your business featured there if it is relevant to the search inquiry. 
How to Optimize Local SEO for Small Business
So, now that you know where you want your business to be in a local search, how do you get there?
There are specific actions that need to be taken to boost your local SEO and increase the number of local searches that feature your business. As previously mentioned, Google is the most popular search engine, so many of your efforts will involve getting Google's attention.
Start with Google My Business
Because Google only wants to share content that it can support and verify, Google My Business (GMB) has become the preeminent choice for local search. Completing your GMB profile with as much information about your business as possible will allow Google to verify your business as authentic. If you haven't already created a GMB account and claimed your GMB profile, that's the first step. To do this, you will need to go to the Google My Business website and click on the blue "Manage Now" button and enter the name of your business. If you can't locate your business, Google My Business Help provides step-by-step instructions to assist you in claiming or creating your business profile.
Once you have created your GMB profile or if you already have one, you need to make sure it is fully optimized. This includes creating a GMB business page and having it verified. You will want to provide as much business information as possible, make sure your business hours are accurate and use high quality images. You should also create GMB posts, encourage customers to leave reviews and respond to them. When responding, be specific by mentioning the product or service they purchased and include the location. 
Create Location Pages
Location pages make it easier for users to find specific information surrounding the location of your business. If created properly, they can also serve as ranking factors for local SEO. While location pages can be beneficial for any business with a physical location, it can be especially beneficial for a business with multiple locations.
Location pages are basically landing pages that include all the pertinent information about each specific location. This includes NAP (name, address and phone number) information along with details about the products and services your business offers. They should also include a call-to-action (CTA) such as "Contact Us" or "Schedule a Free Consultation." If there are multiple locations, each will have its own location page. To fully optimize each page, they should also include location-specific keywords and content, business hours, customer reviews and directions.
Embed Google Maps on Your Website
When it comes to local SEO for small business, adding a Google map to your website can make it easier for users to find your business and maybe even rack up a few bonus points with Google. Embedding a Google map on your site eliminates the need for users to open another tab to see your location, keeping them on your site longer. The data embedded in the map can provide them with your NAP information, directions, and reviews. Adding a Google map on your location pages can provide users with your website if they want more information about your business. This feature will also display surrounding businesses, points of interest and other landmarks. These can make it easier to find your location or point users to a great restaurant to grab lunch after patronizing your business.
Many of the features Google maps offer are currently free until you reach a certain amount of requests. Many small businesses won't reach the request threshold until building a robust online presence that drives more traffic to their website. This means cost shouldn't be an issue. An API key is required to embed a Google map on your website. Google provides the API key for free along with detailed instructions on how to embed it.
Obtain Inbound Links
Inbound links, commonly referred to as backlinks, are created when another website links to your site. With traditional SEO, it is important to acquire backlinks that come from sites considered to be a high authority. To impress Google's algorithm for local search, acquiring inbound links from businesses or organizations that are influential in your local area are more beneficial for local SEO. However, acquiring backlinks can be challenging.
There are some creative ways to start collecting backlinks such as sponsoring a local youth sports league, fund raising event or creating a local scholarship. Not only will this connect your business to the event but to other local sponsors which could result in backlinks. Joining local business associations or getting listed in local business directories can also provide valuable backlinks. If the business association publishes a blog on their site, see if you can have your business featured or offer to write a guest blog. 
Check in with your staff as well. They may be involved in organizations where you could volunteer or sponsor an event to get listed on their site. Once you acquire a substantial number of backlinks, yours will become the influential business other local businesses will want to link to and you will begin to collect backlinks organically.
Evaluate Your Internal Linking Structure
Backlinks to your website are always beneficial. However, making improvements to your site's internal linking structure can also boost your SEO. Internal links are those that connect one page of your website to another, creating a hierarchy. This makes it easier for users and search engines to navigate your site. As a result, users find the information, products or services they want. Internal links also allow search engines to understand your site structure. This is important for a couple of reasons. It helps search engines find and index the pages on your site. Proper internal linking can also pass authority between your site's pages and result in improved  SEO rankings.
Internal links aren't just those found on your home page and navigation bar. They can be added to the header and footer of all your site's pages and within your content. Those included in your content are called contextual links, which direct users to interesting content relevant to their search. Internal links can be equally as important as backlinks for local SEO for small business. 
Mobile Friendly
This is no longer an option but a necessity, Google processes over 3.5 billion searches a day and about 60% of those searches are performed on a mobile device. Many are looking for a business nearby. It's crucial that your website is optimized for mobile and provides the same business information to both desktop and mobile users. If your website isn't mobile friendly, not only are you missing out on a significant amount of traffic and potential business but it will have a negative impact on your local SEO.
In 2015, Google rolled out their mobile friendly update, stating that they would be boosting the ranking of mobile-friendly pages on mobile search results. A 2017 Google update saw mobile officially become a Google ranking factor. Mobile-first indexing has been an ongoing effort of Google for several years. This means they would primarily use the mobile version of a site's content for ranking, to understand its site structure and generate snippets in their search results.
Google has already enabled mobile-first indexing for most currently crawled sites, and enabled it by default for all the new sites. They had initially planned to enable mobile-first indexing for all sites in search in September 2020 but this has been delayed until March of 2021. So, if your site isn't already optimized for mobile, there's still time to update it.
Create Local Content
In the past, content was often created more for search engines than for users. The purpose was to boost SEO. However, as Google continues to get smarter, it has become easier to write content that users will find truly valuable and not simply stuffed with keywords. That doesn't mean you shouldn't be creating content with SEO in mind. 
With local SEO for small business, it's important to focus on local or industry news your target audience will find interesting. Create content that goes beyond what your business has to offer.  Promote local industry events, news, employees as well as educational information. Become the local authority in your industry. You can also create resources your community will find valuable such as a calendar of community events or a map of local service providers. This type of content can send highly relevant on-page signals to Google.
Content Optimization/On-Page SEO
Your initial website copy and every piece of content you add after that needs to be optimized for SEO. Each new blog post becomes a new indexed page on your site, each providing a new opportunity to target a geographically-specific search phrase. This increases your chances of being found in a local search for the targeted geographic area.
To properly optimize your content for SEO, you need to use high volume, relevant keywords in the page URL, title, header, meta description, and body. Be sure to use the keywords as naturally as possible and avoid overusing them in the body of the content. This is referred to as keyword stuffing and Google frowns on this tactic. Geo-targeted content can include case studies or customer success stories as well as blog posts and website copy.
Manage Citations and Listings
Citations are when your business, along with your NAP information, is listed online. These can occur both on and off your site. On-site citations are typically integrated into your contact page, page footers and location pages. Off-site citations are when your business appears on pages and listings such as Google My Business, Facebook and others. These listings or online directories list businesses in a specific location or serving a specific industry niche.
According to Hubspot, based on domain authority, Google My Business is among the top 3 free online directories along with Facebook and Apple Maps. While all have a domain authority of 100, GMB's 3 pack, featured snippets and accelerated mobile pages (AMP) are firmly positioning Google between businesses and users. It's crucial that your NAP and all other pertinent business information is correct in GMB, consistent across all other online directories and any duplicate listings are deleted. If not, your rankings could be penalised, causing Google to lose trust in your business information.
Don't Overlook Social Media
Many owners and managers have social media way down on their list of priorities when it comes to local SEO for small business. However it is a mistake to underestimate its importance, as Google considers content shared on social media more important than ever. Do research to determine which social media platforms your targeted audience frequents the most. You can continue to build your online presence and increase your SEO by posting on these platforms and engaging with your audience there.
Although Facebook and Instagram may come to mind first, GMB now offers Google posts. These are a great way to boost local SEO for a small business, allowing them to share new content, industry updates and special offers. Various forms of content can be used for Google posts including video, text, images and links.
Overwhelmed by Local SEO for Small Business?
Local SEO helps you target local users, increase traffic, improve your site's authority and make  local connections. It is also crucial for local searches but it can be a lot of work. A small business owner wears a lot of different hats. Adding local SEO to your to-do-list may be more than you can handle. However, ignoring it will allow your competitors to get the majority of local business. Enlisting the services of an agency that specializes in local SEO for small business can take it off your plate. Creative Click Media can increase your local SEO allowing you to attract more business. Contact us and let us show you how we can help you dominate your own backyard.