Businesses thrive when they effectively market quality products and services. And no product or service, no matter how exceptional, can sell all that well without an effective marketing campaign behind it. After all, the consumer public likely won't buy something they have never heard about. Marketing isn't always easy, but advancements in technology have removed barriers to reaching the widest audience of consumers. Here are three specific tried-and-true marketing strategies that technology has improved.
Customer Customization
Generic marketing campaigns aren't always that effective. Marketing approaches devised to tailor to specific customers increase the potential for connecting reliably. In the past, sellers had difficulties changing up a marketing campaign. An ad run in a newspaper couldn't experience easy tweaking. Switching out the old advertisement with a new one was the only way to go. All that has now changed.
Changing up advertisements for customers requires little more than clicking a mouse and hitting a few buttons. You could institute changes for a short period and then make additional changes later. Advertising campaigns have become much more dynamic in the digital marketing age. The changes allow for targeting a particular customer niche at different times. Ad campaigns need not remain static anymore.
Mail Marketing
The reason you continue to receive flyers and postcards from retailers, grocery stores, and repair shops is that direct mail marketing still works. Sending the right promotional material to people can evoke a desirable response.
Direct mail marketing has changed a lot over the years thanks to advancements in technology — one significant change centers around the development of email marketing. Email marketing can be far less costly than the physical mailing of letters, flyers, and catalogs. With both snail mail and email marketing, the arrival of technological advancements allows for making changes to materials without unnecessary delays as well. Additionally, mailings may be automated. The mailing process becomes less labor intensive as a result.
Video Marketing
Producing a commercial for television usually comes with high costs. When commercial advertisement fees are low, the available audience likely isn't huge. With video marketing, producing a live-action or animated commercial comes with smaller costs. Social media and other online venues provide free hosting platforms that run the videos 24/7. The potential audience could be even more vast than the one on local television channels.
With a local SEO campaign, the sought-after targeted traffic may find your all-important video. Television has become passive these days when it comes to promoting traditional video commercials.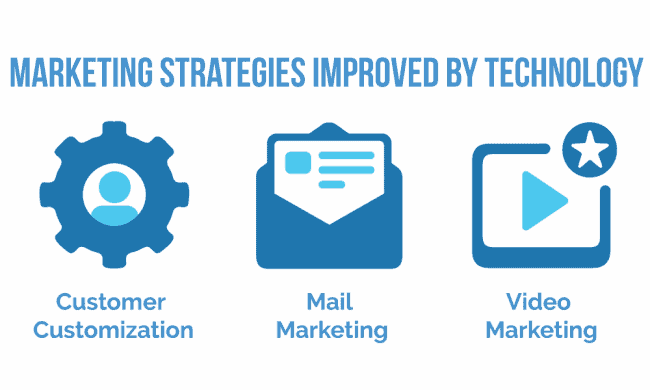 Ultimately, a business must put the right effort into crafting a multifaceted marketing approach. By relying on technological advancements, implementing an approach might be a little easier.
One of the best parts about being a marketing agency in this fast-paced digital age is being able to continually improve our services with each new technological advancement. Chat with us to learn more about how your current marketing strategy can be elevated by the latest technology the digital sphere has to offer.