A new year means new trends, new strategies and new updates from SEO to social media and beyond. Keeping on the pulse of the latest changes in the digital marketing sphere is key to setting your business ahead of the competition in the ever-evolving online marketplace. As we head into the second month of 2019 (already!), let's take a look at the latest updates from Google, Facebook, and Instagram that could help you set your business up for success as you continue to develop your new year's marketing strategy.
Google
Google has been busy in the first month of 2019, bringing many changes to the table in the new year. Aside from the first major algorithm update of 2019, most of these changes came from Google My Business.
Algorithm Update
Early in January, we had our first impactful Google algorithm update of 2019. This algorithm update seems to be very similar to the Medic Update which occurred in August 2018. But, instead of impacting medical/health websites, this update had an effect on business websites in the automotive, food/drink, pet/animal, and law/government industries. This is Google continuing to push for fully optimized and relevant content on business websites. So, just like it was suggested for the Medic Update, website owners should focus on the content on their site. Identify your low and high-quality pieces of content, eliminating or updating it as needed. Updating old content on your site to be more relevant for today can be extremely beneficial and can provide your website with a considerable boost in search rankings.
GMB Social Media Icons
They've been gone for a while but now they're back – your business's social media icons have returned to your Google My Business knowledge panel. Currently, they can only be seen in desktop view and are located towards the bottom of the knowledge panel under "Profiles".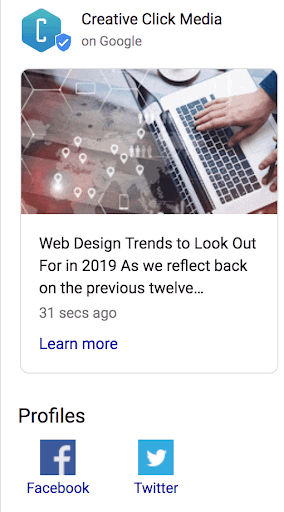 In order to make sure your social media profiles are showing up in your GMB knowledge panel, there are a few steps you must take: make sure your business name is same on your social profiles as it is on your GMB profile, and make sure your social media profiles are verified or claimed by the business owner.
GMB Service Menu Wiped Clean
Without any warning or notice, the service menu section has been wiped clean from the GMB profile of many businesses. For some businesses, there no longer is an option to create a service menu. Others still have the option to create one, however, all previous content has been wiped clean from their service menu. Google has not given any explanation for this strange occurrence as of now. For those that still have the option to create a service menu, manually refilling your service menu is your only option. This is most likely just a bug that Google will fix in due time.
GMB Photos
There were a couple of changes that happened with Google My Business photos this past month. Your "Profile" photo in Google My Business is now being labeled as "Logo". Be sure to make any necessary changes so that your "Logo" photo is set up correctly.
The other notable change you may have noticed this month occurred because of a bug. It appears that many businesses are not seeing their photos publicly displayed. While they can see their photos uploaded on the backend, they have not been appearing in Google Maps. Google is aware of this issue and is currently working to find a solution.
Facebook
New Call-To-Action Stickers For Page Stories
This month, Facebook released an update that could make the 'Stories' platform more profitable for Page users. The social media giant added a set of call-to-action stickers like 'Shop Now,' 'Call Now,' 'Book' and more. The stickers will prompt viewers to engage with Page Stories and make decisions directly in the Facebook Stories feed. This update will open many doors for digital marketers, as they'll have the ability to reach consumers directly in an engaging platform and compel them to make fast, easy purchases.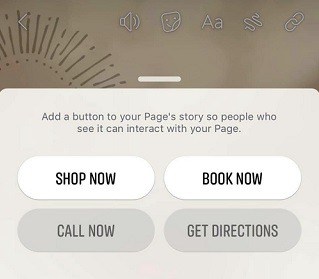 Source


New 'LOL' Tab
In an attempt to attract a younger audience, Facebook is testing a new tab called "LOL" that will feature trending GIFS, memes and funny videos. "LOL" will pull content from popular meme pages, run the content through a feed and allow users to vote on and share the resulting content. Currently in testing with high school students, the "LOL" tab is already predicted to flop by social media expert Taylor Lorenz, "Why any high schooler would log onto [Facebook] to see weeks old memes in an (adult) curated Watch-like tab is beyond me. Also, people want to see memes when they're fresh, it's not like a 'Hey, watch this old meme's greatest hits.'"
Whether or not Facebook's "LOL" section ever sees the light of day, the update reflects Facebook's efforts to fill the demographic gaps in its audience. If the social media platform continues to seek out new ways to engage young users, brands with a younger target audience could benefit from the resulting solutions.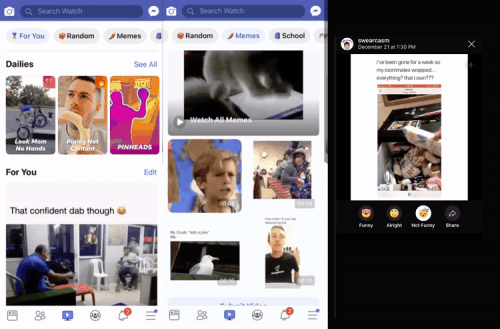 Source
Instagram
Linking Option For Instagram Stories
Instagram users can now share direct links to Instagram Stories. This new feature aims to boost Stories awareness, increase Stories engagement and encourage brands to invest time and resources into Stories creation. While this feature was previously only available to accounts with at least 10,000 followers, Instagram will be unrolling it to all users in the coming months.
Though a story has a short lifespan of 24 hours, this shareable link option can increase the likelihood of a story being seen and increase its reach and effectiveness. So, not only will the update lengthen the lifespan of an individual story, but it will also motivate more brands to integrate the Stories platform into their digital marketing strategies.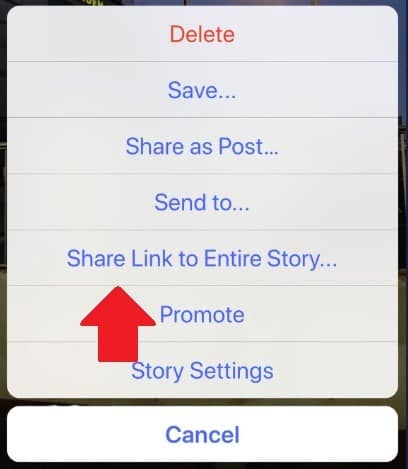 Update Allows Businesses To Schedule Videos to Instagram
Until now, third-party apps allowed social media managers to schedule only single photo Instagram posts. In order to publish video and multi-image Instagram posts, managers had to manually schedule the content themselves within the social platform. A new feature from Instagram, however, lets social media managers use select apps like Buffer, Hootsuite and Social Report to schedule posts containing multiple images and videos. This update will not only automate the posting process and take most of the grunt work out of social media managing, but it will also encourage businesses to incorporate video and post fuller, more engaging content.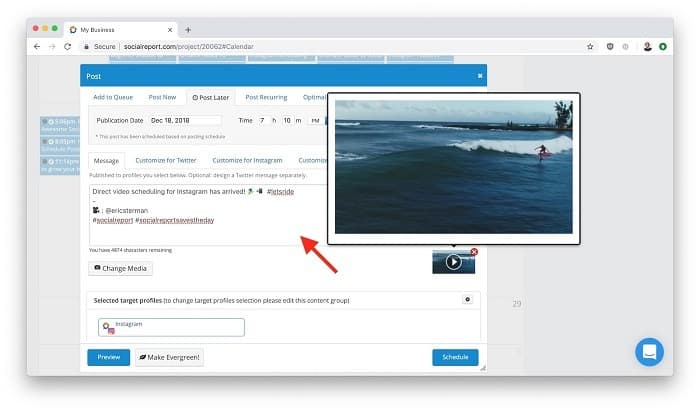 Feature Allows Posting To Multiple Accounts At Once
Instagram is rolling out a new feature that will allow social media managers to post through multiple accounts at once. With the tap of a finger, managers can publish a single post across several profiles. Though this capability will push out duplicate content, it will benefit managers who are publishing promotional sales content for a brand with multiple accounts.
For example, the sportswear brand Under Armour has a variety of Instagram handles that could display identical content for, say, a company-wide sale or initiative: @underarmour, @underarmourwomen, @uahunt, @uafish, @uabasketball, @ualacrosse, @uarunning, etc. Under Armour's social media managers could save themselves time and resources by posting one message through Instagram's new "post to other accounts" option in composer. In just one tap, you can disseminate content to thousands of Instagram followers across numerous accounts.
Bring Your Marketing Strategy Up To Speed!
Already feeling behind in the New Year? Keep an eye out for our monthly marketing reviews to stay up-to-date on the latest digital marketing trends and social media announcements! At Creative Click Media, our team of SEO and social media specialists have the tools, skills and industry know-how to get you and your business on the right foot for 2019 and beyond. Contact us today to find out more!