July was a deceptively quiet month in the digital marketing sphere, with several "blink and you'll miss them" releases making their debut across various platforms. However, these latest updates could prove to be serious power players in months to come as they continue to expand to wider audiences. In this edition of the Monthly Marketing Review, catch up on everything July had to offer on Facebook, Instagram, Google and more, as well as how they could affect your business' marketing strategy moving forward.
Facebook
Instagram Cross Posting
If you've updated your Facebook lately, you might have noticed your most recent Instagram photos now appear as an option to post on your Timeline. Prior to this month, the only way to share content from your business' Instagram was to toggle the "share" button in the Instagram app. This month, however, Facebook launched a new feature that allows users to cross post Instagram photos directly through Facebook.
The primary difference between sharing from Instagram and sharing through Facebook is the amount of content that is cross posted. When posting to Facebook through the Instagram app, both the photo and the caption are copied over and shared. This means every Instagram handle and hashtag used in your caption will appear in your Facebook post — neither of which are encouraged by Facebook's algorithm. Sharing an Instagram post through Facebook shares the image only and leaves the caption blank. This provides you with the opportunity to craft a tailored message that reflects the formatting and language best suited to your Facebook audience.
At this time, cross posting from Instagram is only available for individual photos. Videos, groups of photos and/or ads will need to be uploaded to Facebook manually.
Workplace for Good
Facebook has made major strides in their effort to support non-profits over the last several weeks. In late June, Facebook announced Workplace for Good, the non-profit focused free version of their corporate collaborative platform Workplace by Facebook.
It is worth noting that Workplace by Facebook has always allowed non-profits to bypass the $3 per user/month premium fee. Where Workplace for Good differs, however, is on the emphasis on community building. Workplace for Good provides non-profits with access to dozens of charity-focused apps and tools designed to help their organizations "connect, collaborate and create change in their community." Since its launch, Workplace for Good has been used by numerous internationally known non-profits such as World Wildlife Fund, Unicef and the Norwegian Refugee Council, and is expected to continue to expand with additional features in the coming months.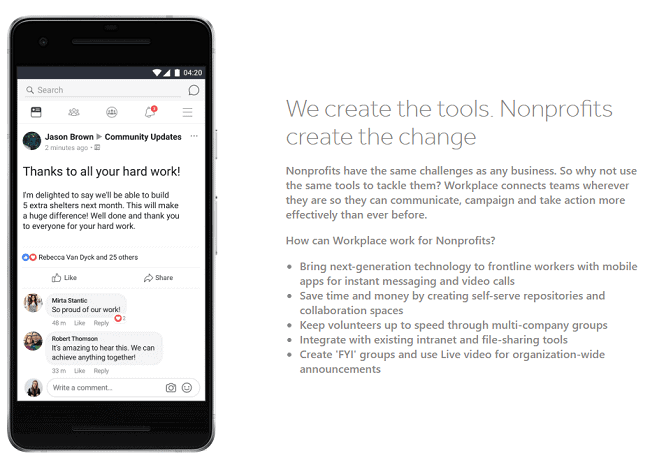 Source
Augmented Reality Advertisements
Earlier this year at the 2018 F8 Conference, Mark Zuckerberg announced Facebook's plans to integrate augmented reality (AR) within their Messenger platform. This month, however, unveiled the surprise debut of AR advertisements for select e-commerce businesses within a user's news feed.
Facebook's latest advancement in AR technology allows users to tap on a brand's advertisement and virtually "try on" the product using a front-facing camera. This technology works similarly to Instagram and Snapchat's filter functionality, and provides users with the option to make a purchase within the ad itself.
This technology is still in the testing stage, and is currently limited to a select number of retail giants such as Michael Kors, Sephora and Wayfair. Smaller e-commerce businesses shouldn't feel left out for too long: Facebook's VP of Marketing, Ty Ahmad-Taylor, highlighted AR advertisements as part of Facebook's advertising plans for the holidays, so expect a wider release towards the end of the year.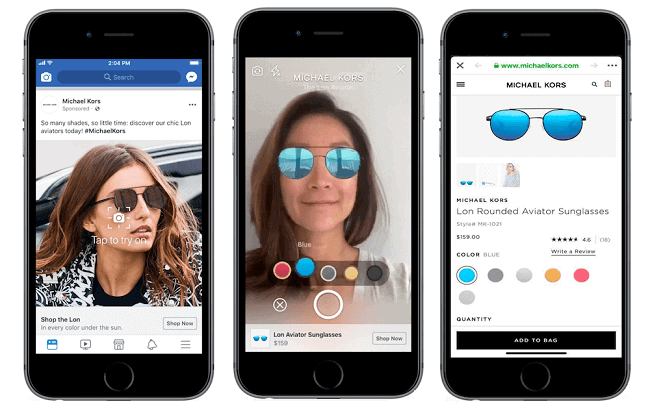 Source
Instagram
Location Specific Stories
Instagram regularly releases new filters, stickers and interactive elements on its Stories feature, but this latest update speaks directly to the needs and marketing objectives of businesses on the social platform. Instagram now allows users to limit their stories by location, which is a game changer for businesses with both national and international audiences.
Under "story controls" in the settings tab, businesses are now able to select specific countries in which their stories will be visible. While it may not make sense to narrow your audience all the time, it can prove to be beneficial for businesses offering limited time geo-specific campaigns (such as a sale from a US retailer that does not offer international shipping). For brands with a wider global appeal, this also provides the opportunity to create a variety of stories to fit the language and imagery that appeals to an array of diverse audiences worldwide.
The primary takeaway from this update is customization. Having the ability to create custom Instagram Stories that are both relevant to and resonate with the variety of audiences who follow your business' account across the globe will help increase your followership and create brand loyalty.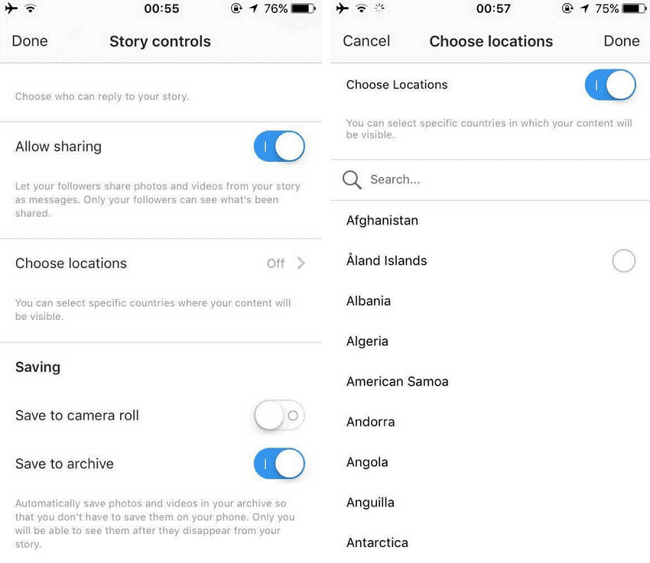 Source
SEO News
Google My Business
There are several new updates to Google My Business that webmasters should know. The first is that GMB now shows you competitors' posts. Being able to see what your competitors are doing for their Google posts can be beneficial for business owners. It can provide some insight into what your competitors are focusing on, allowing you to adjust your strategy as necessary. It can also provide you with inspiration for your own posts if you're having trouble brainstorming new content.
Another update GMB made this month is the ability to see which search terms made your GMB listing appear. You can find this information under the "Insights" tab in your GMB profile. It will show you the most used terms that triggered your listing to appear within the last 7 or 28 days. This is another great way to gain a deeper understanding of how users are finding you online. This update has not been completely rolled out and is only available to select accounts for now. But keep an eye out for when you're granted access to this feature as it could provide valuable insight.
Google Search Console
Google has removed the public submission tool for new websites. Before, when you created a new website you would have to Google "Submit link to Google" and then enter your website URL along with your sitemap URL. This will tell Google that you have created a new site with new pages that need to be crawled. Now, this is done by using Google Search Console's fetch tool. Go to your Search Console and under the Crawl tab, go to "Fetch as Google". Here you will submit the URL of the website and your sitemap. Once you do, click "Request Indexing" next to each fetch in the fetch history table. You'll then be prompted to choose whether to crawl only that URL or that URL with all of its direct links. This request may take several days to be granted and you must be a verified site owner to submit a request.
Google Algorithm Update
In July, Google released a minor algorithm update they are calling the "Speed Update". This update focuses on better serving mobile users by penalizing slow loading websites. Google says the update will only affect a small percentage of queries and that only pages with the slowest load time will be affected. However, mobile-speed is just one ranking factor built into Google's search algorithm. So, it is possible for a slow loading page to rank in search results if there is great, relevant content on the page.
YEXT and Alexa
YEXT, a digital knowledge management platform used for creating accurate business listings across all online directories, has now partnered with Amazon's Alexa. The digital assistant will now be able to deliver local business listings to users including business locations, contact information, and more. Since Alexa will be pulling the information directly from YEXT profiles, business owners can be sure that accurate information is being shared. Tool's like Google Assistant and Alexa are making voice search an increasingly popular option for users trying to find information online. If your business isn't using YEXT already, it should be.

Is It Time to Revamp Your Digital Marketing Strategy?
The digital marketing landscape is constantly evolving, but you don't have to scramble to stay ahead! Our experienced team of social media and SEO specialists have the know-how and ingenuity needed to develop creative marketing strategies for businesses of all sizes and industries. Contact us today to discuss how to make your business stand out from the competition in a highly saturated digital sphere.