Nonprofit organizations can have a huge impact on society but oftentimes they cannot find the right voice to inspire people. In Simon Sinek's TED Talk, "How Great Leaders Inspire Action", he explains how companies like Apple have been able to inspire such a loyal following of customers. Using his "Golden Circle" diagram, Simon shows us how a lot of companies focus on telling people what they do rather than explaining why they do it. But the 'why' is much more important than the 'what' for nonprofit storytelling.
Starting with why you do whatever you do is how you form that strong connection with your audience. Simon used Apple as an example but in no way does that mean this strategy is only implemented by for-profit companies. In fact, nonprofit companies stand to benefit the most from this strategy. People who donate or volunteer for nonprofit organizations are not obligated to do so; they do it because they are inspired. Starting with why is how you inspire people to follow your values and beliefs and to support you in whatever you do.
Establishing Your Mission
Before you start any nonprofit fundraising campaign you and your team should ask yourselves two things: "What is our mission?" and "Why do people contribute?"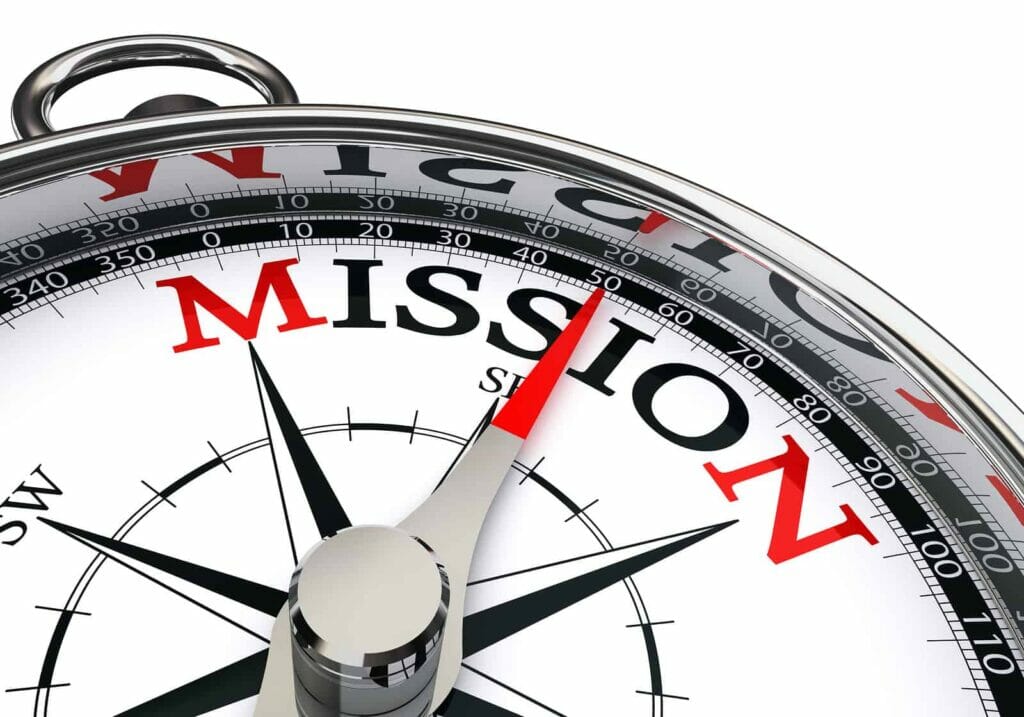 What is your mission?: In order for an organization to fully carry out any marketing campaign, they must be on the same page in regards to their mission. Start by placing your mission at the top of all meeting agendas. Whenever a meeting has concluded, go through all the decisions that were made. Do all of your decisions support your mission? Have a monthly or quarterly meeting to make sure all of your efforts are reflecting the values and beliefs of your mission.
Why do people contribute?: You need to understand why people contribute to your nonprofit organization. Why do people spend time and money to help your organization? Whether it's donations, volunteering, or advocacy, knowing what drives people to your cause will help you to accurately depict your story.
Once your mission is clearly defined, you can start to ask why people care about your organization. Uncovering personal success stories that inspire people to become advocates for your nonprofit will help you form your own story.
A Story That Inspires
Your mission is understood and you have formatted your 'why'. You are now ready to produce a story that will motivate the community to get behind you. Here are a few steps that will help you outline an inspiring concept for nonprofit storytelling that clearly supports your mission:
The Subject
First things first. Who is the subject of your fundraising campaign? If you are raising money for childhood cancer, then kids with cancer are your subject. Whoever your subject is, that is who you want your audience thinking about. Find an outstanding success story from within your organization. A truly inspiring success story can be the prime example you give when people ask why it is that you do what you do.
The Need
Why do you need the community's support? When it comes to buying a product, people like to know exactly what they are getting for their money. When it comes to making charitable donations, people want to know exactly where their money is going and who it will be helping.
"…Another strategy we use is to use site copy with a pathos appeal – letting every person who donates know exactly where their money is going, and the impact it has on these individuals fighting for their life." – Brian Kearney, Director of Communications at Project HEAL
When someone is prompted to make a $1.00 donation at CVS, they may know the name of the charity they are donating to but they have no idea what their money will be used for. Explain exactly what your fundraising campaign is for. Tell them your fundraising goals and how their donations can help you reach those goals.
Emotional Connection
People are more likely to donate their time and money to the cause they feel connected to. Don't spend too much time on the details of your fundraising plan. Remember the 'why'. The reason why you're raising money is what will form the emotional connection between you and your audience. Your story is what people become attached to, not your plan.
"We've found that Facebook is the best place for us to communicate with donors, and grow our supporter base. Since 2012, our page followers have grown from zero to over 14,000, and we are grateful for the ability to be able to share-almost in real-time–information about our herd members. Being able to post video, photos, and live stream directly from the ranch has enabled us to help our supporters feel personally connected to the day-to-day lives of the horses – many of which have their own Facebook fan pages!" – Anita Williams Weinberg, representative of Davy Jones Equine Memorial Foundation
Social media is a great way to show your audience the heart of what you do. Sharing videos, photos, and personal stories can really make people feel a personal connection to your foundation. They'll begin to truly understand why you do what you do and they'll feel drawn to join your cause.
"The PMC shares their story online through social media, including Facebook, Instagram and Twitter. Through these accounts, the PMC shares its accomplishments, fundraising milestones and emotional stories of riders and volunteers who have a special connection to the cause and who have made a difference within the organization – from long-time riders and top fundraisers, to family members of loved ones lost to cancer. The PMC also runs a blog titled "Why I PMC," where riders and volunteers alike share their personal stories and anecdotes from participating in the PMC year after year. Additionally, each PMC rider has a personal fundraising page where they share their personal stories and reasons for riding for potential donors to get to know them better." – Anna Senior, representative of the Pan-Mass Challenge
Personal stories tell your audience why you do what you do. It shows them your daily inspiration. The concept of a blog in which volunteers and participants can share their stories is fantastic. This offers a variety of stories from different points of view that can reach a wide range of people. Each blog entry of a personal story has the possibility to connect with someone and make them want to volunteer their time and/or money.
Call to Action
Just telling people about your fundraising campaign is not enough. Without a call to action, your audience may simply read your campaign and not do anything about it. Give them a call to action. Whether you need donations, volunteers or advocates, give your audience options for how they can get involved. Start with volunteering and advocacy and then end with how they can make a donation. People often feel inclined to make a donation if they are unable to volunteer for an event, especially one they feel inspired by.
Measuring Your Impact
Your job doesn't end once you've told your story. Measuring the impact of your fundraising campaign is crucial for improving your storytelling abilities. In order to measure your impact, you need to pay attention to patterns.
Review your website analytics to determine where most of your traffic is going and try to understand why this pattern is occurring. Ask where you are getting most of your donations from and why. Discover which aspects of your story are being shared the most across all social media platforms.
Knowing where your strengths are is important but understanding where you can improve is crucial to developing an emotionally inspiring story.
Nonprofit Storytelling Focuses on the Why  
When carrying out a fundraising campaign, the most important thing to express to your audience is why you need their help. To give a simple example, imagine you need a ride from a friend to your family party. You don't want to start by telling your friend where they need to take you or the distance they must travel. You'll want to start by telling your friend that you haven't seen your family in a long time and you miss them terribly. The latter is a much more inspiring reason for your friend to help you because it explains why their help is so important to you.
Remember, tell your audience why you need their help. Once they feel that emotional connection to the 'why', they won't even care about the details of the 'what'.