Pay-per-click (PPC) advertising is a form of paid search marketing, named after its payment model. In PPC, advertisers pay a small fee each time their ad is clicked. Running a PPC advertising campaign is one of the quickest and most effective ways to buy website traffic and, if you do it well, leads/sales. Each day, more and more consumers take to the Internet to find the product or service they want. As a result, the opportunity to generate leads and sales online through PPC is growing exponentially. 
The benefits of PPC advertising are endless. PPC is especially powerful because it affords businesses the ability to increase their online visibility and website traffic immediately after a campaign is launched. PPC advertising also allows for flexible budgets. Typically, there is no minimum ad spend required to run ads across different PPC platforms, making PPC an attractive marketing avenue for many small business owners. As such, PPC advertising is a key component in staying competitive in oversaturated online markets.
How does PPC Work?
PPC – as the name suggests – works on a pay-per-click basis. This means that advertisers pay their respective PPC platform each time a consumer clicks on one of their ads. PPC is a form of paid search advertising that focuses primarily on increasing a website's traffic and potentially sales/leads. 
PPC is often (but not always) connected to search engines – Google Ads,  Microsoft Advertising (formerly Bing Ads), and Yahoo Gemini. Within search engines, advertisers bid on popular phrases that are likely to result in both clicks to their website and conversions. These bids vary from industry to industry and by location. It's entirely possible that the bid for a keyword like "tree service near me" could cost roughly $2.89 per click in Charlotte, North Carolina and then approximately $7.62 in Wilmington, North Carolina. Bids are entirely determined by competition and the number of advertisers competing to trigger ads for that keyword. The higher an advertiser is willing to bid on a keyword, the more likely they are to appear at the top of search results. 
PPC advertising through search engines does not always mean that ads have to appear within search results. The major search engines that offer PPC on their platforms – Google, Bing, and Yahoo – offer display advertising. Display advertising allows advertisers to create visual ads and display them on participating websites across the Internet. This is often why you see banner ads at the top or down the sides of certain websites. Display advertising is a much less targeted form of PPC because you lose the opportunity to show ads to people who are specifically searching for the products and services you offer. However, it does allow you to create beautiful, eye-catching graphics to promote your business across the web and increase brand recognition and awareness.
It is worth noting that PPC is not just reserved for search engines. Social media sites – like Facebook – offer robust PPC advertising solutions that enable you to promote your business across all platforms.
What are the Major PPC Platforms?
There are a few major advertising platforms in the PPC world. These platforms are as follows: 
Google Ads

Microsoft Ads (formerly Bing Ads)

Yahoo Gemini 

Facebook/Instagram

LinkedIn

Twitter

Pinterest
Due to Google being the most popular search engine, Google Ads tends to be the most effective and most widely adopted PPC advertising platform.
PPC Advertising vs. Search Engine Optimization (SEO)
While they can seem similar in some aspects, pay-per-click and search engine optimization (SEO) are very different. Unlike PPC, SEO focuses on driving traffic from organic search rather than paid search. SEO is the process of optimizing a website to rank in organic search results. There is no way to pay for organic search traffic. In order to rank high enough to generate traffic, you have to carefully optimize and maintain your website based on search engines' – primarily Google's – criteria. Though SEO often has the highest ROI when compared to any other digital marketing effort, generating traffic through SEO is a lengthy process. SEO is a long-term commitment and for this reason, many small business owners opt for PPC. 
Unlike SEO, PPC is paid search marketing. This means that you can pay for immediate visibility in search results and a boost in website traffic, rather than having to painstakingly optimize your website to meet search engine expectations.
Both SEO and PPC advertising have their pros and cons, which is why we tend to recommend investing in both if you have the budget. However, if money is tight and you need to increase your bottom line quickly – PPC may be your best bet.
Who Can Benefit From PPC Advertising?
Anyone can benefit from PPC – from small businesses to large corporations. PPC is great because it's available to everyone, at a budget that's right for you. For small businesses especially, PPC is an incredible tool because it allows you to directly compete with big-name competitors to win business. In PPC advertising, metrics like domain and page authority matter less when getting your ad to appear at the top of search results. Though competing with companies with high levels of brand recognition and brand loyalty can prove to be a difficult task, at the very least PPC can afford you the ability to show ads alongside those businesses and make a name for yourself as an alternative.
Key Components of PPC & Paid Search
Account 
In the hierarchical world of PPC, your account is at the highest level. Your ad account may contain campaigns, ad groups, ads, and for those using a search engine platform, keywords. At the account level, you are given the opportunity to set the following parameters: tracking, auto-tagging, message reporting, call reporting, ad suggestions, time zone, account name, and account status.
Campaign
After accounts come campaigns, which contain ad groups, ads, and for those using a search engine platform, keywords. There are various settings that are configured at the campaign level, including but not limited to campaign type, campaign goals, daily budget, bid strategy, location targeting, networks, placements, ad rotation, and ad schedule. You can run as many campaigns as you want simultaneously. It's not uncommon to run multiple campaigns that advertise different products or services their business offers in varying locations.
Ad Groups
Ad groups can be found just under campaigns in the PPC hierarchy. You can (and should) use ad groups to organize your ads within a campaign. Ad groups contain ads and keywords if advertising on search engines. If using certain automated bid strategies, you can set a bid limit at the ad group level to keep the PPC platform from over-paying for clicks. Additionally, you can adjust bids based on demographics – age, location, household income, gender, and device – at the ad group level. Ad groups are a great organizational tool, they are often used to group ads written to market different variations of products or services inside of a campaign.
Ads
Ads are contained neatly inside ad groups. The ads you write or design are what consumers see in response to a relevant search query or while browsing social media networks or other partner websites. At the ad level, you have the capability to choose your ad type (text, display, shopping, call, dynamic ad, responsive ad, etc.), write headlines and descriptions, upload display ad designs, and enable or disable specific ads depending on their performance. If using a search engine based PPC platform, you can also create ad extensions. Ad extensions  are exactly what you would expect – extensions to your PPC ads. There are different types of extensions, including sitelink, callout, structured snippet, location, affiliate location, lead form, price, app, promotion, and call extensions. Using ad extensions is important for improving clickthrough rate (CTR). However, extensions are not always paired with one of your ads when shown. Search engine PPC platforms use their complex algorithms to determine when to add extensions based on how likely it is that you will get traffic from a particular extension.
Keywords
For search engine PPC platforms, keywords are the last piece of the hierarchical puzzle. Keywords are associated with ads and ad groups. Each ad group contains a different set of keywords that will be used to trigger related ads in search results. At the keyword level, you can choose match types, set keyword bids (if using a manual bid strategy, where one chooses the exact number to bid for a keyword), and enable/pause keywords within the campaign based on campaign performance. 
Using Google Ads To Market Your Business
Because Google is the most widely used search engine, Google Ads has become the preferred PPC platform. Google holds 88.14% of the global search market, meaning that the visibility for PPC advertisers is much higher using Google Ads as opposed to Microsoft Ads or Yahoo Gemini. However, this increased visibility does come at a cost, which is heavy competition. With higher levels of traffic, more and more advertisers continue to flock to Google in hopes of increasing sales or lead generation. Competition depends on the industry and the location in which you are advertising. This is why creating a robust PPC strategy with clearly defined goals before launching a campaign is an essential ingredient in the recipe for success.
As Google is clearly preferred over other search engines, the rest of this article will focus on creating a successful Google Ads campaign to market your business online. 
Understanding Your Google Ads Account
Luckily for business owners, Google has one of the best PPC advertising platforms in the game. This isn't surprising, user experience and consumer satisfaction has always been at the top of their list of priorities. How else would they capture 88.14% of the global search market in the digital age? As a platform, Google Ads is easy to understand, set up, and manage, making it possible for anyone to advertise.
How to Create Your First PPC Campaign in Google Ads
Thanks to Google, creating your first PPC campaign is easy. To begin setting up your campaign, go to google.com/ads and click the blue "Start Now" button at the top right-hand corner of your screen.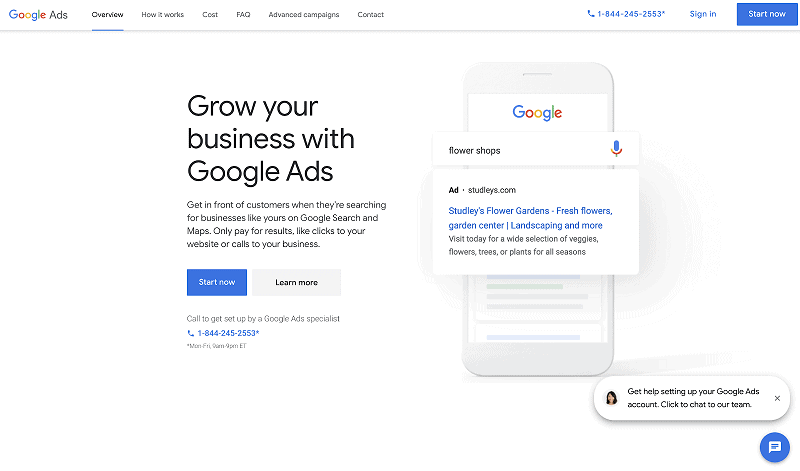 After clicking, you will be taken to the following screen: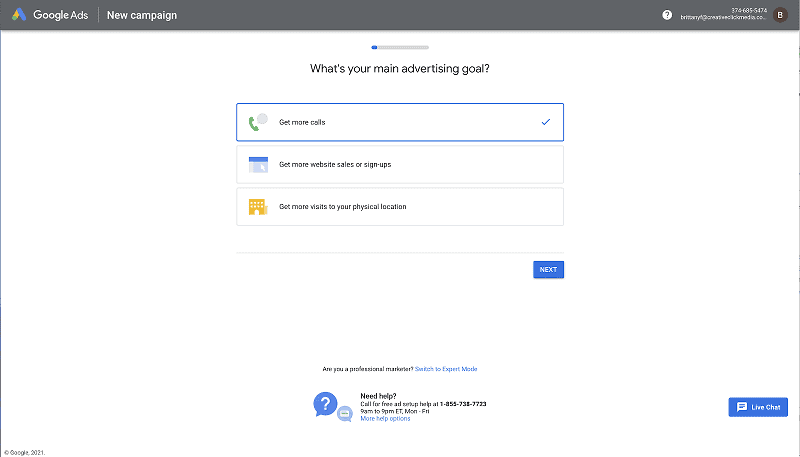 This article outlines the basics of how to create a Google Ads campaign for beginners. For those with a little more experience with PPC, at the bottom of the page choose "Switch to Expert Mode" highlighted in blue to have a little more control over your campaign settings. Beginners can follow the rest of our tutorial.
Once here, you will begin creating your campaign. The first major decision you will have to make in regards to your campaign is: what's your main advertising goal? 
Goals vary from business to business, based on your industry. To help with this decision, think about why you have turned to PPC advertising. Are you an online store trying to sell shoes or a fitness website trying to garner a larger readership for your monthly newsletter? Are you a dentist trying to get more patients in the door? For maximum success, it's important to set PPC goals in line with your business goals.
After choosing your advertising goal, you will be prompted to fill in your business' name and website. Google will then scan your website to learn all about what you have to offer. Once the scan is complete, it's time to write your ads.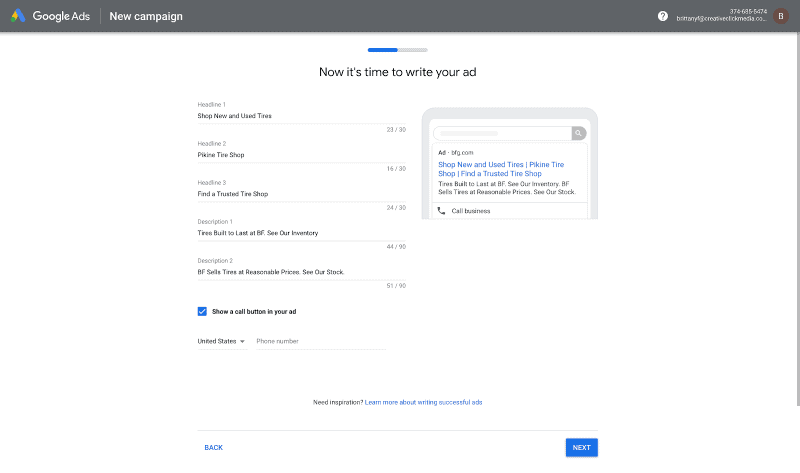 Based on what Google learned about your business, it may recommend headlines and descriptions it thinks are relevant. Since Google's AI technology is so advanced, its suggestions are often relevant but may appear too general and lack the appeal it needs to win business online. In some cases, the suggestions may not make sense in the context of your business. Be sure to read through all of the suggested headlines and descriptions carefully and alter as necessary.
Once you have completed your ads, you will be asked to choose your keywords. Much like with the ads, based on Google's website scan it will recommend keywords it thinks may be a good match for your campaign. 
Be sure to go through the suggested keywords carefully, as there could be a few that do not make sense or that may not be the best for generating traffic. Though it is entirely possible for Google to make decent suggestions, we always encourage you to research keywords related to your business outside of the Google platform to get the best results. 
The keywords page will then lead you to the targeting page. This page allows you to choose where you want your ads campaign to run.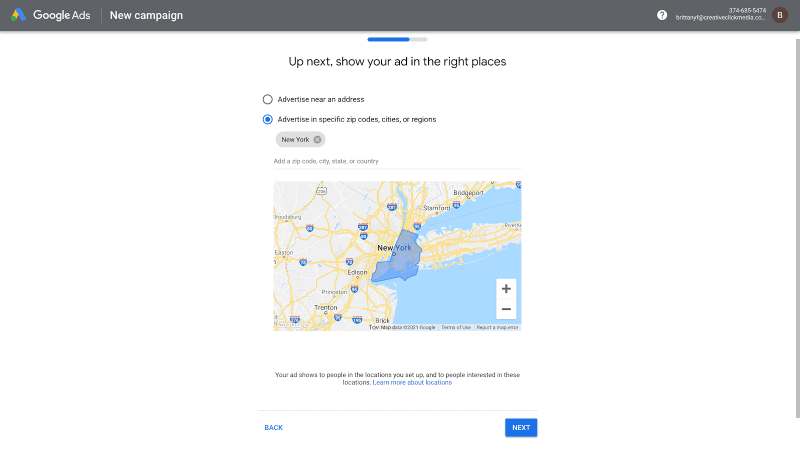 For example, configuring the campaign targeting to show ads in New York City will allow you to reach people who live, work, and show interest in New York City. Google also gives advertisers the ability to choose to advertise to a certain mile radius around a specific address. This setting is advantageous for advertisers with brick and mortar locations, such as doctor's offices. 
Last but not least, Google will ask you to set your budget, review your campaign, and add a payment method for which it can charge on an ongoing basis once your campaign is launched.
Determining Your PPC Budget
Deciding on the budget you want to set for PPC ads seems simple but there is more to it than one would think. As a business owner, you never want to overextend yourself. It's important to operate inside your means, so make sure to choose an amount that you are comfortable spending. We recommend a minimum of $500/month. 
However, given your industry, location, and the sheer amount of competition on the platform, $500/month may not be enough to yield the results you desire. If the competition for your industry is high in a given area, odds are the average cost per click (CPC) will be high. The average CPC is the estimate for how much you will pay each time a consumer clicks on your ad after using a particular keyword. We consider CPC to be high at $5+ for businesses with smaller budgets. If this is the case and you find yourself struggling to win business online, you may want to consider increasing your budget.
How to Set Goals for Your Google Ads Campaign
Being successful in PPC advertising means setting the right goals – goals that will help you not only boost your online traffic but also result in sales and/or qualified leads. To set goals for your Google Ads campaign, be sure to assess the following:
Your Business Needs
To set goals, you first must think about your desired outcome – what are you using PPC for and why? 
Important PPC Metrics
At this point, this should be easy to determine because you turned to paid search for a specific reason. Think about your desired outcome and decide which PPC metrics are important to achieving those results in practicality. Otherwise, measuring and tracking success will be close to impossible.
Goal Achievability
When setting PPC goals, it's necessary to make sure you can actually achieve them. Though it's easy to get caught up in the excitement of a new PPC advertising venture, don't set yourself up for failure. We encourage you to have lofty goals, as long as you give yourself a reasonable amount of time to achieve them.
Short & Long Term Outcomes
Along with making sure your goals are realistic, you should be setting both short term and long term goals. Short term goals – daily, weekly, or bi-weekly – motivate you and/or your team to keep working toward achieving your long term goals. 
Goal Analysis & Adjustment
Once your campaign is launched, it's entirely possible that the goals you originally set for your campaign may not be as realistic as you once thought. If this happens to you, don't panic. As humans, though we might try, it's impossible to predict the future – especially without data to back up our theories. Be sure to pay close attention to how your campaign responds to change, regularly analyze the data collected, and adjust your goals according to its performance pattern.
How to Write Appealing Ads 
In PPC advertising, writing appealing ads comes down to one major element: research. If you are looking to run ads for your business on Google, at this point someone in your industry is already doing it and doing it well. Without access to fancy PPC tools, the easiest way to see the ads your competitors are running is to do a quick Google search for the products/services your business offers. 
As PPC advertising is a form of paid search, you will find PPC ads at the top of search results, above the organic search results. PPC ads are always marked "Ad" on the left-hand side of the listing. Below, you will see the PPC ads that are triggered in our area for the search query "plumber near me."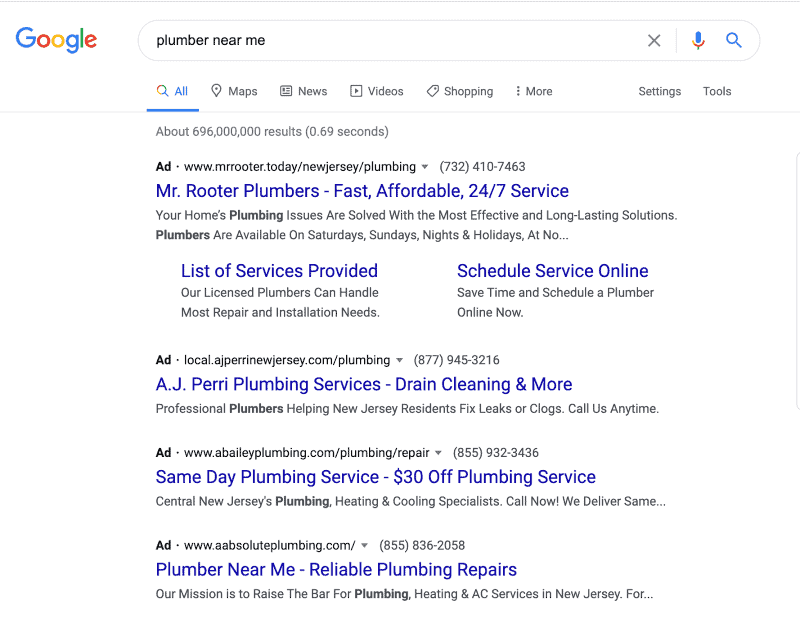 You can see that in our area, multiple plumbers are utilizing PPC to compete for business online. The number of ads that will pop up at the top of search results will vary by industry, location, and search query. 
Pay attention to the top 3 paid search results, with specific attention paid to the number one result. In an industry as competitive as plumbing, a lot of hard work goes into winning the top spot. When analyzing these results, ask yourself questions like:
Do my competitors offer services that I don't?

Do I offer services my competitors don't?

Are competitors using extensions? 

What kind of verbiage are competitors using?

What industry keywords are competitors using in headlines and descriptions?

Are my competitors offering discounts?

Based solely on the ads listed, why might a customer choose a competitor over my business?
These questions are designed to get you thinking about impactful PPC advertising. It doesn't matter if you know your business is better than that of a competitor if you can't translate that into appealing ad copy.
Take a look at the above PPC ads – which one stands out from the crowd? If you guessed the first one from Mr. Rooter, you would be right. While the other ads do a decent job of alerting potential customers to the fact that they offer plumbing services, the first goes above and beyond to highlight special offerings, anticipate potential questions and customer needs, and answer those questions. 
How often have you called a plumber for a non-emergency reason? Unless you have built a house or other building in some capacity, probably never. Plumbing is an emergency business. If a pipe breaks in the middle of the night, you need a plumber and you need one now. Mr. Rooter's ad proves they know their customer and caters specifically to those emergency callers by highlighting their 24/7 services and reiterating their weekend and night hours in the descriptions. 
Not only did Mr. Rooter knock it out of the park by anticipating the needs of a majority of their clientele, they also included site link extensions in their campaign. These particular site links are great because they direct traffic to their services page, for those who need more information before booking, and to their contact page so those with emergencies can schedule immediate service, hassle-free. 
While we recognize you might not be a plumber, the main takeaway here is to focus on anticipating the questions/needs of your customers and addressing them in your ad copy. The very nature of this strategy allows you to highlight your business and its special offerings while simultaneously setting you apart from the sea of online competitors.
Choosing the Right Bid Strategy
While setting up your first PPC advertising campaign on Google Ads, you will be asked to choose a bid strategy. Your bid strategy determines how you or Google will bid for keywords in auctions, to help determine ad placement within search results. 
Choosing the right bid strategy for your PPC campaign is essential. As such, understanding how each bid strategy works will give you the tools to not only achieve your PPC goals but your business goals too. Google Ads allows you to choose from multiple bid strategies, the most common of which have been included below.
Maximize Conversions
This is an automated bidding strategy, meaning that Google Ads is largely in charge of the bidding process. Choosing the Maximize Conversions bidding strategy allows you to optimize your campaign to get the maximum amount of conversions with your current budget. This bid strategy is typically good for lead generation and product sales.
Maximize Clicks
Like Maximize Conversions, Maximize Clicks is also an automated bid strategy. Instead of optimizing for conversions though, it optimizes for clicks. This bid strategy is helpful for boosting traffic to your website, especially on a smaller budget.
Manual CPC Bidding
Unlike the previous two bid strategies, Manual CPC Bidding allows you to set bids for ad groups or for individual keywords yourself. Using this bid strategy makes sense when you have identified keywords that are more profitable than others, as it allows you to pay more for those particular keywords. This bid strategy is for more savvy advertisers, as it gives you more control over how your PPC budget is spent.
Enhanced Cost Per Click (ECPC)
Enhanced cost per click is another manual bid strategy. Using it gives you the ability to set your own bids for ad groups and keywords while optimizing the campaign to maximize conversions within the defined bid parameters.
Creating Ad Groups
Using ad groups as an organizational tool is essential for any well-rounded PPC campaign. Ad groups are typically used within a campaign to group ads marketing similar products/services. Each ad group also has its own set of keywords that can be used to trigger ads marketing relevant products/services.
For example, say a dentist wanted to advertise multiple different services – dental exams, teeth whitening, and dental implants – within one campaign. Ideally, that dentist would use ad groups to organize ads and keywords by service. There would be one ad group per service, so three ad groups total would exist inside the campaign. The ad group for dental exams would include only ads marketing those exams and keywords relevant to dental exams. The same would be true for the teeth whitening and dental implants ad groups, as well as any other ad groups that dentists may want to include in the future.  
To create an ad group inside your PPC campaign, first log in to your Google Ads account. Once logged in, click "Campaigns" on the left hand sidebar. This will allow you to see the PPC campaigns within your account – removed, paused, or active.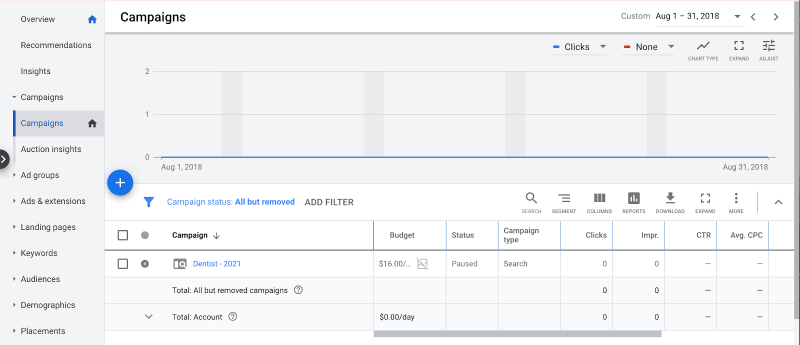 After viewing your campaigns, click the campaign for which you want to create a new ad group.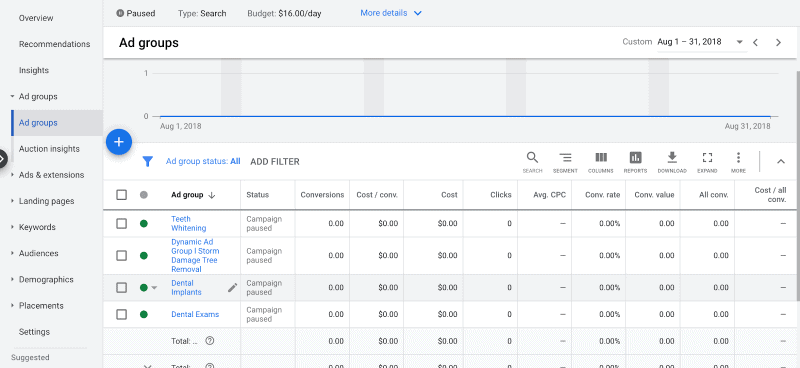 Here, you will see all the ad groups within your campaign. To add a new one, simply click the blue +' button. You will then be directed to the following page:
This is where you can add keywords relevant to the product/service you want to market in this ad group. If you input your domain, Google will even suggest keywords that may be valuable to your campaign. However, Google's AI is not always the most accurate so use your judgment when adding keywords to your ad groups.
Once done adding keywords, click "Save and Continue" to begin writing ads for your new ad group.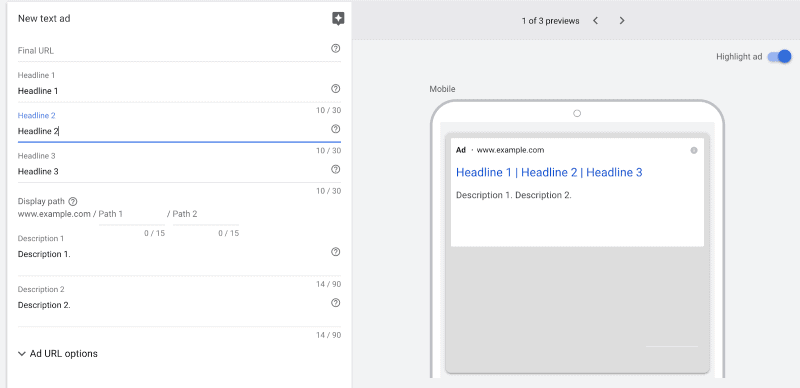 In an effort to increase the Quality Score of your campaign as a whole, try using the keywords you choose in your ad group organically within your ads. Increasing your Quality Score will help your ads rank higher in search results and ultimately win more business.
PPC Keyword Types
Within search engine PPC platforms, there are four basic types of keywords you can use within a campaign:
Broad Match
Broad match keywords are keywords that show on all kinds of searches that relate to that keyword. Broad match keywords are great when beginning a PPC campaign because it allows you to cast a wide net and see what you get. 
Though broad match keywords may relate to the keywords you use in your campaign, the relation can be loose. For example, if you use 'cancel your timeshare' as a broad match keyword in a timeshare cancellation company campaign, ads for your business may show when a user searches anything related to a timeshare, including things like "number for my timeshare" and "best timeshare destinations." 
When using broad match keywords, it is crucial to keep an eye on your search terms. Search terms are found under the Keywords menu in Google Ads.
Search terms are the actual terms and queries consumers use to search for the services you have to offer. Regularly monitoring search terms allows you to see whether or not your ads are being triggered for irrelevant search queries. If your ads are not being shown to the correct audience, you are essentially wasting your time and your money.
To fix this, you have two options: adding the irrelevant search query to your negative keyword list and/or switching your broad match keywords to phrase match.
"Phrase Match"
Phrase match keywords are those that cause your ad to show on searches that include the meaning of your keyword. For example, if a tree service is running ads and decides to use "tree removal" as one of their phrase match keywords, their ads will show on queries including the phrase "tree removal, such as "quick tree removal," "emergency tree removal," and "tree removal cost."
Phrase match keywords can be differentiated from their broad and exact match counterparts because they are encompassed in quotation marks. Though phrase match keywords are less likely to result in your ads showing for irrelevant search queries, we still recommend monitoring your search terms regularly.
[Exact Match]
Exact match keywords are the most targeted of all the keyword types because they trigger ads for keywords that have the exact same meaning as those you have included in your campaign. For example, "lawn mowing service" and "grass cutting service."
You can tell exact match keywords apart from broad and phrase match keywords because they have brackets.
Negative Keywords
Negative keywords are used within a campaign to keep your ads from showing for irrelevant search queries. For instance, if an interior designer is running ads they may want to include "program," "jobs," and "salary" as negative keywords to keep ads for interior design services from showing to those that may be interested in interior design school or jobs.
Using negative keywords can greatly reduce wasted ad spend, as they help to show your ads to those who are actually interested in the products/services you offer. Like regular keywords, negative keywords can be broad match, phrase match, or exact match. They can also be found under the Keywords menu in Google Ads.


Understanding Basic PPC Metrics
Learning to interpret PPC data can be daunting, but it's a necessary step for creating and maintaining a well-rounded PPC campaign. Learning the basic PPC advertising metrics will not only allow you to understand how your campaign is performing, it will also tell you where and what needs to be improved. The following PPC metrics are crucial for success:
Clicks
Clicks is one of the easiest metrics to understand in PPC advertising because it simply shows how many times consumers have clicked on your ads. Paying close attention to clicks is important, as on most PPC platforms you will pay a small fee each time your ad is clicked. You can view clicks at the campaign level, the ad group level, and the ad level. This granularity allows advertisers to recognize which assets are garnering the most traffic, which can inform strategic decisions for testing new ad copy.
Impressions
Impressions are another simple PPC metric. Impressions relate to the number of times your ad was shown to potential consumers. One impression marks one occasion in which an ad within your campaign was shown under a search query. However, just because the ad was shown does not mean it was clicked so it's important not to equate impressions with clicks.
Clickthrough Rate (CTR)
Clickthrough rate (CTR) is more complex than that of just clicks or impressions because it requires us to look at both metrics. Dividing the number of impressions by the number of clicks (impressions/clicks) will give us the average CTR for a campaign, an ad group, or an ad itself. CTR is important because it indicates how likely it is for a potential customer to click on one of your ads when shown. The higher the clickthrough rate, the more effective your campaign/ad group/ad is at driving traffic.
Average Cost Per Click (CPC)
Average Cost Per Click (CPC) is the average cost you will pay Google Ads (or another keyword-based PPC platform) each time a searcher clicks on your ad. Each keyword you choose to include within your campaign has an associated cost per click which fluctuates constantly based on the area the campaign is targeting and how many companies in that area are bidding on the same keywords to advertise their products/services. To get the Average Cost Per Click of the whole campaign, Google Ads averages the CPC of every keyword within the campaign. Regularly monitoring Average CPC is necessary to keep advertising costs low and maintaining ROI, especially for those with smaller marketing budgets. 
Cost
Cost, like clicks and impressions, is another simple metric. Cost refers to the total amount you have spent on the campaign in a given amount of time. 
Conversions
A conversion occurs when a consumer reaches an advertiser's desired goal. As every advertiser's goals are different based on his or her business, conversions are defined by each individual advertiser. The most common examples of conversions in PPC advertising are form completions, phone calls, website visits, online sales, etc. Tracking conversions inside a PPC campaign is gravely important to success. Once your campaign has collected enough conversion data, you can use this information to begin refining your target audience by bidding higher or lower on demographics that convert.
How Track Conversions in Google Ads
As previously mentioned, tracking conversions inside your campaign is vital to profitability in PPC advertising. However, since conversions should be defined to match your business, conversion tracking is not automatically set up. Fortunately, implementing conversion tracking within Google Ads is simple and easy to learn. 
To set up conversion tracking, click the "Tools & Settings" button at the top right hand corner of your screen. After the drop-down menu loads, click "Conversions."
Once arriving on the conversions page, you will be given 4 different conversion options:
Website Conversions
These are conversions that are tracked when a consumer that clicked on an ad lands on the website. Website conversions require a tag to be installed on your website – either within its code or with Google Tag Manager – in order to be tracked and include simple actions such as website page views, button clicks, link clicks, digital downloads, etc. 
App Conversions
App conversions include app installs, in-app purchases, and in-app actions. To properly track any of these conversions, you must use an outside tracking service such as Google Analytics (GA4 properties), Google Play, or another third party software.
Phone Calls
Phone calls are the most simple conversion found within Google Ads. There are two different types of phone calls within Google Ads: calls from ads and website calls. Calls from ads are relatively easy, once you set the parameters for the calls from ads conversion, the platform automatically begins tracking calls from call extensions and call-only ads. Website calls, however, are a bit more involved. Like the other website conversions, tracking calls once a user reaches the website after clicking on an ad requires the installation of a tracking code on your website. Once the tracking code has been properly installed – we recommend doing this with the help of Google Tag Manager – the platform should begin tracking website calls.
Import
Imported conversions are those you can import from Google Analytics (universal analytics and GA4 properties), Salesforce, third-party app analytics, and/or other data sources. To do this, you must link your Google Ads account with your account from the outside tracking sources.
To link outside tracking services, head to "Tools & Settings" again, under "Set Up," you will choose "Linked accounts."
On the Linked accounts page, choose the service you would like to connect and follow the directions provided. It is important to note that you do need the highest level of access – typically Admin access – to both your Google Ads account and the account of the tracking service you are trying to connect in order to successfully link the accounts.
PPC Advertising Expertise with Creative Click Media
PPC is a great marketing tool that allows you to advertise your products/services online to a targeted audience. Though PPC advertising is built on simple principles, beginning your journey into PPC can be time-consuming and as a business owner, your plate might already be full. If you are interested in PPC searches, it may be in your best interest to hire an expert. At Creative Click Media, we are a full-service agency with years of PPC advertising experience. We have run dozens of successful campaigns for small businesses just like yours. Whether you want to increase lead generation, escalate website traffic, or boost sales, contact us and let us help you achieve your goals through PPC advertising.