The moving image has been a powerful tool for capturing hearts and imaginations since its creation. At one time, promotional videos were reserved for large corporations who could afford to buy airtime on television.  As technology advanced, video became more accessible, to the point where it is now an essential part of how even the smallest companies do business. Some businesses still drag their feet over the idea of video marketing, putting them two steps behind the competition. 
What is Video Marketing?
Let's start with the basics by defining video marketing. Concise, engaging, and educational videos used to promote a business, their products, or their services are what people generally mean when they talk about video marketing. Spreading a message through video brings a myriad of tangible benefits and measurable success.
How Can Video Marketing Help?
97% of marketers say video helps users gain a better understanding of their products and services. Simply put, if you are one of the few companies out there ignoring video marketing, you're way behind the curve. But how exactly does video marketing benefit a company?
Brand Loyalty
Brand loyalty is the tendency of some consumers to continue buying the same brand of goods rather than competing brands. There are many reasons people develop loyalty toward a brand, most of which stem from various marketing efforts. When it comes to brand loyalty, video marketing provides countless opportunities to forge and maintain a strong connection. 
You can get hot yoga mats from thousands of different stores and most of them are similar in quality. To break through the competition, a company might decide to provide hot yoga video tutorials on Youtube or social media. Many customers who watch and enjoy that content will start to forge loyalty with the brand. The hot yoga mats become more than just exercise gear they become a representation of support for the brand. The next time anyone asks about who sells the best mats for hot yoga, they will act as an ambassador for the brand. This is one of the best ways to grow repeat customers and organic brand ambassadors. Video allows even the smallest companies to build brand awareness and loyalty.
Video allows you to connect with your audience. They can see a face, hear a real voice, and connect with a real personality. When a customer feels like they actually know the people behind a brand, they are more likely to make purchases, leave positive reviews, and spread the word to people they know. 
[Founder of Creative Click Media, Adam Binder, uses similar techniques to build brand awareness for his Yoga Mat and Apparel company, Apeiron Yoga.]
Increase Engagement
Standing out in a sea of competitors isn't easy. There is so much static to cut through that you really need something truly eye-catching to make an impact on customers. Video is an excellent way to set yourself apart, increase engagement, and encourage sales. Don't let your target audience scroll right past you – show them something worth watching!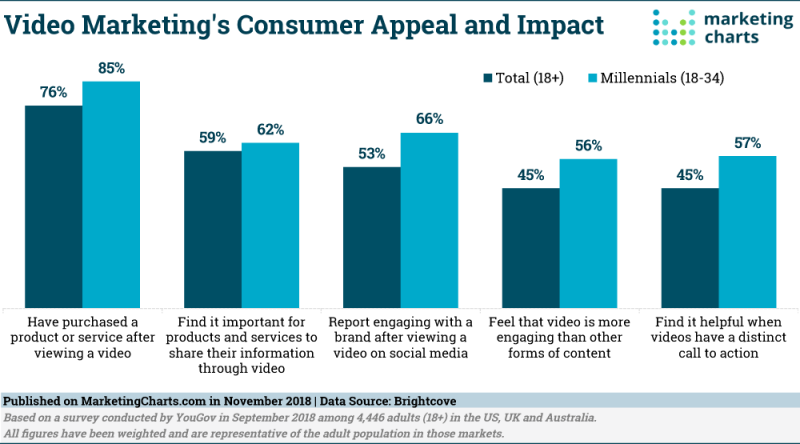 [SOURCE]
According to studies, website users spend twice as much time on a website that has a video on it. On top of that 85% of Millennial viewers admit to making a purchase after watching a product video. By keeping people on your website and educating them on what you have to offer, you can quickly see improved sales.
Improve SEO
In today's business world, it's nearly impossible to compete without a strong web presence. A strong web presence means having a modern and functional website that ranks well on search engines like Google and Bing. If a website doesn't show up on the first page of a search, you're practically handing business to your competitors.  A major goal of digital marketers is bringing a website to the top 3 listings on Google, and videos are a great tool in achieving this goal. They are proven to increase the time users spend on a web page, lower bounce rates, and increase conversions. Webpage users spend 2.6 times as much time on a webpage with video than without!
Setting Goals
There's a reason the most important person on a film set is called the director – creating an impactful video requires direction. Make sure you know exactly what you want to accomplish before investing in a marketing video. Are you looking to increase brand awareness? Educate prospective clients? Hit specific sales goals? You want a video marketing strategy that keeps your goals in mind. 
Let's say your company sells cameras and you want to be seen as an educated, authoritative source for camera information. If this is your goal, you probably don't want to make an infomercial that lists different cameras and their price. You would instead want to develop something like a photography tutorial video that provides useful information to your customer base. Camera enthusiasts that learn from your content will develop an attachment to the brand and, when they are in the market for a new camera, will come straight to you. If your goal is to quickly raise sales of a specific camera, the infomercial option could be more effective. Make sure the video marketing agency you hire is aware of your goals from the start.
Video Production vs. Video Marketing Services
During your initial research into video services, you will stumble across different options like video production and video marketing services. Video production companies focus mainly on services like camera operation, scripting, editing, and set design. They are selling the video itself and typically aren't concerned with how the video performs after they hand it off to you. Video marketing services go a step further. 
Video marketers have the same services as a production company but also focus on the results the video has on your company. They provide expertise in creating an effective marketing message in a video that not only looks good but performs well. Video marketing services are recommended over video production services for fledgling businesses or those with less marketing direction.
Getting In Front of An Audience
Video marketers use several avenues to showcase a video to an audience. They leverage paid advertisements on platforms like Facebook, Instagram, and Google Ads and can boost views on Youtube and social media platforms. They can even improve the visibility of your website through search engine optimization and host it there. Video marketing companies have strategies to not only make a great video but make one that offers tangible returns on the investment. 
Knowing Your Audience
The goals you set out for a marketing video should be in line with the needs of your target audience. Creating content that your audience will enjoy and find valuable is the best way to increase your return on investment. You can find out about your audience by analyzing top-performing blog posts, social media posts, and email marketing campaigns. What questions are your target customers asking salespeople? What are their demographics, interests, and needs? 
For this reason, having your video produced by a marketing agency rather than a production company can be highly beneficial. Video marketing agencies have cutting-edge technology and techniques that can accurately characterize a given audience in order to develop the best-targeted message. 
Video marketers will not only be able to find out who your audience is, but where they are as well. For example, platforms like Snapchat skew much younger than others. Almost ¾ of Snapchat users are under the age of 34. YouTube demographics skew male, with over 62% of users in that demographic. Each platform has its own demographic and a video marketing agency can quickly tell you the best platform for your video. 
Tangible Return On Investment
Cost is one of the most common reasons many businesses decide against video marketing. While the initial investment is higher than other marketing strategies, what really matters is your return on investment. It was found that 88% of video marketers are satisfied with the ROI of their video marketing efforts on social media
Post-Pandemic Video Marketing
The COVID-19 pandemic has affected nearly every global industry in a myriad of ways. Businesses are struggling to adapt and find themselves rethinking their budget and strategy. This leaves many wondering "Is now really the time to invest in a marketing video?" According to the numbers, now may be better than ever to pull the trigger. According to Hubspot, 91% of marketers feel that video is more important since the pandemic.
With many lockdowns and restrictions still in effect, people are spending more time in front of screens. 68% of consumers say the pandemic has affected the amount of video they watch. Of those, a whopping 96% said their video consumption increased. Moving forward with a video marketing project makes more sense than ever. 
What Type Of Marketing Video Is Best For Your Business?
Just like there are different genres of movies, there are several types of marketing videos. Each affects audiences differently, so it's important to pick the most effective for your unique business and audience. 
Presentation Videos
Presentation videos are thorough, straightforward demonstrations of a product or idea. They can be filmed lectures, powerpoint-like presentations, or a combination of both. They may be a large production such as a Ted Talk or as simplistic as a single camera pointing at a college lecture. Presentation videos are great for 
Launch anticipated products or services 

Sell a larger educational resource of similar presentations

Educate an audience

Build brand awareness
Animated Explainer
Are you releasing a product or service that can't be easily pitched? Sometimes, the best thing you can do to sell something is to explain it. Animated explainer videos are an affordable and effective way to deliver information to an audience in an engaging way. Using animation software, you can create an immersive video experience without having to pay for the lights, camera, or action. 
Introduce your company, a new product, or a new service

Educate potential customers

Simplify a complex message
[For Towingbids.com, Creative Click Media introduced a complex bidding service for transporters by boiling down the major concepts into a concise, informative, and engaging video with great success.]
Cinematic Videos
Sometimes a product or service is so important that it deserves a high-end cinematic production. This means rolling in lights, audio equipment, cameras, and actors for larger-scale video production. These videos are perfect for businesses who expect a high-yield return on their investment. If your budget can handle paid television advertising or far-reaching internet delivery, this could be your best option. 
Another reason for creating this type of video is if your business requires a high level of professionalism to be seen as legitimate. For example, a high-end law firm may not want to showcase their business with cartoon animations. They would fare much better with a sleek, cinematic video that exudes authority and professionalism. While cinematic videos are a larger initial investment, they are able to impact an audience on a deeper level than any explainer video or presentation can offer. 
Elicit an emotional response

Showcase a high-end business

Make a profound impact
[Using a range of cinematic techniques, Creative Click Media created a sleek Biography video for Realtor Farrah Pileggi.]
Website Banners
Modern websites need to be sleek, professional, and instantly eye-catching. What's a better way to hit all three goals than a video banner at the top of the homepage. With a stylish video leading the way, you can immediately make an impact on viewers, decrease bounce rates, and set the stage for your pitch. These videos usually have no audio therefore do not require a large budget for audio engineering or sound design. This allows you to focus your resources on creating the most cinematic and beautiful images that best reflect the message you want to send to website users.

(Creative Click Media created a video website banner for JMP Insurance Brokers which immediately establishes professionalism in an eye-catching way. )
The Process
Once you've made the decision to jump into the lucrative world of video marketing, it's important to get an understanding of the process. Learning about the production process helps you give the video marketing agency more concise and helpful direction. 
Script and Storyboard
Any video worth watching has been meticulously planned from conception to execution. A video marketing agency can work with you to write a script that matches your vision and uses proven marketing strategies to deliver your message. Once you've settled on a script, the video marketers will devise a detailed storyboard that gives a visual reference on how the final product will look. Storyboards can be sketched or computer renderings that show how a video will play out scene-by-scene. If you are having an animated video made, you can see exactly what the characters, art style and settings will look like beforehand. Make sure to thoroughly look over the storyboard before production begins so you know the video is moving in the right direction.
Production
The video marketers will either get to work using animation software or schedule a shooting date. Once all footage is recorded, they will then edit the video and audio and send a final product to you for approval. At this point, it's your job to thoroughly review the video, provide feedback and have the videographers make any edits. After the video is approved, a video marketing agency will use the best industry practices to distribute the final product.
Choosing A Video Marketing Agency
So how do you know which agency is right for your project? The first consideration of most business owners is the budget. The best way is to strike a balance between the skill of the video marketing agency and the number of resources they have. Some videographers are at the top of their game and create unbelievable content on a tight budget. Others produce less inspired content but have hundreds of thousands of dollars of equipment. The best strategy is to choose a price range you are comfortable with first and then start reviewing agencies. 
Start With Video Reels 
Reels are compilations of video work edited together in a way that showcases the skill and experience of a video agency. Do they commonly produce the work you are looking for? For example, if you need an animated video, it's best to look for companies that create animations day in and day out. A video marketing agency may be phenomenal at creating cinematic documentaries but have no experience with the work you need. 
Delve Deeper
Once you find a business that specializes in the type of video your business requires, delve deeper. A video reel may only show a few moments of a given project. While the reel may look amazing, the original video project may be subpar. Make sure to watch several videos beyond the reel before making a decision. 
Customer Service 
Customer service is another important consideration. Some larger video marketing agencies or production hubs may produce fantastic work but allow very little input from the client. This is a pitfall with many video production companies (in comparison to video marketing companies). Some production companies are so concerned with creating work that makes their business look good that they lose sight of the client's actual needs. Smaller agencies often put in more personal care for each project and strive tirelessly to match their clients' vision. 
If you are looking for the perfect balance of technical prowess, creativity, customer service, and affordability, Creative Click Media may be the choice for you. Check out our Youtube channel to check out some of our latest and greatest work. We also offer full-service digital marketing services to make sure your video is effective and visible to your target audience.