With dozens upon hundreds of sales emails making their way to your inbox each week, what is it that entices you to engage with one email over another?
Which elements must a sales email have in order to receive a coveted response or website click?
Differentiating your business' sales emails from "spam" emails requires much more than copywriting or technical skill — it requires an understanding of behavioral psychology.
Luckily, gaining this understanding won't require you to crack open a textbook. In fact, your personal experience as both a consumer and a professional gives you a major advantage when trying to understand which psychological elements makes a sales email successful.
We're breaking down some of the most common psychological tactics used in sales emails, plus a few free templates to help get you started creating your own:
Tap Into FOMO
"FOMO" is modern-day slang for an age-old psychological phenomenon: fear of missing out. FOMO messaging works by subtly stirring up feelings of anxiety in a consumer in order to entice them to make a purchase before their opportunity is seemingly gone forever. If you've ever bought something because of a "Limited Time," "Flash Sale" or "Last Chance" offer, you probably know the feeling of FOMO all too well.
FOMO messaging is one of the most common types of sales email messaging for a good reason – it works. In fact, research compiled by Strategy Online determined that 60 percent of millennial consumers have made a reactive purchase due to FOMO, and most within 24 hours of seeing that message. That being said, it is important to utilize FOMO sparingly and strategically. Make too many "last chance" promises in a short span of time, and your recipients will come to expect another "last chance" email in the next few days.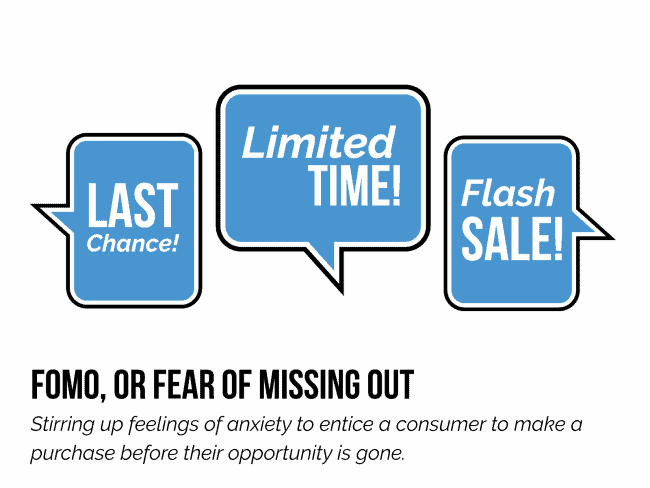 EXAMPLE:

Hi [NAME],

My name is [YOUR NAME] and I'm the [JOB TITLE] at [COMPANY]. We're getting ready to release [NEW PRODUCT, FEATURE OR SERVICE], and we wanted to invite you to join in on the celebration!

For a limited time only, we are offering [FREE TRIAL, % OFF, $ OFF] to the first 100 people who [DESIRED ACTION]!

Feel free to reach out to me at [PHONE NUMBER OR EMAIL] to learn more about this exclusive offer, but be sure to act fast before this deal expires on [END DATE AND TIME].

[SALUTATION],
[YOUR NAME]
Give First, Receive Later
If a stranger were to reach out to you requesting a favor, your first inclination might be to shrug it off and ignore the request. As busy as you are handling the day-to-day operations of your business, there isn't much time available to entertain inquiries that do not seem to serve any immediate benefit to you or your company.
This is where the idea of "reciprocity" comes into play. Behavioral psychology suggests it is human nature to feel more inclined to help those who have helped you in the past. With this in mind, frame your sales email as if you are giving the recipient something valuable in order to increase the likelihood of them complying with your request.
Let's say your business wants to drum up sales by receiving an SEO-boosting backlink on a high authority website. Rather than simply asking the recipient to link to your website, provide them with something of value that would supplement the page from which you are trying to get a backlink. This could be in the form of an infographic, a quiz, exclusive discount, or other forms of premium content not already utilized on their website. If you give to them first, they will be more likely to return the favor and give you what you're looking to receive as well.
EXAMPLE:

Hi [NAME],

My name is [YOUR NAME] and I am the [JOB TITLE] at [COMPANY]. I was reading [BLOG/ARTICLE/PAGE] on your website and noticed you had mentioned [POINT RELEVANT TO YOUR COMPANY'S OFFERINGS].

[COMPANY] actually created a [BLOG/QUIZ/OTHER VALUABLE CONTENT] that would compliment your piece well by [BENEFIT]. If you would be interested in including a link to it on your [BLOG/ARTICLE/PAGE], we would be happy to provide an exclusive discount code for [% OR $ OFF DISCOUNT] our [RELEVANT SERVICE OR PRODUCT] as well – just for your readers!

Please feel free to reach out to me at [PHONE NUMBER OR EMAIL] to discuss this further. I hope to hear from you soon!

[SALUTATION],
[YOUR NAME]
Be Human
Realistically, you might be sending nearly identical emails to a large list of contacts – and your email recipients know this, too. Because this practice has become a marketing norm, it is becoming easier and easier for consumers to filter through sales emails that have clearly been sent to a bulk list without any consideration for its relevance to the receiver.
With this in mind, one of the most fundamental ways to make your sales email stand out is to show there is a human on the other end. Read through your recipient's bio, articles they've written and other pertinent pages on their website to find a common thread from which to form a connection. Then, tie that into why your sales email is relevant to their interests. In a digitally-centered, automated industry, prioritizing interpersonal connectivity can go a long way in your efforts to close a sale.
EXAMPLE:

Hi [NAME],

My name is [YOUR NAME] and I'm the [JOB TITLE] at [COMPANY]. I normally don't send emails out of the blue like this, but I was compelled to reach out after reading [THEIR ARTICLE/WEB PAGE/ETC.]. I especially loved what you had to say about [POINT] because [REASON].

Something I noticed you hadn't touched on, however, is [POINT RELEVANT TO YOUR COMPANY'S OFFERINGS]. This is something my company is well-versed in, and I would love to chat with you more about how [BENEFIT IT WOULD SERVE TO THEM AND/OR THEIR COMPANY]. Do you have time in your schedule for a quick 10-minute call this week?

[SALUTATION],
[YOUR NAME]
Focus On Results
Let's say a company created the world's first miracle potion and utilized two different types of messaging to try to boost their sales.
Message 1: "This potion tastes like bubblegum!"
Message 2: "This potion has proven to raise your IQ by 50 points and increase your revenue by 125% in only 6 weeks!"
Which type of messaging would make you more likely to commit to that purchase? If we had to guess, it probably wasn't the bubblegum flavoring.
Though your business' offerings might not be as extravagant as a miracle potion, the same psychological principle still stands: selling results is typically more effective than selling features. While you should highlight the elements that make your business, product or service unique, focus your sales pitch around how your business, product or service will improve the recipient's life for the better. The more statistical or testimonial evidence you can include in your email, the easier it will be for the recipient to trust that it will be a worthwhile investment.
EXAMPLE:

Hi [NAME[,

My name is [YOUR NAME] and I'm the [JOB TITLE] at [COMPANY]. I noticed [YOU/YOUR COMPANY] use [COMPETITOR PRODUCT], and I was wondering how your experience has been thus far.

Some of our [CLIENTS/CUSTOMERS] are former users of [COMPETITOR PRODUCT], but made the switch to [YOUR COMPANY'S PRODUCT] because [SELLING FEATURE THAT IS NOT SATISFIED BY COMPETITOR PRODUCT]. One [CLIENT/CUSTOMER] in particular, [CLIENT/CUSTOMER NAME], experienced [STATISTIC ABOUT GROWTH/SALES] in [TIME FRAME] since using [YOUR COMPANY'S PRODUCT], and that's just one of many success stories!

I'd love to chat with you about how we can help [YOU/YOUR COMPANY] experience similar results, if not better. Do you have time on your schedule for a quick 10-minute call this week?

[SALUTATION],
[YOUR NAME]
Strategy + Psychology = Sales
Though the overall goal of your sales emails might be the same, the tone, language and strategies you employ will determine the effectiveness of your pitches. Sending a cold email will require a different strategy than reaching out to a warm lead, a hard sell will require a different strategy than a softer sales approach, and so on. Tapping into the psychological aspect behind what makes a sales email successful can give your business the competitive edge over dozens of other companies all vying for your target customers' attention in an inundated inbox.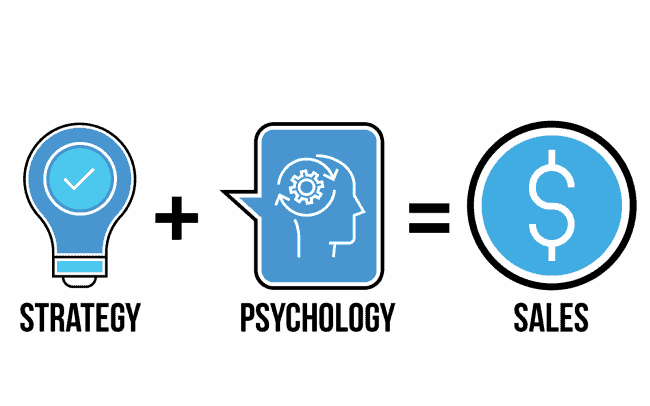 While the templates we provided might help to give your business a head start, we know no one email marketing strategy is one size fits all for every industry. If you're looking for some extra input before you revamp your sales emails, reach out to our team to learn more about which psychological strategies will be the most effective for your specific goals, business and audience.