The first Google Multisearch expansion is here, and spoiler alert: it's a big one.
Google launches a handful of core updates per year, along with 500 to 600 algorithm updates on average. The vast majority of these updates slip under the radar unnoticed, but when one starts making waves, it's a sign that you should be paying attention.
Google Multisearch was first announced in April 2022, and its first expansion arrived just over one month later in May 2022. The rapid pace of this expansion suggests that if businesses don't start thinking about Multisearch in their SEO efforts soon, they could run the risk of falling behind quickly.
So what is this expansion, and what could it mean for your SEO strategy? Before we get into that, let's dive into what Google Multisearch is in the first place.
What is Google Multisearch?
Google describes Multisearch as an innovation that allows searches to "go beyond the search box and ask questions about what you see." At its most basic level, Google Multisearch is a feature that allows users to make a text search on top of an image search. Sounds straightforward enough, but what does this look like?
Let's say you need a new sundress, for example. You enter the Google search query "sleeveless dress," and scour through the image results. You finally find a style you like, but there's one problem – it's yellow, but you'd prefer it if it came in green.
This is where Google Multisearch comes into play.
With this feature, you're able to use Google Lens to make an image search for that same style of dress, in addition to a text search for "green." This will provide you with search results for green dresses in a similar style.
(Source: MediaPost)
This might not seem like a big deal at first, but it's actually a pretty significant update. Google has been working on image search for years, and while the company has made some major strides, the feature has always been limited by the fact that it couldn't search for terms that weren't already included in the image file name or alt text.
With Google Multisearch, however, users can finally search for objects and concepts within an image, not just the literal terms associated with it. This opens up a whole new world of possibilities for image search, and businesses should be prepared to take advantage of it.
What does Google Multisearch Mean for SEO?
The introduction of Google Multisearch has big implications for SEO. First and foremost, it's a clear signal that Google is placing an even greater emphasis on image search. If you're not optimizing your images for search, now is the time to start.
In addition, Google Multisearch provides businesses with an opportunity to get ahead of the curve by creating content that takes advantage of this new feature. If you can produce images and videos that are optimized for Google Multisearch, you'll be in a great position to attract attention and drive traffic from this growing search platform.
Finally, this feature is also a reminder that SEO is an ever-changing landscape. What works today might not work tomorrow, so it's important to stay on top of the latest trends and updates. If you're not, you risk being left behind by your competition.
What is the May 2022 Google Multisearch Expansion?
Great news for local businesses – the May 2022 Google Multisearch Expansion is all about two little words that pack a huge punch in your efforts to attract customers in your area:
"Near me."
Let's use that same dress from before as an example. You found a style and color that you like, but you don't have enough time before your event to order it online and wait for it to be delivered. Similar to how you searched for "green" in the first iteration of Google Multisearch, you'd search for "near me" with this new expansion.
What happens next? You guessed it – you'll be greeted with a SERP providing you with links to every store in your area carrying similar if not the exact same green sundress. And since this is all happening on your mobile device, you can even get directions to the store and head there immediately.
This new feature is a direct response to the growing trend of mobile searches with local intent. In fact, there were 350 times more "near me" Google searches in 2019 compared to ten years ago. And with the pandemic causing even more people to shop locally, this trend is predicted to trend upwards for the foreseeable future.
"This is like having a supercharged CTRL+F for the world around you," says Google senior vice president Prabhakar Raghavan.
Exciting as these advancements are, that's not the end of it – this expansion will also include a feature called scene exploration. When in scene exploration mode, users will be able to pan their camera along with a search phrase pertaining to the objects in front of them. This will then create an overlay of helpful insights related to that search. For example, let's say you were in the grocery store and wanted to try a new type of chocolate bar. With scene exploration, you will be able to pan your phone's camera down the candy aisle along with the search term "best chocolate bar." This will create an overlay on your phone with the ratings of each chocolate brand featured. Pretty sweet advancement, right?
Neither of these features will be fully released until the end of 2022, which gives your business plenty of time to plan ahead.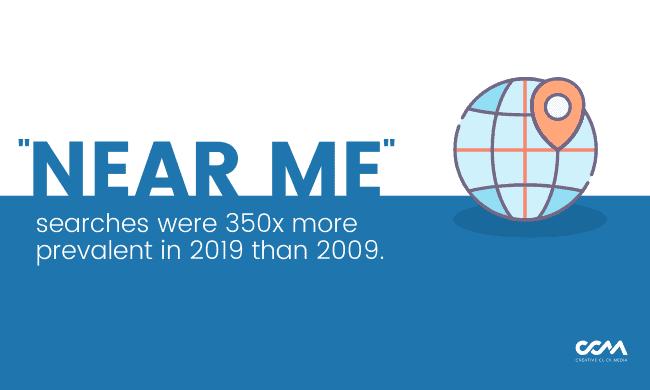 What does the Google Multisearch Expansion Mean for Local SEO?
If you have a local business, the May 2022 Google Multisearch Expansion should be music to your ears. This update is all about making it easier for mobile users to find businesses near them, and there's no better way to attract new customers than by being one of the first results they see with exactly what they're looking for.
Of course, simply having a brick-and-mortar location with a website doesn't mean the Multisearch expansion will drive customers through your doors for you. You still need to make sure you're optimizing your website and local listings in a way that will make it easy for Google's Multisearch crawlers to find what they're looking for and provide users with the information they need to click on your website link.
Not sure where to start? Here's a checklist of Google Multisearch must-haves:
A Complete Google Business Profile:

This is essential for your business to appear in local searches, and it's also a key factor in ranking higher in image search results. Make sure your profile is up-to-date and includes accurate information about your business, such as your hours of operation, address, and contact information. Be sure to add images and encourage your customers to leave five star reviews, as both play major roles in this latest update.

Mobile-Friendly Design:

As of right now, Google Multisearch functionality is only compatible with mobile devices. For this reason, it's essential that your website is designed with mobile users in mind. This means having a responsive design that scales to fit smaller screens, as well as easy-to-use navigation and clear calls-to-action. Simply put, you'll need to think mobile-first if you want to use the May 2022 expansion to your benefit.

High-Quality images:

In an update centered around images, this is a big one. Be sure to add high-resolution photos of your business, products, and services.  This will provide Google with plenty of material to index and recommend to searchers looking for products or services like yours. These images should be clear and professionally done – no blurry iPhone pictures allowed!

Alt Tags on Images:

Google Multisearch doesn't rely on alt tags to make search suggestions, but they certainly help. By adding keywords to the tags of images on your website, you're making it easier for Google to index your content and more likely to appear in image search results. Don't think of this as a prerequisite to ranking in Google Multisearch, but rather as an added bonus that can help you attract even more traffic.

Localized Content:

Finally, you'll want to make sure your website content is tailored to users in your area. After all, the whole point of Google Multisearch is to make it easy for mobile searchers to find businesses near them. To do this, be sure to include your city and state in your title tags, meta descriptions, and H1 headers. You can also create location-specific pages on your website, such as a page for each city you serve. This will not only help you rank higher in Google Multisearch results, but it will also show users that you're a local business that cares about meeting the needs of your community.
Is Your Website Ready for the Multisearch Update?
Google's May 2022 Multisearch expansion is no doubt one of the company's most exciting and innovative updates in recent years, for businesses and for consumers. The goal of the update is to make it easier for mobile searchers to find what they're looking for, whether that's a product, service, or local business. And with more and more people using their phones to search for information, it's sure to continue expanding in the months to come.
Simply put, the Google Multisearch update is a great opportunity for small businesses to get more exposure in search results. However, it's important to remember that this update alone won't guarantee success. You'll still need to make sure your website is optimized for both mobile users and Google's crawlers if you want to take advantage of this expansion.
Because this expansion is so new, the small businesses who are able to adapt and take advantage of it will have a leg up on their competition. So if you're looking to get ahead of the curve, now is the time to start preparing your website for Google Multisearch. Not sure how to get started? If you don't have the time or resources to do it yourself, your best option is to work with a digital marketing agency that specializes in SEO – much like ours.
Creative Click Media's team of SEO dynamos has years of experience helping businesses of all sizes and industries rank in global and local search. We're constantly on the pulse of the latest Google updates, and use our expertise to help businesses like yours stay ahead of the curve. Your industry-leading SEO strategy is only a click away – contact us to get started.