So you've crafted a beautiful, mobile-friendly website for your business but you're not receiving leads or producing sales. Unfortunately, this is a problem that many businesses experience and they may not know why. Understanding basic website analytics may help unravel the problem, however, there could be a handful of things that are preventing your website from converting properly. Here are five simple reasons why your website may not be converting and what you can do to fix them.
No One Knows You're There
You can build the best website in the world, but if no one can find it then it's completely useless. The complex nature of Search Engine Optimization (SEO) may deter inexperienced marketers from taking advantage of its benefits – but that's a huge mistake! What is the point of having this marketing tool if no one ever looks at it? To fix this, get your website out there. Create social media profiles, share compelling content and encourage your audience to share it with their followers. This process will start building backlinks and increase the ranking of your website. Another great way to boost your SEO rankings is to blog regularly. Google and other search engines like to see consistent updates to your website. This will not only give you more pieces of content to share on social media, but it will increase the authority of your site as well.
Your Copy is Hard to Understand
This mistake can occur one of two ways: either your website is filled with typos and the writing is sloppy, or you have used vocabulary that your audience cannot understand. The first rule of thumb is to always proofread your website copy for any errors to ensure your message is clear and concise. One rule applies no matter who your audience is: the simpler the better. People are more likely to engage with a website that is easy to read and follow. According to the latest Program for the International Assessment of Adult Competencies, the majority of adults in the United States reads at or below a basic level. Take this into account when writing content for your website: keep it simple, clean and to the point.
Your Navigation Is Messy
Think about this: you have five seconds. Just five seconds to keep the attention of the visitor who has come to your website. If the user can't immediately find what they are looking for in that brief time frame, they are most likely going to leave. Your website's navigation has the ability to make or break your website's performance when it comes to retaining visitors, keeping them engaged and driving them through the conversion funnel. There needs to be a clear flow throughout your website design or your visitors will bounce right off. The best way to accomplish this is to divide your categories clearly, use accurate navigation titles and enable a search function on the homepage. This will allow them to easily filter through your website to find exactly what they are looking for in the least amount of time and clicks.
Your Colors are Scary
Now, scary is an objective word here. If you are having a difficult time converting, the colors on your website may be too bold, too sparse or even clashing. It sounds silly, but color has a lot to do with who stays and who leaves your website. Color plays a vitally important role in the world in which we live, as it has the ability to affect our mood or inform our decision making. For example, a call to action (CTA) that blends into the background is highly likely to get lost and underperform. However, a specialty colored CTA can catch a user's eye and prompt conversions. Overall, the color of your site will establish your authority, so choose wisely. 
The Overall Flow is Sloppy
If you have too many columns of text, an overly long sidebar, or lingering photos that add nothing to your webpage, it's safe to say that it's time to declutter. Website clutter is a huge deterrent and it is bound to leave your visitors confused and frustrated. A sloppy website is unprofessional and unappealing to the eye. Keep in mind, your website should fit together like a puzzle and flow effortlessly. If it doesn't, your business will not be taken seriously.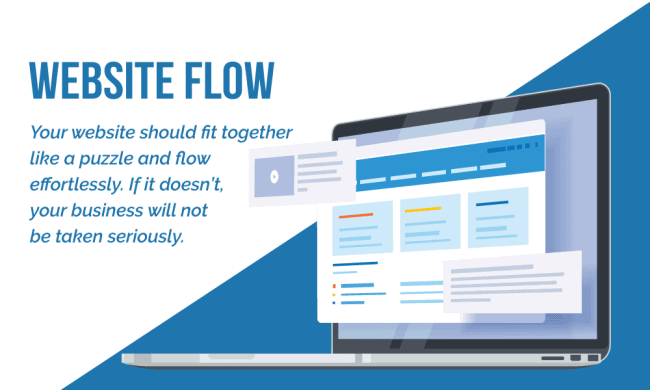 Website design is a complex and intricate element of your marketing strategy, and it's easy to forget how the design of a site really affects how your business functions. Think about it this way: If you came across a website that encompassed the above qualities, would you find it credible? Probably not! So if your business website has any of these qualities, why are you expecting your consumers to find you credible? Take a hard look at your site using this guide and see if any of the above reasons can explain why your website isn't converting.
If your website isn't converting into leads and sales, give us a call. Creative Click Media's diverse team of digital marketing professionals offers cutting edge website design, SEO, social media, video marketing and more to help your business reach new customers and increase your bottom line.