Solopreneurs (entrepreneurs who started their business "solo") choose to leave the 9-to-5 working world by going into business for themselves. The most successful solopreneurs have the freedom to be both an employee and employer of their own company, eliminating the need for upper management or many other employees until the business becomes too big to operate alone. Despite this, there are specific challenges that every solopreneur will eventually face. If you're a solopreneur, consider these solutions to the most common issues you'll encounter while running your own business.
Saving Money
Solopreneurs that are just transitioning from a salaried job to go into business for themselves may find the lack of financial stability a shock. As the CEO and sole employee of your company, it's easy to become overwhelmed with the financial responsibility of life as a solopreneur. As you work towards building a steady income, it will take some time to adjust to a lack of financial stability.
Solve the headache of financial uncertainty by streamlining your expenses. Cutting out unnecessary costs temporarily will help you live on a barebones budget, allowing you to save as much as possible as you work to achieve financial stability.
Moving Around
As solopreneurs are in the business of chasing their dreams, many find themselves traveling multiple times a year to do just that. Since being your own boss often allows you to work from anywhere in the world, it's common for home businesses to have an address that allows them to manage their mail wherever they may be. Virtual mailboxes have some advantages for solopreneurs. With virtual mailboxes, you can access your mail online, keep up a professional business image and receive mail from UPS, FedEx, or USPS from anywhere in the world.
Branding
Many entrepreneurs try their best to be a one-person operation and have a hand in every aspect of their business. However, most business owners are so laser-focused that they can't effectively dedicate time to their branding needs. Instead of burning yourself out by trying to do everything on your own, consider outsourcing this work to an outside agency. Many of the most successful solopreneurs work with marketing agencies to meet their branding needs. With the help of a marketing team who understands your vision, you can watch your brand grow almost instantly. The right full-service marketing agency will use web design, SEO, graphic design, social media marketing, and more to effectively brand your company. With this facet of your business handled, you'll be able to focus your efforts where they matter most: running your company.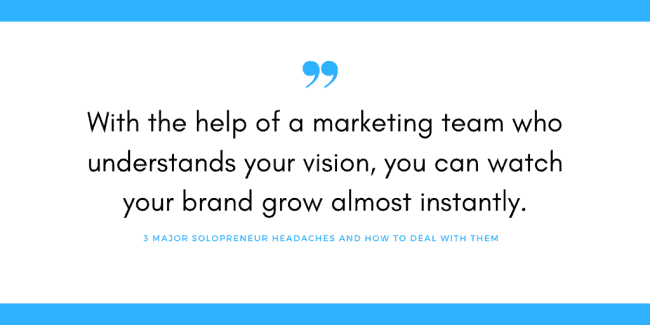 Take full advantage of your freedom by avoiding the most common headaches that most solopreneurs face. These tips will help you build the financially stable business you dreamed of when you decided to become your own boss.
Business owners have a lot on their minds, especially going into a new year. Minimize the headaches this year by preparing for some of the best upcoming web design trends of 2020 before they become the industry standard.