As diverse as various social media platforms might be in their features, something that holds true across the board is the speed at which social media changes. With an average post lifespan from 4 months on Pinterest all the way down to 18 minutes on Twitter, social media marketers need to be able to think fast, create fast and adapt fast in order to maintain their edge in a high-speed competition for engagement.
With this in mind, it should come as no surprise that social media marketing trends tend to cycle through fast year after year. What's trending today could be forgotten tomorrow and completely obsolete by the start of the new year. Curious as to what the social media landscape for 2020 might look like, we asked 15 business owners, entrepreneurs and social media marketers to make their predictions for emerging and continuing trends to look out for in the coming year.
---
1) YouTube
We are going all-in on YouTube for 2020. YouTube is the second largest search engine, but it's also a platform where members can vote, comment, and engage (unlike the world's largest search engine, Google). This creates a wonderful opportunity to post informative, instructional videos about your brand and product, and then answer engaging questions that viewers may have. The benefits compound when you add those videos to your website. Videos help increase on-site SEO, which is also a ranking factor. Not only do you add value to your brand by having a YouTube channel, but you can also increase the usability of your own website with excellent videos.
–Jeff Neal, Engagement Officer at The Critter Depot
---
2) Virtual & Augmented Reality
VR and AR are totally upping the social media marketing game. Snapchat filters were just the beginning. We are moving into an era where customers will be able to shop around in virtual showrooms, try on clothes virtually, visualize how furniture items would look in their homes, and so much more. It's a powerful way to build brand awareness and excite and engage your audiences. This technology has a huge potential, and we'll see more and more brands experimenting with it in 2020.
–Hamna Amjad, Community Manager at Gigworker
---
3) Shoppable Posts
The biggest trend emerging in social media marketing is shoppable posts. Multiple statistics show that people like to shop directly from social media apps, which businesses are already exploring. I expect that businesses that haven't gotten on board yet will do so in 2020. Shoppable posts are an incredible improvement in a user's shopping experience, as it shortens the path to the purchase by several steps. Social media users can be directly funneled as buyers, or stay the passive observers. I see it as a social media trend in 2020 that marketers step up their game by creating more compelling shoppable posts.
–Nick Galov, Marketing Expert & Co-Founder of Review42.com
---
4) Less Automation, More Human
2020 is going to hit a lot of businesses that have been over-using automation. Over the past three to five years, the customer journey through the marketing channels into a sales funnel has become increasingly more automated. As we enter into 2020, the key to success is being consistent in the journey the customer goes on, from the engaging relevant social media post that piques their interest all the way to when they need customer service help.
The human element is what makes a good campaign great. People crave interaction on social media, and that is what I think will be the biggest trend and shift will be in the coming months. Simply a shift in the way we do marketing and sales, so it includes less automation and a bit more human interaction.
–Jocelyn Kopac, Owner and Strategist for The Digital Market.co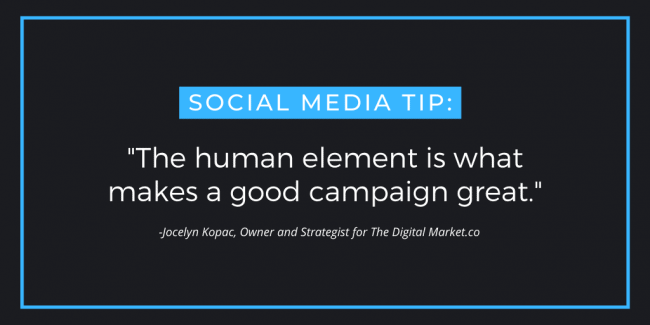 ---
5) Re-Targeting Marketing
One thing I definitely foresee becoming more competitive in 2020 is social media re-targeting marketing. It's cheap, effective and converts very well – and businesses are starting to catch on. Almost everyone has experienced it: you visit a certain website or look at a product, and a few hours later you see it in your newsfeed.
Since this is becoming more common, the challenge is standing out among the crowd is also becoming more difficult! For that reason, we'll be putting a lot more time and money into our targeting campaigns. Shoddy, boring ads just won't cut it anymore. We've already hired a graphic designer to put real effort into these campaigns and fuel conversions. Not only that, but the actual content we're offering will be much more curated and hand-picked. We'll only be promoting our very best content and services in our targeting campaigns to ensure there is no over-saturation.
–Mark Webster, Co-Founder of Authority Hacker
---
6) Declining Influencer Trust
We've been seeing the decline in trust in influencers for a while now, and I think this trend is only going to continue. Consumers are a lot savvier and are looking for real reviews and natural partnerships between brands and their favourite social media personalities. There's been a shift in what's popular and what isn't, and social media users are craving more genuine and authentic content on their news feeds.
Marketers are going to need to keep this in mind into 2020 and beyond when producing content for brands on social media and look at alternatives to paid partnerships, attaching their brand name to big celebrity names, and paying huge sums of money for endorsements. Big spends and big names don't always mean greater ROI.
–Charlotte McKee Content and Social Media Manager at Venditan
---
7) Social Media Detoxes
I am expecting a detox from social media, as users are churning from popular social media apps like Facebook which saw 15 million fewer users than in 2017. This means that users are now realizing that they are overloaded with too many apps compromising their well being. For marketers, this is an alarming situation because lesser users mean lower reach and lesser engagement.
Therefore, in 2020 it is highly advised for social media managers and business owners to diversify their social channels bucket and expand their brand presence over emerging social channels. This also means that relying so much on social media is not a good strategy. Rather, brands need to venture into search engine marketing (SEM) and email marketing, which are showing a drastic increase by both desktop and mobile users.
–Muhammad Farasat Khan, Social Media Marketer at isitWP.com
---
8) Social Listening
In 2020, social listening will be absolutely key to social media success. As more algorithms are giving more visibility to posts that get the most engagement, it is crucial that brands understand their target audience beyond their current following, and the only way to do that is to understand what people are saying about your brand and what top themes they're discussing within your industry on social media. Although video and ephemeral content will be the key drivers for the type of content you share on social media, it will not get any traction if you're not creating that content with the user in mind – and the only way to truly identify is that through social listening.
–Cassandra Direnzo, Senior Social Media Strategist at Walker Sands
---
9) Community Building
I'm confident the most significant social media trend in 2020 will be that people will use social media platforms to make more in-person connections. There's undoubtedly an uptick in our culture of people looking for community and craving connection. I think that instead of cutting social media out altogether, people will start to use the platforms more mindfully to discover events, communities, and experiences that they otherwise wouldn't be able to find. With the rise of Facebook groups and the disappearance of likes on Instagram, this is the natural progression and aligns with social media's original intention: connection. In the next year, I think social media will become a resource, and, as a community-builder, I'm looking forward to it.
–Liana Pavane, Digital Wellness Expert and Founder of TTYL
---
10) Messenger Marketing
One of the biggest social media trends to look out for in 2020 is the rise of messenger marketing – over 1.3 Billion+ monthly active users now use Facebook Messenger to communicate with friends, family and businesses. Messenger bots allow brands to engage their audience, provide better customer support, and reach their audience in a channel that they are spending time on. In 2019, Facebook announced at the F8 conference that Facebook Messenger is going to be at the forefront of Facebook's focus in the future. In 2020, you will see more businesses adopting messenger bots, and more platforms like Instagram and WhatsApp will start allowing messenger bots.
— Chrystabelle, Founder of Chrys Media
---
11) TikTok
The biggest social media trend that I see on the horizon for 2020 is the expansion of advertising and targeting on TikTok. I've already seen an increase in brands using TikTok to advertise, and I predict a larger advertising rollout coming in the months ahead. I also see more brands actively engaging on TikTok with organic content, as they try to reach a younger demographic of consumers and with younger users trending towards social media platforms with snackable and dynamic video content. Brands that learn how to master this platform and react quickly to social video trends will have a great impact on the future consumers of the world.
—Jennifer Leonard, Content Strategist at Association of Independent Mortgage Experts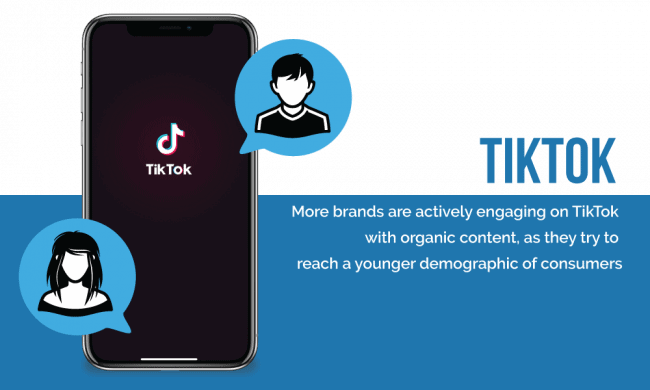 ---
12) Live Video
Live videos and stories are getting bigger by the day. They were huge this year, and in 2020 they will still be a big deal for brands big and small across the world. Companies can leverage live videos and stories on various social media platforms irrespective of the organizational segment they are using them for – whether that be employee engagement, a sneak-peek into company's culture, and various events or programs like a product launch, office celebration parties, and creating a brand story.
–Shakun Bansal, Head of Marketing at Mercer | Mettl
---
13) Giveaways
One social media trend I believe will absolutely continue in 2020 is giveaways. Brands have been embracing giveaways because it's a great way to expand their reach and also get more followers. I predict you'll see even more of those giveaways on your social media feeds in 2020. Companies realize giveaways are a more affordable option to reach potential new customers than more traditional alternatives, like paid ads. While Instagram is beginning to hide likes in the United States, I do not predict that having any impact on the amount of giveaways you see in the app. Giveaways are less about likes and more about increasing a brand's number of followers.
–Liz Jeneault, Vice President of Marketing for Faveable
---
14) Increased Security
Security is going to be the trend for any and all social media next year. After the last United States election, everyone witnessed the outrage over social media and the ensuing media attention that had Facebook and Google answering questions on how they will secure their sites from outside forces. Facebook in particular has taken aggressive steps to combat any fake advertising, requiring you to authenticate your account before you can do promoted posts, and creating a strong review process that is presumably done by AI. I suspect that Facebook and Twitter are both going to continue to tighten up on their platforms to prevent "bad behavior" and prevent any outside forces from influencing their users.
–Will Ellis, Founder of Privacy Australia and IT Security
---
15) Even More Stories
I think one of the biggest social media trends to look out for in 2020 is an even bigger emergence of Facebook and Instagram stories. Not only will story posts most likely surpass posting in feed posts in 2019, but stories are growing 15x faster than news feed sharing. That will equate to more impressions for businesses that are sharing stories and doing advertising. And then companies who do get this right and make it a part of their overall social media strategy are going to see great success. Look for brands to start using stories and thinking about how to communicate their message in quick video and image clips.
–Vivek Chugh, Founder & CEO of Listables
---
Social Media Trends for 2020 and Beyond
Which current-day social media trends do you see maintaining popularity in 2020, and which do you see losing steam in the coming months? Which up-and-coming social media platforms will explode in popularity in 2020? Make your official predictions in the comments!