This guest article written by Will Schneider, Founder of insightQuote:
There are many common problems that almost all ecommerce business owners face sooner or later, such as identity verification, cart abandonment, and poor customer loyalty. Ecommerce is a highly competitive business sector that will easily leave you behind if you don't react fast. However, it's always better to know these problems exist beforehand so you can avoid them as soon as possible. 
Don't you want to avoid the same mistakes in your business? In this article, we have collected eight problems that your growing ecommerce business will likely face and how to solve them. Treat these mistakes as points of improvement. 
1) High Competition
The world is full of all kinds of goods that customers can buy online or offline. There is a big chance someone is selling the same product or service as you do. You can research competitors and find thousands of them. For example, if your small business sells coasters, go to Etsy and search for similar products: you'll find over 140 thousand results in a second.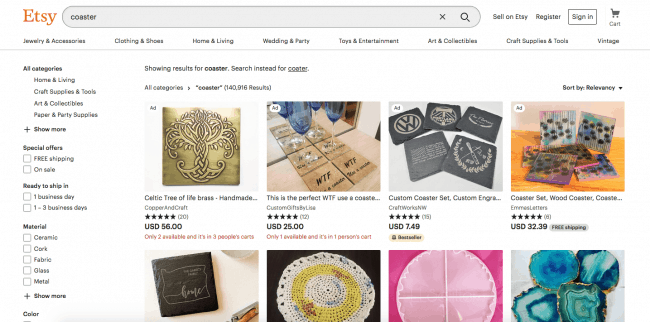 Solution: Conduct detailed competitor's research. Search for similar products online, find out what they sell, what their products look like, and how much they cost. Which marketing channels are they using to promote their brand? How do they attract leads? The competition in your industry means that the product is top-rated and people need it. Now your goal is to make this product better or/and different.
2) No Online Identity Verification
When a customer enters personal information on an ecommerce website, you don't know if this information is genuine or not. Many online stores work with the COD (cash-on-delivery) system, and entering an invalid phone number or address can cause significant loss in revenue.
Solution: Verify the customer's information correctly by identifying certain signs of suspicious activity. Validate phone numbers and email addresses. Check if the state code matches the address, and use email to send verification link when a customer makes on order at your website. You can also use phone verification to ensure this is a real human.
3) Lack of a Cohesive Omnichannel Customer Experience
There are numerous ways customers can reach your online store these days. They can visit your website, find the store on Facebook, send a tweet, or follow the recommendations of Instagram influencers. According to MarketingSherpa, 72% of adults prefer communication with brands digitally. Businesses who have yet to incorporate digital communication channels will run the risk of isolating their potential customers.
Solution. Equip your team with the proper technology to provide your customers with a full-scale omnichannel customer experience. Identify the critical touchpoints and educate your customer support to get in touch with the client using these channels. Optimize and add personalized messages to the chats to provide the best omnichannel experience for your customers.
4) Shopping Cart Abandonment
The global rate of cart abandonment is over 75%, which means most users close their tab right before the checkout process. Even e-commerce sharks, like Amazon, don't always have the solution to improve cart abandonment rates. There are numerous reasons why customers abandon a shopping cart with products in it, and it can be a nightmare for online store owners.
The first reason is the most obvious: customers forget they put something in a cart and don't finish the checkout process. Take a look at what Foreo Luna made on their website to try to reduce their cart abandonment rate: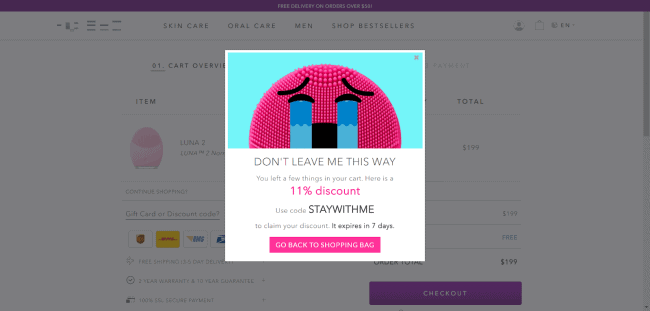 After adding this exit popup, Foreo Luna reduced their cart abandonment rate by 28%. Another great way to remind your customers to complete the purchase is by sending them an abandoned cart email. It allows you not only encourage customers to get back to your website but also helps to cross-sell additional products.
Solution: Try to figure out why people exit without paying for the goods they want. Among the main reasons for cart abandonment are: 
No express shipping available

Long, confusing checkout process

No coupons available

Decided to buy later

Concerns about the security of payment

Having to register on the website first

Unexpected additional costs
5) Poor Customer Loyalty
Even with the best product and website possible, customers could leave your shop after just one purchase and never come back. It's oftentimes more affordable to appeal to previous customers than to repeatedly have to find new ones.
Customer loyalty is the result of excellent customer service. You must take care of your clients on all stages of their journey and make their experience easy from start to finish. Make your customer service your competitive advantage. 
Solution: Offer top-notch customer experience to keep your previous customers engaged. According to groovehq, highly engaged customers are 6 times more likely to say they would try a new product or service from the brand as soon as it comes out.
6) Difficult Website Navigation
As previously mentioned, a long and confusing checkout can be a reason for cart abandonment. Also, proper navigation is essential for an ecommerce website. The menu bar is the first thing users will interact with when they open your site. Lack of prices, refund policy, and reviews can make people leave without any purchase.
Solution: Make the navigation on your website simple, clear, and intuitive. Think of your main pages and create a navigation bar accordingly. Try to make the user experience smooth and allow them to explore in as little as 2 to 3 clicks. Avoid complicated design elements: make design simple instead. Besides, even one second of loading speed can cost you 7% of conversions. Amazon reported that one second of loading speed cost over $1 billion of annual sales. So, if you run an ecommerce business, make sure your website pages load as fast as possible.
7) A Cart That Isn't Visible
Some people who abandon their shopping cart want to save the items for future purchase. When they come back to the site, a hidden shopping cart can impede the process greatly. 
Solution: Keep the shopping cart visible and accessible from all website pages if you want a potential customer to come back and finish the purchase. This way, they will not lose track of what and how many they add to their shopping cart. The simple cart icon on the right top part of the page is enough.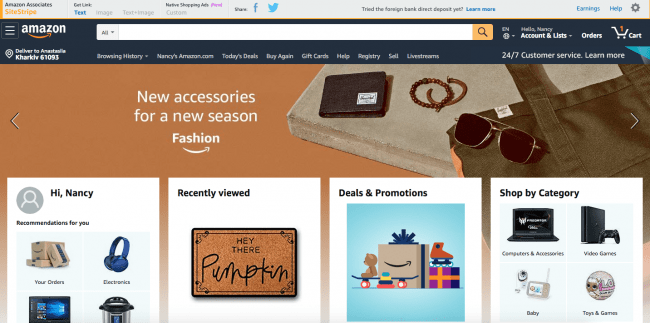 Almost all e-commerce giants, like Amazon, keep their carts visible. Additionally, it shows the number of products inside a customer's cart as a reminder to complete the checkout. If you are using Shopify or WooCommerce, you can easily add a shopping cart icon on the menu bar.
8) Wrong Order Delivery
What can be worse than not getting an order? Getting the wrong order. Customers hate when fulfillment companies send them the incorrect product, making the delivery of their correct order take even longer. Any second after the wrong delivery, a customer can upload a photo on social media and spoil your business' reputation forever.
For those of you who are going to work with international markets outside the US, it's critically important to send a proper order to the customer. Before expanding to overseas fulfillment solutions, you'll need to know the cons and pros of international shipping to avoid the hassle of lengthy product returns should something go wrong.
Solution. Double-check the order before shipping it to a customer. Or, ask your employees to do that for you. If a wrong delivery happens, make the process of returning the product as easy as it could be for a customer. You can also offer a discount on the next purchase and pay for the return shipping.
When it comes to growing an ecommerce business, problems will inevitably arise. Knowing how to combat these problems that will be beneficial to both your company and your clients will allow your business to improve its processes and maintain a positive reputation.
---
About the Author:
Will Schneider is the founder of insightQuote, a match-making service for B2B services, and writes informative posts about fulfillment services at FulfillmentCompanies.net. He is passionate about helping businesses find the right solutions to improve their operations. When not working, Will enjoys coaching youth basketball.