When we look at the lasting power of industry trends, we typically think in terms of month by month, quarter by quarter or year by year.
When it comes to search engine optimization (SEO) – on the other hand – your most accurate measure is day by day.
SEO best practices are constantly shifting, and the industry standard today could be quite literally obsolete by tomorrow. This can make predicting upcoming trends seem nearly impossible.
However, there are several emerging SEO trends that are expected to pick up steam in the coming year. Keep an eye on these 15 SEO predictions for 2020, as chosen by business owners, entrepreneurs and SEO experts from around the world.
---
1) Utilizing Automation
One of the huge trends currently in the SEO world is the shift to dependency on marketing automation and account management. Marketing automation has been around for a long time, but it is going to be even more important in 2020 especially for SEO. There will be more light shined on marketing performance, with decision makers requiring more data analysis, reporting, planning, and strategizing at a moment's notice. Marketing automation helps to ensure you have all the correct information for all the stakeholders involved.
With more businesses trying to rank on search engines and advertising online, it will become more difficult to cut through the clutter. This is where your priority becomes focused on using automation tools to help you with daily tasks, reporting, project and account management, outreach, optimization and more. Once you are able to automate tasks at scale, you can then direct all of those efforts to ranking higher in search engines and improving your SEO processes.
–Omar Fonseca, Digital Marketing Manager at Medicare Plan Finder
---
2) Semantic Keywords
With Google's AI getting smarter and the addition of the new BERT update, I think the biggest trends we'll see are related to user experience on the site and the need for more semantically related keywords. The BERT update introduced the idea that Google's AI could 'understand' the intent behind a sentence, so it makes sense that the more you help Google understand the relevance, the better your content will rank overall. Furthermore, while dwell time has been a significant ranking factor for quite a while, there isn't much focus on user experience. I think this is going to change significantly in 2020 and beyond as SEO becomes less about tricking Google and more about creating engaging, high-quality content.
–Steven Jaenke, Founder & CEO of Digimark Australia
---
3) Branding
With the growth of search snippets that occupy the first positions in the search engine results pages (SERPs), branding will become a necessity for businesses to bring unpaid Google traffic to their websites. This can be done through social mentions, guest posting, and community engagement.
–Olivian-Claudiu Stoica, SEO Expert at 123FormBuilder
---
4) Multilingual SEO
It's a global market now, and the more people you can reach with your website, the more money you'll make. It's that simple. An SEO focus on correct translations, currencies and dates will be a game changer in 2020.
–Kenny Trinh, Managing Editor of Netbooknews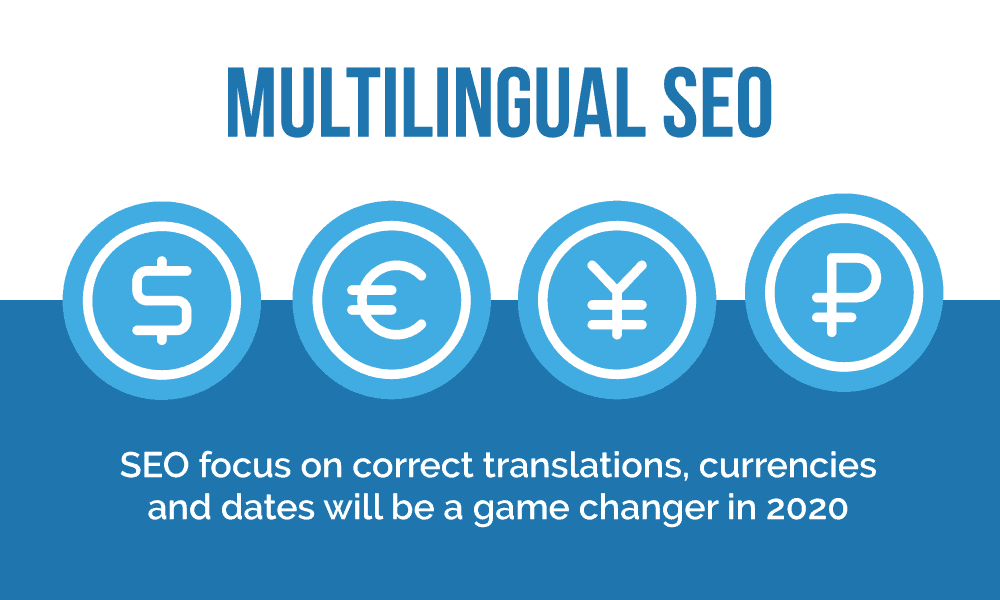 ---
5) Visual Search
Visual search is rising, and to date, Google Lens can identify 1 billion objects. With this in mind, businesses must start focusing on image SEO. They may start using images that are SEO optimized. The placement of these images is pretty important, therefore make sure these images are higher up on their pages to increase their chances of showing up in Visual Search. This can be improvised by making use of Pinterest which gets 600 million visual searches per month.
–Farasat Khan, SEO Specialist at isitwp.com
---
6) Secure Websites
It's no secret that search engines award HTTPS sites higher than most, and with an influx in user privacy and security fears, it makes sense that the search engines could pick 2020 as the time to leave unsecured websites behind. Between Edge's tracking/ad blocking, secure DNS transfer and heightened TLS protocols, not being secure could prove fatal to rankings.
–Aiden MacIver, Technical SEO Executive at Colewood
---
7) Emphasis on UI & UX
2020 will be the year when we go a little bit back to the basics and stop dumping every software, widget, and bubble on our websites. Many marketers forget that UX and UI are core components of SEO regarding the most important metrics such as time-on-site or website's speed. Yet, we tend to make it harder for users and leads to consume content on our websites, lowering these metrics and making websites less user-friendly. I believe that in 2020 we'll focus on UI and UX and make more accessible websites that will focus on users instead of software stacks.
–Jakub Kliszczak, Marketing Specialist at CrazyCall
---
8) Rich Snippets
One thing we've seen steadily increasing in the past few months is the inclusion of rich snippets in Google's SERPs. Many people are quick to discredit these as an ineffective way to drive traffic and don't bother spending a great deal of time optimizing their markup to increase the likelihood of being featured.
For ecommerce in particular, harnessing rich snippets could become an invaluable asset. As Google moves towards promoting product recommendations and featuring top products in their number 1 search result, optimizing your site to take advantage of this could prove to be an incredibly important strategy. It only takes 10-20 minutes to read up on the correct markup and even less time to implement. For that reason, I recommend every ecommerce business who asks to really look into doing this and to properly optimize their content for rich snippets.
–Mark Webster, Co-Founder of Authority Hacker
---
9) Strategic Linking
Google has been taking steps to better understand links for some time now. Links are one of the most manipulated aspects of Google's algorithm. They rolled out UGC and sponsored link attributes this year in order to categorize no-follow links. Because of this, I predict there will be at least one or two link-related algorithm updates in 2020, rewarding sites with truly natural link profiles and hurting those that are unnatural. So keep close tabs on where you're building links in 2020 – maybe even consider doing some disavowing.
—Brooks Manley, SEO Specialist
---
10) Voice Search
I believe 2020 will be a big year for voice search and structured data. We're often seeing in our search terms phrases like "Okay Google" and "Alexa". It signifies that it's becoming more common for everyday searchers to utilize voice search. As a result, businesses should be investing more in their website's structured data/schema to better tap into this segment and improve the 'in search' functionality for their site. Not only will it enable a new way to connect with voice searchers but will also benefit general organic rankings. The markup can be used to produce organic-rich cards and featured snippets which makes a visual impact right from the search engine results page.
—Ian Nunnally, Digital Marketing Executive
---
11) Data-Based Content
In 2020, we can expect to see brands use data to inform and deliver personalized content depending on the stage of the buyer journey users are in. From highly targeted email drip campaigns that use data from previous email blasts and content consumption to dynamic user experiences on websites that use user preferences to deliver highly relevant content.
Utilizing your website's data can also help produce more unique content (which Google will LOVE) to help your brand stand out in a crowded marketplace. With the use of analytics platforms like Google Analytics to analyze previous content and user behavior, this data can help create content that is catered to your target audience and likely to perform well in the search engine results page (SERP).
–Andrew Vinas, SEO Specialist at T3
---
12) Video Content
I believe that video is going to play an even larger role in SEO in 2020. Studies show that 54% of consumers want to see more video content from their favorite businesses and brands. We're already seeing Google recommend videos near the top of its search engine results pages, and video featured snippets are becoming increasingly prominent.
Creating video content allows you to rank well in Google and YouTube, the two most popular search engines in the United States, as well as reach a wider audience and build brand authority. Developing a video content strategy is going to be essential for your business in 2020. One great place to start is taking your existing written content and using it as an outline for videos.
–David Lynch, Content Lead at UpPhone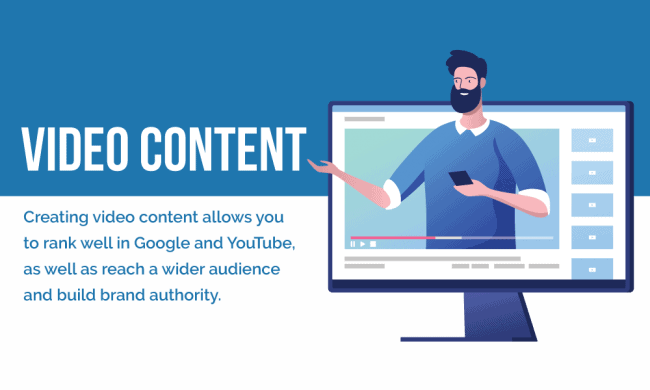 ---
13) Artificial Intelligence (AI)
It comes as no surprise that AI has dramatically changed the world we live in, and it'll keep modifying it in the future. Content marketing is no exception because online searches are becoming more and more personalized every day. This is because of Google's RankBrain algorithm, which uses AI to provide relevant and up-to-date content. Indeed, keywords are not the only aspect that affects SEO: user-friendliness and content relevance matter too. Interestingly, the algorithm mentioned above favors those words which haven't been used yet. So, if you want to get better SEO rankings, you should try to utilize untapped keywords.
–Jose Gomez, CTO & Co-Founder at Evinex
---
14) Local SEO
Local SEO marketing has become more popular in recent years. As businesses begin to grow and add several locations, local SEO helps customers find your business in their area. With mobile-friendly sites evolving as well, local SEO will help those looking for stores in their area while searching on the go. Businesses can increase their local SEO by listing themselves on Google My Business, Google Plus, Google Maps, yellow pages and review sites such as Yelp, and professional associations/directories.
–Andrew Ruditser, Co-Founder & Lead Technology Coordinator at MAXBURST, Inc.
---
15) Machine Learning
We predict that 2020 will be a year of continued trends in machine learning. It has already been growing in the past years, but it will soar in the coming one. Companies aim to automate processes for their employees to improve productivity and reduce tasks that have no real add-on value. However, this will require certain actions to be conducted on the website structure. Admins will need to organize the data that is sent to Google, as well as the way in which it is sent. There will be an increasing importance of consistency and arrangement of data. Machine learning for marketing will be the key to success for the companies willing to pay for it.
–Jacek Wieczorek, Co-Founder of Pulno
---
The ever-evolving nature of SEO means we are almost guaranteed to see several shifts in trends and best practices in 2020. What are you predicting for the SEO landscape in the year ahead? Share your thoughts in the comments!