If each component of your ecommerce business' marketing campaign represents one of Santa's reindeer, SEO is undoubtedly Rudolph. Your SEO might start out seemingly weak and powerless, but with some time and a great deal of nurturing, it can reach its maximum potential and guide your company to success.
Depending on your business model, the holiday season might be the most crucial time of year to have a strong SEO strategy in place. That being said, SEO is a lengthy process, and earning higher page rankings and conversions will require putting in the work well before the holidays arrive. Start the season off strong by integrating these 9 SEO tips into your holiday ecommerce strategy.
1) Know Where You're Starting
Evaluate the current state of your SEO like you would any other part of your business: make your list, check it twice and decide which areas are already looking nice. Before jumping headfirst into an SEO overhaul, you'll need to know what you're already doing well in order to improve the areas that require the most attention. Highly trafficked pages, such as your homepage, are most likely already ranking well compared to others on your website and do not require the same amount of effort as pages that tend to get buried in a Google search.
Check your organic search performance by determining which pages are yielding the most traffic. Then, cross-check these results with your top-performing keywords via Google Analytics. Determine which pages need the most SEO attention and put in the time to optimize those pages that are performing less well than expected.
2) Tease What's to Come
Even if you haven't completely finished creating every element of your holiday marketing campaign yet, posting holiday preview pages on your website serves two purposes:
1) It gives your customers a hint for what's to come
2) It gives search engines a hint for what's to come
Using "Coming Soon" or "This Holiday Season…" pages will not only drum up interest with your audience, but it will also allow your company to begin building links and start ranking on holiday search queries related to your business. Google likes seeing web pages that are consistently updated. With this in mind, launch your preview pages with a few items or a key message, and update them routinely throughout the holiday season. This will help to boost traffic to that page over time and ultimately increase holiday ecommerce sales.
3) Be Smart With Social Media
Approximately 84% of consumers admit to conducting research on at least one social media site before making a purchase. Now more than ever, social media is a platform for word-of-mouth marketing just as much as it is for paid marketing. The beauty of social media marketing, however, is that you can advertise, promote and take advantage of this marketing explosion for whatever cost you decide is right for you – the bulk of which can be done for free if you're able to drum up enough organic interest.
Social media puts your ecommerce business in direct communication with your followers on a daily basis, which will help drive traffic to your website when posting strategically. Your holiday social media campaign should be comprised of a thorough content calendar, including offers, deals and sneak previews with links directing back to your website. Combine these sales-heavy posts with engagement-driven posts to interact with your followers and eventually attract new followers to join in on the conversation.
4) Update Your Keywords
Updating your keywords ahead of the holidays is an incredibly obvious SEO task that is incredibly easy to overlook. Of course, you'll want to continue trying to rank for staple keywords related to your industry, but it is crucial to capitalize on timely terms you expect could provide a traffic boost throughout the duration of the holiday season. Strive for lower competition keywords that pertain to your brand's niche – a fitness company probably won't show up on the first page of a Google search for "Christmas gifts", but they might for "Christmas gifts for athletes". Even if you already have a list of holiday-themed keywords from years prior, be sure to cross-reference them with Google Trends Reports as market trends tend to change from year to year.
5) 'Tis The Season to be Blogging
Once you have compiled a list of holiday-specific keywords, it may feel logical to push off your blog writing until later in the holiday season. Unfortunately, the longer you wait to put those keywords into action, the less impactful they will be on your business's search success. As a general rule of thumb, begin planning your blogging schedule for maximum holiday season traffic by following the 45 Day Rule. According to the 45 Day Rule, a business must post content to their website 45 days ahead of their desired "maximum impact" window in order to participate in 90% of the search traffic for that keyword. For instance, if a business wants their blog to rank during the maximum search traffic for a term like "last-minute gift ideas", they should post it at the end of October – roughly 45 days before the middle of December.
6) Deck The Halls With Deals
Did you know a whopping 68% of consumers admit they will not shop online without a coupon code? How about 41% of consumers saying they're more likely to seek out something to purchase if they have a coupon? The numbers don't lie: coupons undoubtedly have the ability to impact consumer behavior, but they can also impact your SEO, as well.
Google's "Shopping" feature provides your business with the opportunity to generate a user's interest, and incorporating a coupon on your website could be the coveted one-two punch that helps you close that sale. After a shopper clicks on your homepage or product page via a search query, be sure they are instantly greeted with a promo code pop-up or banner. Making shoppers aware there is a discount code available to them immediately upon visiting your page will lead to a higher click-through rate, lower bounce rate, and longer amount of time spent browsing your website — all of which indicate to search engines that your page satisfies a user's needs for that particular search query.
7) Revisit Your Load Times
When it comes to load times, you can count your room for error in seconds. Approximately 47% of consumers expect a website to load in two seconds or less, and even a one-second delay can reduce conversions by 7%.
Use the holiday season as a reminder to revisit the load times of your top landing pages. Google Analytics offers a site speed tab to monitor your website's load times, which should be cross-checked with your page's actual performance for accuracy. If you find a page that is loading slowly, large files like photos might be the culprit. Even if your images are displayed as smaller on your website, be sure the actual file size is also compressed in the backend.  A product shot that appears to be 200×200 on your website might actually be 2000×2000, and a slowdown of that size could definitely land your website on the naughty list.
8) Aim Towards Google Shopping
Amazon might be the first major all-in-one shopping platform that comes to mind when you think about crossing products off your holiday gift list, but Google Shopping has proven to be hot on their heels. Having your product feed integrated into Google Shopping is an effective way to increase your business' visibility with motivated buyers who likely would not have found your website otherwise. Not only do Google Shopping feeds have a higher conversion rate than other forms of PPC, but they also have a lower cost per click.
To make your products stand out amongst thousands of competing products in a Google Shopping search query, be sure each listing is highly visual and descriptive with rich imagery and key product details. If you haven't set up your product catalog on Google Shopping yet, your first step is to create a Google Merchant Center account. From here, you can optimize your product images, create Shopping campaigns, and analyze your product feed data. Be sure to also link your Google Adwords account to your Shopping profile to further integrate your SEO efforts.
9) Don't Forget About Mobile SEO
This holiday season and beyond, a mobile SEO strategy is a mandatory SEO strategy. Nearly half of consumers conducted their holiday shopping on a mobile device last year, and search engines are fully in tune with this trend. If your website is not optimized for mobile browsing before the holiday rush is in full force, it is very likely to take a hit in both rankings and sales. Take a look at each page of your website to ensure every photo, video, text box and button is mobile responsive in order to appease both shoppers and search engines alike.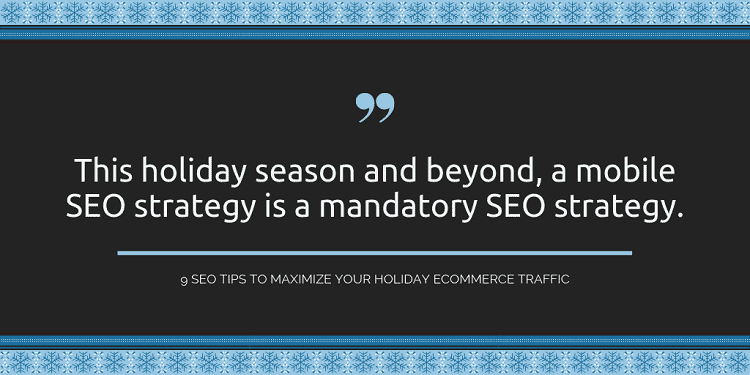 It's important to note that SEO is a lengthy undertaking that requires weeks if not months to see results. With this in mind, the time to kickstart your holiday ecommerce SEO overhaul is now. Revisit how your website is ranking on search engines on both desktop and mobile devices well ahead of the holiday season. If your organic search results are not where you'd like them to be, remember that the earlier you make updates and prepare for this hectic time of the year, the better your results will be. The end of the year is often one of the busiest seasons for many ecommerce businesses, so consider working with a digital marketing agency who can handle your SEO so you can focus on keeping your shop running smoothly.