MANAHAWKIN, February 10, 2020 — Adam Binder, Founder of Creative Click Media, is celebrating a one-year anniversary as a member of the Forbes Agency Council, an invitation-only organization for senior leaders to publish original content, connect and excel.
"We are so pleased to have Adam Binder entering year two as a member of Forbes Agency Council," said Scott Gerber, founder and CEO of Forbes Councils. "Our mission with Forbes Councils is to bring together proven leaders from every industry, creating a curated, social capital-driven network that helps every member grow professionally and make an even greater impact on the business world, and Adam Binder is an important part of that community."
"I couldn't be more excited to start my second year as a Forbes Agency Council member," says Adam Binder. "It's truly inspiring to be part of a network of professionals all working towards a thriving, interconnected business community, and I look forward to making connections, learning from fellow members and lending my own expertise to Forbes Agency Council in the coming year."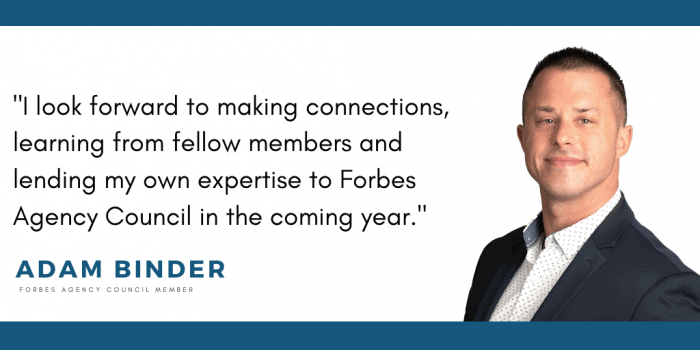 Adam has contributed the following articles to Forbes during his first year of membership, in addition to numerous contributions to Forbes Agency Council Expert Panels:
How Search Intent Can Be The Foundation Of A Successful SEO Strategy
E-Commerce Versus Lead Generation Marketing: What's The Difference?
Four Elements To Prepare Before Working With A Marketing Agency
Five Ways To Elevate Your Digital Presence Using Chatbots
Four Key Metrics All E-Commerce Businesses Should Be Tracking
---
ABOUT FORBES COUNCILS: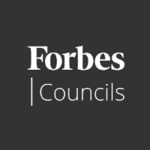 Forbes Councils is a collective of invitation-only communities created in partnership with Forbes and the expert community builders who founded Young Entrepreneur Council (YEC). In Forbes Councils, exceptional business owners and leaders come together with the people and resources that can help them thrive. More information is available at forbescouncils.com.
ABOUT CREATIVE CLICK MEDIA:
Creative Click Media was founded on the belief that good design is good for business, and that design has a major impact on the way users & customers perceive, and respond to, the brands they interact with daily. We help brands express themselves via creative solutions for the web…and beyond. Visit creativeclickmedia.com to learn more.
###