Automation is the process by which technology increasingly takes over functions traditionally held by humans in the workplace, and it is occurring at rates never previously seen. While automation's impact has always been felt in the workplace, it is now starting to affect industries where it had never previously had much of a presence, such as retail. Here are three ways in which automation is making itself felt in that industry.
Changing Checkout
Checkout no longer needs to be handled by an employee, and many stores have now replaced human cashiers with robotic ones. Cameras, scanners, scales, and automatic baggers are now relatively easy to find in many larger retail chains. This is saving retailers huge sums of money, driving down costs and often improving checkout speeds. However, human cashiers are still necessary to answer questions and smooth over problems when they occur, in addition to addressing security concerns to ensure automation does not result in a spike in shoplifting. As such, completely automated checkout is a rarity until a solution is found for these potential issues.
Optimizing Ordering
Many of automation's functions are expanding in the back of the store by optimizing the ordering process. Thanks to computers, bar codes, and scanners, automated programs can track appropriate metrics and sales along with handling refreshing inventory in a store. POS software can automate purchase orders based on set minimum/maximum levels and current inventory listings. This has been the case for many years in larger stores and chains, but the low costs of such software has made it accessible for even small businesses as well.
Handling Maintenance
Many stores, such as the grocery chain Giant, have introduced robots to scan for spills and alert staff when there is a potential slipping hazard. These robots do not need human guidance and can move around a store with only their own internal equipment, which includes cameras and motion sensors to keep them from crashing into display shelves or customers. The store argues that these robots are safer, work faster than humans, and allow their employees to handle other functions that require direct human interaction.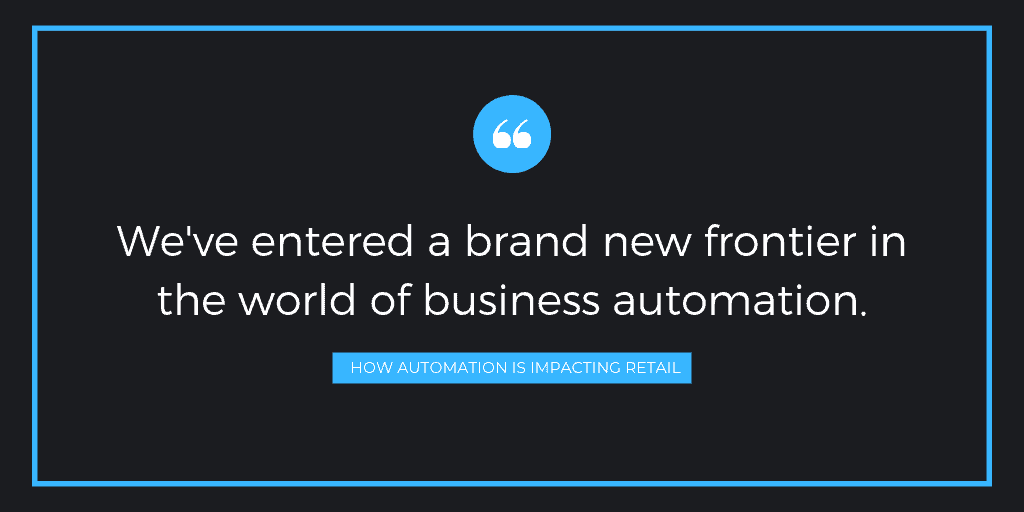 Automation has been around in some form or fashion since industrialized mass production first took hold, but its function had always been relatively isolated to industries such as manufacturing and food processing. We've entered a brand new frontier in the world of business automation, and the pace of that change is only accelerating.

It's important to optimize your in-store processes, but how's your marketing doing? Talk to us about optimizing your marketing strategy today!