With practically everyone making purchases online, creating an online business may be one of the smartest ways to go about attracting new customers. However, if you want to really be smart in your business ventures, you might consider integrating smart tech into your business model so that you can grow your company even faster. Here are some of the ways that integrating smart tech into your business can be beneficial.
Communication
If you have an ecommerce store already, chances are you have access to a number of integrated apps that can help you operate and grow your online store. When it comes to inter-office communications, however, you'll have to install apps right onto your phone that allow you to communicate with your entire team at once. This is a great way to hold a staff meeting without having to gather everyone together at one location, but rather meet with everyone regardless of where they are. Integrated communication apps can help your business run more effectively and eliminate time and communication delays.
Shipping
Smart technology has allowed for the shipping process to be automated, from the printing of the label to tracking the product to its destination. By implementing this technology in a warehouse, the customer's order and shipping information are printed out and ready to go with the push of a button. Shipping labels can also be created this way, which helps to limit the chance of human error. In order to ensure that orders and information are sent in real-time without losing connection, some companies also integrate signal boosters. Signal boosters for cell phones are used by large companies such as Nike, Apple, and Google to help keep their processes running smoothly.
Marketing
With so many social media apps available for download, marketing your business has become so much easier. Once you install the app on your phone, you can make updates, promote products, and more at any time and from any place. Not only can you use social media as a way to advertise, but it is also a great way for you to connect with your customers. By having an online presence, customers will have a better idea of who you are and what your business does. Giving them some insight into the personalities behind your business will make them more comfortable and confident trusting your products and/or services.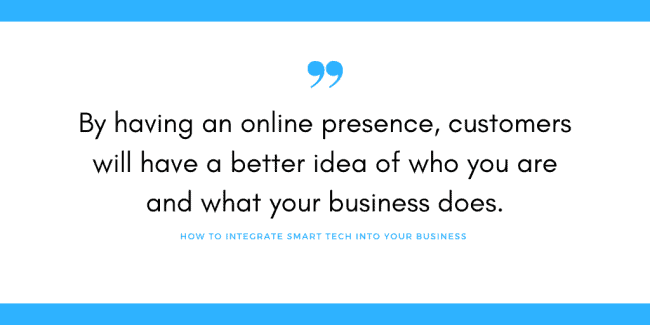 There are so many ways that smart tech can benefit your business financially. It can make your daily operations more efficient. The beauty of smart tech is that it allows you to completely run your business without having to step foot in the door at all. With just a swipe of your phone and a click of a button, your business can be successful as well as smart.
Looking for tips about how to better manage your ecommerce site? Read on here to learn about 8 problems your growing ecommerce business will likely face and how to handle them!