If you follow e-commerce businesses on Instagram – or if you own one yourself – you may have noticed a new shopping feature has finally made its wide release debut.
That's right: Instagram Checkout is here!
With Instagram Checkout, e-commerce businesses can link their shop products directly to the Instagram interface. This makes it possible for consumers to shop directly within the app without having to visit an external website to complete their transaction. You might be asking yourself "That sounds familiar, hasn't this feature been around for a while?"
The answer is yes and no.
Instagram Checkout was technically first unveiled in March of 2019. However, it was only available in beta testing to select larger retailers on a global scale. Smaller e-commerce accounts, on the other hand, have been able to tag products within their photos which would take shoppers to a product page on their website when tapped. This recent Instagram Checkout wide release makes it possible for all e-commerce businesses and creators to sell their products on Instagram without having to direct shoppers away from the platform.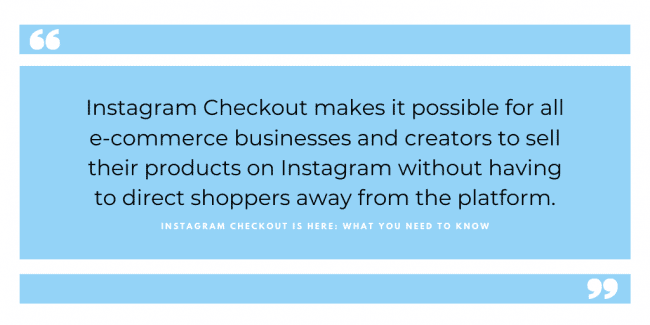 Why does this matter? Because a streamlined sales process is a more successful sales process. The simpler you make the buyer journey down your sales funnel, the more likely they will be to complete a transaction. By enabling direct in-app purchases, Instagram Checkout has simplified the purchasing process down to two clicks. Once a shopper has entered their name, email, billing and shipping information, their order is completed and they can continue scrolling through their Instagram feed uninterrupted.
Now that we've covered why Instagram Checkout is an important update for e-commerce creators, let's dive into how to use it to your business' advantage.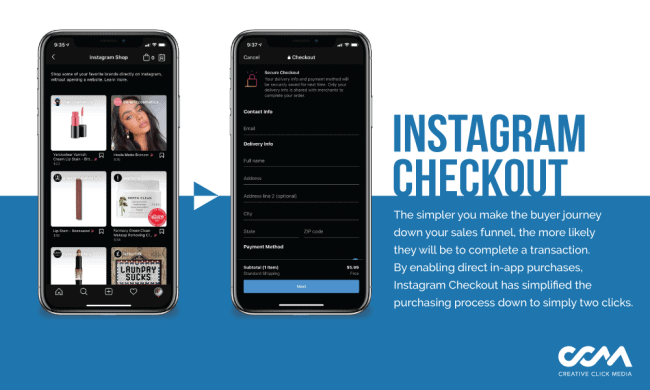 How to Use Instagram Checkout to Generate More Sales
Use It Regularly
If your followers don't know to look for a product tag on your posts, they probably won't look for one at all. That's why it's important to use Instagram Checkout regularly if you want the highest impact. Consistency is key when it comes to your business' social media presence, and the same applies to the way you optimize your posts. If you already bulk up your Instagram photos with relevant hashtags, account tags and/or location tags, think of product tags as just one more box on your posting checklist.
Even if your business is tagging your products routinely already, it's important that your followers know to look for them routinely as well. Instagram Checkout is still fairly new to the platform, so your followers might need some guidance to get into the habit of tapping on your photos to purchase a product they like. Consider including the phrase or hashtag "tap to shop" in the caption of every post including product tags so your followers know that photo is shoppable from within the app.
Utilize Instagram Stories
Feed posts aren't the only place you can utilize Instagram Checkout – it integrates with your Stories, as well! If you're an avid Instagram Stories user, you've probably already seen a "product" sticker option. Previously, tapping on a product sticker would take your followers to a product page on your website. Now, however, it works the same as a product tag on a post by allowing your followers to shop without leaving the app. This is especially beneficial because it doubles the chances of your product being seen by your followers. Instagram's algorithm may have buried your post on their feed, but your followers could still see your story at the top of their news feed and vice versa.
Make it Exclusive
One of the longest standing and most effective ways to drive up sales is by tapping into FOMO, or "fear of missing out". The overhanging threat of exclusivity is oftentimes a motivating factor behind in-the-moment purchasing decisions. Use this to your advantage by making Instagram your official hub for exclusive products and promotions.
Consider hosting small Instagram-exclusive product launches to encourage your followers to make purchases within the app. You might also want to experiment with sharing dollar or percentage off coupon codes in posts that utilize Instagram Checkout product tags. There's nothing that can stop a shopper from taking this code and plugging it into your website's checkout page instead, but the ease of an in-app purchase could encourage them to close the sale at that moment rather than saving it for later.
Upgrade Your Photography
The average Instagram feed is viewed on a screen no larger than six inches tall and three inches wide. For this reason, it's absolutely critical that your products appear larger than life, even if the photos themselves are anything but. When viewing products on a website via a laptop or desktop, consumers have the ability to view different angles and zoom in on the fine details. This feature is less likely to be available while shopping within the Instagram interface.
If you are going to be utilizing Instagram Checkout on for your e-commerce business, make sure your photography is high-quality and accurate to the product itself. If your product photographs much lighter than it appears in person, for example, consider utilizing professional editing software to make the coloring as true to life as possible before posting it to your feed. You want your followers to feel confident making purchases from your business via Instagram Checkout, so it's worth it to invest in great photography to ensure your customers are ordering the exact product they are expecting to receive.
What This Means For Your Social Media Marketing Strategy
While Instagram Checkout might seem like a small update in the grander scheme of your social media marketing strategy, it could potentially have some pretty big implications for e-commerce businesses moving forward. Expanding from a photo and video-sharing platform to an online marketplace demonstrates that Instagram is showing no signs of slowing down or fading out. It's up to your business to grow and evolve with each new feature if you want to keep up with the purchasing habits of your target consumer base. Neglect to, and you run the risk of losing customers to competing companies who do.
Jumping on a new trend early is a great way to give your e-commerce business a leg up on the competition. If you haven't audited your social media marketing strategy in a while, the newest Instagram Checkout update provides the perfect opportunity to evaluate your strengths, weaknesses and opportunities for growth moving forward. Whether you're looking to learn more about how to integrate Instagram Checkout into your current social media marketing strategy or you're ready to start fresh with a brand new one, chat with our team to get started.